Someone with access to McDonald's corporate Twitter account is not loving President Donald Trump.
A tweet posted—then deleted 30 minutes later—from the @McDonaldsCorp Twitter account directed to Trump's personal account called him "a disgusting excuse for a president" and accused him of having "tiny hands." While the tweet has been deleted, an archived version is available here.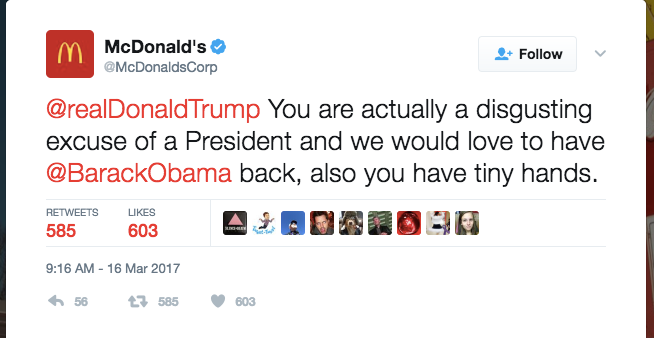 Given the critical nature of the tweet and the fact that it was deleted, only a few options are likely as to how this happened: Either someone with authority to post to the account accidentally sent the tweet from the wrong Twitter handle, the fast food giant's Twitter account was hacked and the tweet was posted by the perpetrator, or a social media employee went rogue.
McDonald's did not immediately respond to our request for clarification on why or how this tweet was posted.
Were the tweet an actual representation of McDonald's view, it would likely be a low-blow to the president, who is known to enjoy their food.
Trump also starred in a commercial for McDonald's, where he lost a negotiation to the Purple Grimace.
While corporations generally stray from overt political attacks against the president of the United States, McDonald's does have some connection to the White House: Former President Barack Obama's press secretary, Robert Gibbs, is now the head of global communications for McDonald's. At this time, there is no available evidence that Gibbs was involved in the tweet.
Update 9:28am CT, Mar. 16: McDonald's announced on Twitter the tweet was the result of a hack.
Twitter notified us that our account was compromised. We deleted the tweet, secured our account and are now investigating this.

— McDonald's Corporation (@McDonaldsCorp) March 16, 2017
Update 5:45pm CT, March 16: In a statement issued late Thursday afternoon, McDonald's spokesperson Terri Hickey said the company concluded that McDonald's account was "hacked by an external source."
"Based on our investigation, we have determined that our Twitter account was hacked by an external source," Hickey said. "We took swift action to secure it, and we apologize this tweet was sent through our corporate McDonald's account."