It doesn't take a genius to know you shouldn't believe everything you read on the internet, but no one's ever accused Texas Gov. Greg Abbott of being a genius.
Early Tuesday morning, the Republican governor tweeted a quote slamming fascism attributed to Winston Churchill. To the amusement of many, the quote is fake, and Churchill certainly never said it. If only Abbott had thought to Google the quote before mindlessly tweeting—or even looked close enough to notice the watermark for meme site 9gag.com.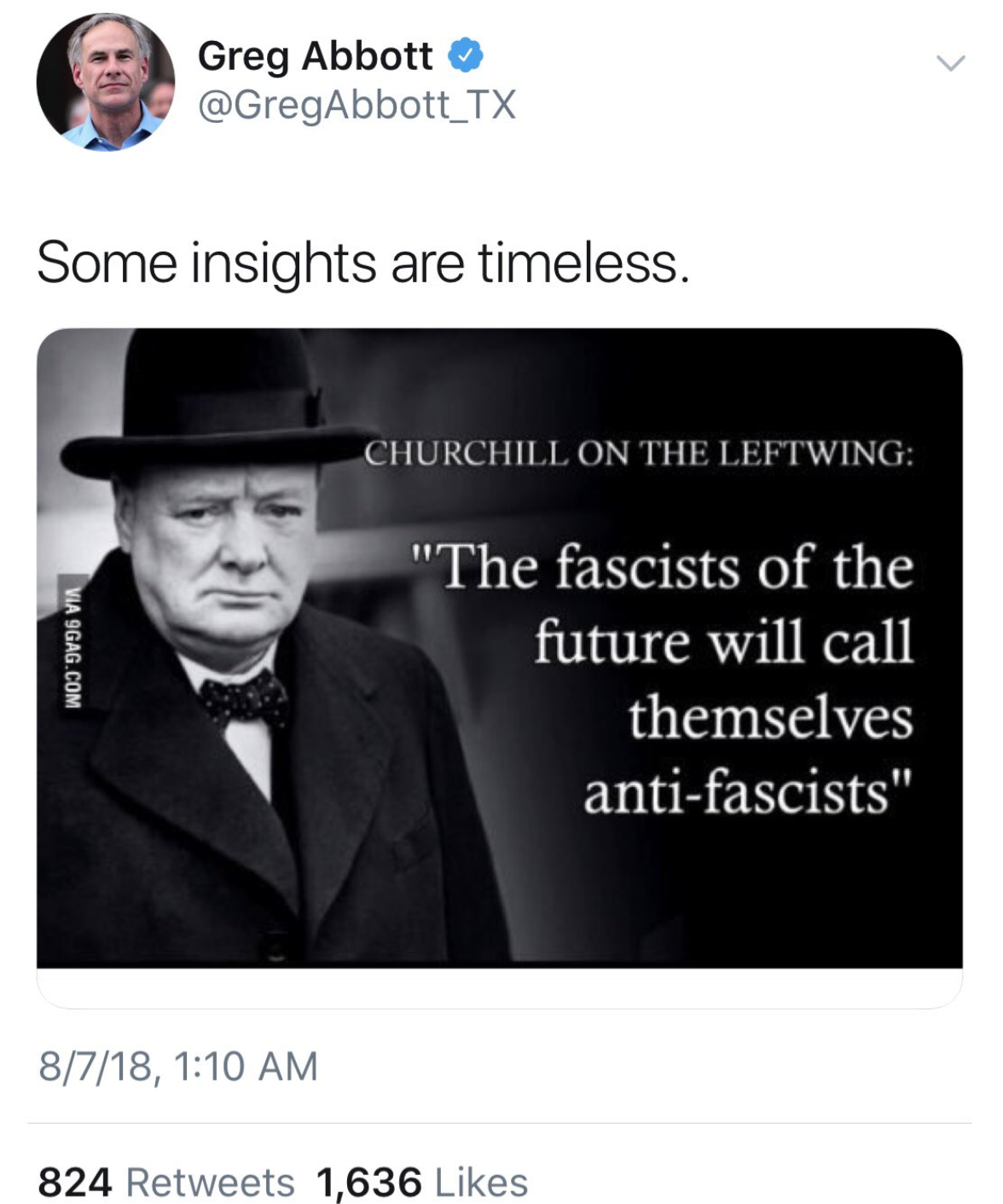 Abbott must have eventually realized his (completely avoidable) mistake because he deleted his tweet later Tuesday morning. But that hasn't stopped people on Twitter from relentlessly roasting him—and writing their own fake Churchill quotes.
Greg Abbott and Sid Miller are so lazy that they can't take 5 seconds to google the accuracy of their stupid memes. #VoteThemOut pic.twitter.com/FvLUyYwAmv

— Very Innocent Unicorn (@PinkFulfyUnicon) August 7, 2018
Made a new Winston Churchill meme for Greg Abbott since he seems to have accidentally deleted his 1:00 am 9gag tweet. pic.twitter.com/A7UogBSFkD

— Eva Cantor✡Betrayed by Cher (@PoRiverJamBand) August 7, 2018
https://twitter.com/HKesvani/status/1026824137610862593
The memes show how easy to write any darn thing, slap some quotes around it, and attribute it to a prominent historical figure. See that, Greg?
As the great Abraham Lincoln once said, "don't believe everything you read on the internet".

— Nick Young (@NickYoung67) August 7, 2018
Am I doing it right? pic.twitter.com/ZqscuVz4zc

— Robert Maxwell 🌹🌏 (@rmaxwellusn) August 7, 2018
"If you make up fake quotes by me or my friends and post them on Twitter, I'm going to invent a time machine and come to the future and kick your ass," Dwight Eisenhower, 1945.

— Jeet Heer (@HeerJeet) August 7, 2018
https://twitter.com/rdhesselbrock/status/1026804943590764544
Insights like "people who share fake quotations on the internet show they have a shallow understanding of history"?

— Kevin M. Kruse (@KevinMKruse) August 7, 2018
And lest Abbott be tempted to share any more quotes about fascism, Splinter pointed out that a similar quote often attributed to Sinclair Lewis—"when fascism comes to America it will be wrapped in the flag and carrying a cross"—is fake, too.