As Hurricane Irma barrels toward Florida, putting the entire state in danger, one resident apparently thinks he has the solution to fighting the storm and to staving off the boredom he thinks he might feel.
So, a 22-year-old named Ryon Edwards, along with Zeke Miller, created a Facebook event to shoot guns at the incoming storm.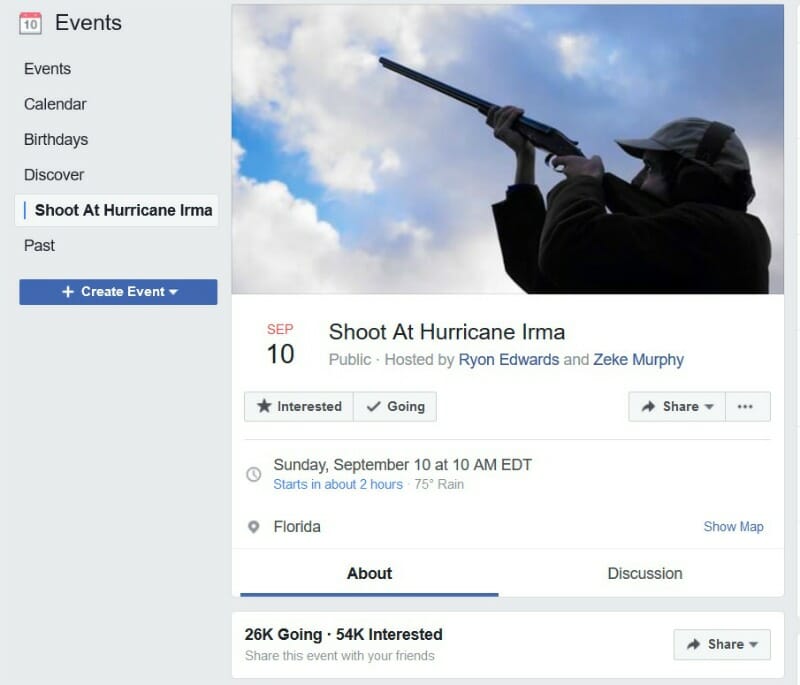 The event is most likely a gag, but with 26,000 people RSVP'ing and another 54,000 people saying they're interested in participating, the Pasco Sheriff's Office felt compelled to tweet this warning.
To clarify, DO NOT shoot weapons @ #Irma. You won't make it turn around & it will have very dangerous side effectshttps://t.co/CV4Y9OJknv

— Pasco Sheriff (@PascoSheriff) September 10, 2017
Edwards told the BBC he created the event "to lighten the mood" and because "a combination of stress and boredom made me start the event."
"I never envisioned this event becoming some kind of crazy idea larger than myself," Edwards said. "It has become something a little out of my control."
Edwards' idea apparently inspired another Facebook user to create a "Flame Throwing Hurricane Irma" event. "It's time we took a stand against this bully!" reads the description. "This is our home, nobody drives us out of our own territory. Join me in this fight as we shoot flames at Hurricane Irma and dissipate her on the spot."
It seems like most people knew Edwards' idea was silly and were just playing along for fun. But the Pasco Sheriff's Office apparently was worried that some would take it seriously and, we suppose, try to shoot bullets at the wind and rain. We know, of course, this is a terrible idea.
Not the recommended way to shoot the breeze

— Lars Plougmann (@larsz) September 10, 2017
H/T Yahoo