A community on Reddit dedicated to President Donald Trump has been taken over by fans of Donald Glover—who are flooding the community with pictures and memes of the popular rapper and actor.
The seized subreddit, r/thedonald, is not the same as the massive pro-Trump community r/The_Donald, where many of the president's biggest online fans discuss him every day.
One of the more popular posts amid the takeover was from u/SvennoBenno, who posted a picture of Glover asking for people to upvote it "so that people see it when they Google 'The Donald.'"
As of Tuesday morning, the post had received nearly 47,000 upvotes with more than 900 people commenting on it.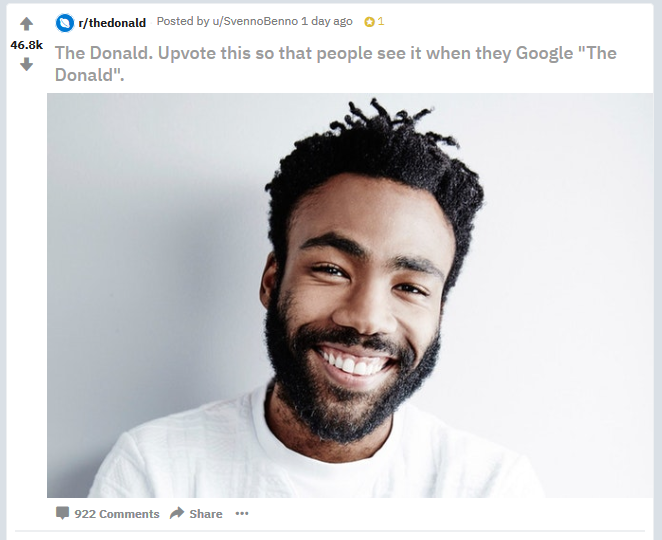 "I went to sleep and woke up with 134 inbox messages. 48k upvotes and still counting, I never expected this," u/SvennoBenno told the Daily Dot on Tuesday, later adding: "Well, this is the internet. If you have a small sub with little interaction and a mod that's been afk for over two weeks, these things are bound to happen when a new idea presents itself."
The post elicited a number of mocking responses.
"This is the Donald we need right now. But not the one we deserve," one user wrote.
"Best overall Donald than any other that has come before," another chimed in.
The moderator of r/thedonald—who has not posted on Reddit for more than two weeks—did not respond to a request for comment by the Daily Dot.
But the upvote wasn't the only thing that has filled up the feed of r/thedonald in the past few days.
Users have begun posting pictures of Glover from his time on Community, images of the Lego figurine that has been made from his role in the upcoming Star Wars film, emoji of the actor and rapper, and even fan art.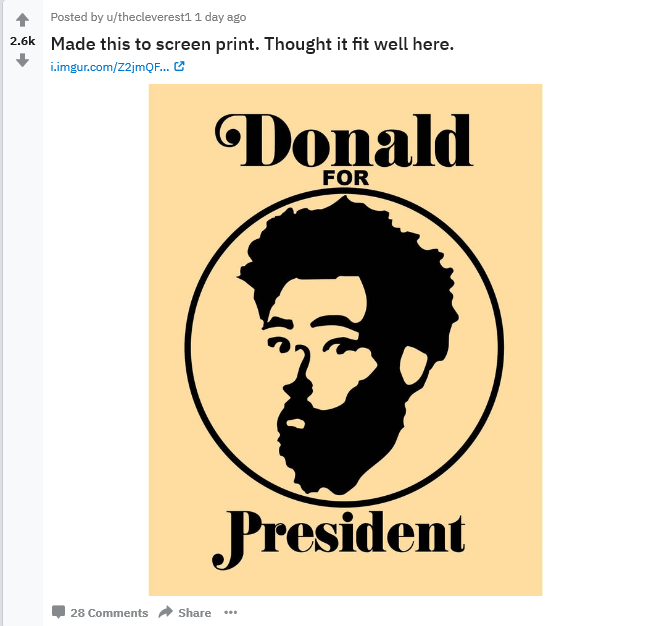 The torrent of Glover-related content is a far cry from some of the subreddit's earlier posts—which included clips from Fox & Friends, numerous anti-Obama memes, and various posts about the news of the day.
Glover has spiked in popularity in recent weeks after the release of his music video "This is America," hosting Saturday Night Live, and the anticipation of him starring in Solo: A Star Wars Story.
While an overwhelming amount of the posts have been centered around Glover, there are some other famous Donalds who have made their way in. Photos of Donald Duck, actor Donald Sutherland, and Ronald McDonald have been posted within the past few days.
r/thedonald still lists itself as a place "where we discuss in an unbiased manner Donald Trump's great contributions to modern society." If the Glover memes continue to pour in, they may have to change the last name in that description.
Editor's note: This story has been updated for clarity and context.
READ MORE: