In their never-ending war against the brands being too woke these days, conservatives are bound to have the occasional misfire, as they constantly castigate company after company for not fighting against shifting social norms.
Like today, when a fake Nintendo account made a picture of Mario and Luigi kissing and tweeted it to promote Pride Month.
https://twitter.com/nlntedoamerica/status/1134967792892076033?s=21
Not only was it gay, but Mario and Luigi are also brothers, so it was incest gay. A couple of prominent conservatives were livid. (And didn't realize it wasn't real.)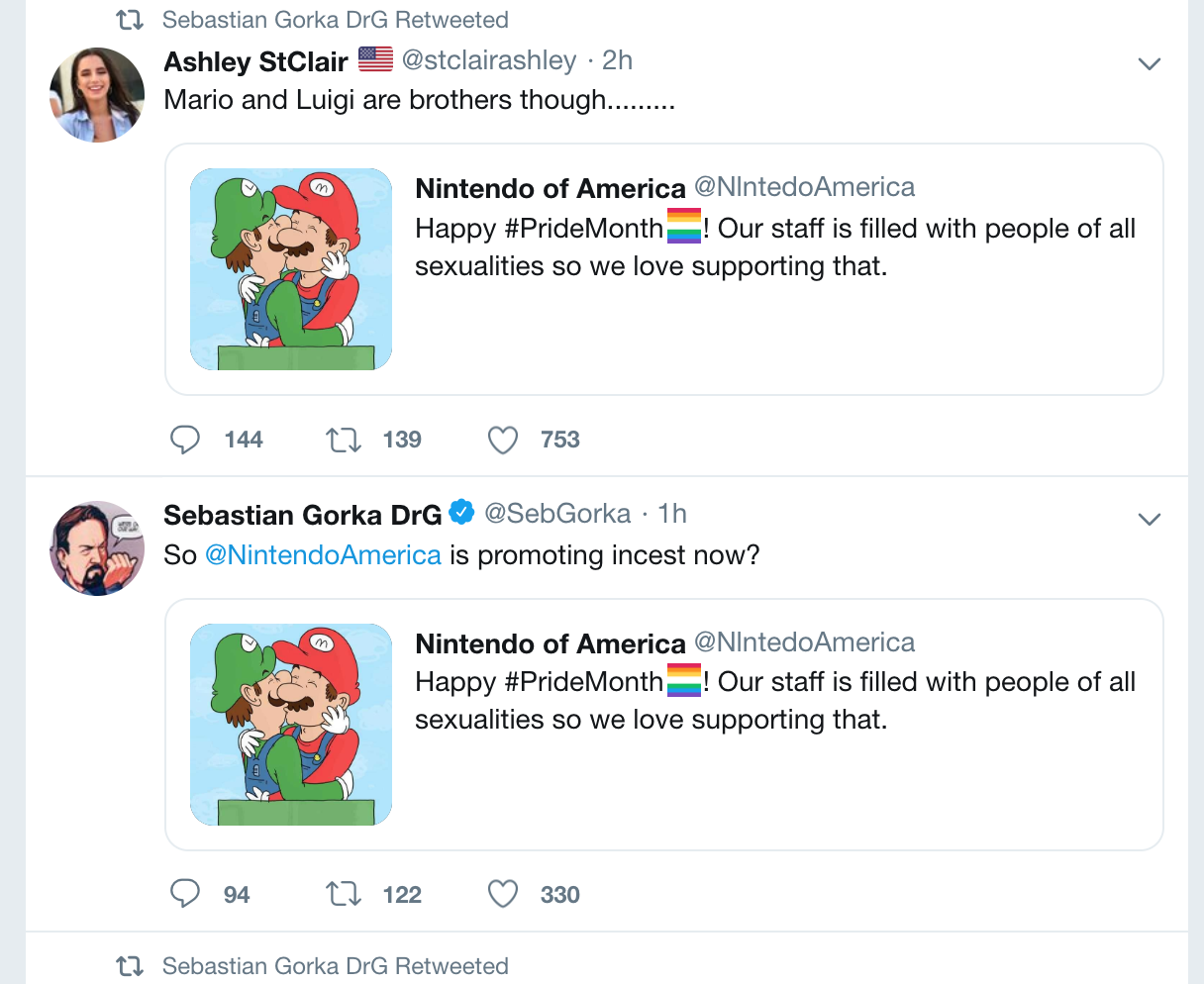 https://twitter.com/uKeepWhatuKiII/status/1135320166466609153
https://twitter.com/AaronBRubin/status/1135583668037021702
Leading the charge was former Trump adviser Seb Gorka, who last month railed against a gay wedding on the kid's cartoon Arthur. Turning Point USA pundit Ashley StClair also fell for it.
It led to widespread mockery. Because, again, this was not Nintendo, but a parody account.
very disappointed that Nintendo would tweet this

— 9 V O L T (@9_volt_) June 3, 2019
https://twitter.com/senatorshoshana/status/1135575939386085377
It's a parody account, Doctor.

— Nick Stolte (@StolteNick) June 3, 2019
you're literally too dumb to insult

— adrian crawford (@Crawf33) June 3, 2019
But with Pride Month lasting until the end of June, expect more contrived outrage at brands, whether they are real or fake.
READ MORE:
Got five minutes? We'd love to hear from you. Help shape our journalism and be entered to win an Amazon gift card by filling out our 2019 reader survey.