Twitter accidentally joined the debate over punching Nazis on Tuesday when the platform temporarily suspended an account over its header image of Captain America punching a Nazi.
"So apparently cartoon violence against fictional Nazis is verboten on @Twitter," @CodeReclaimers tweeted on Tuesday.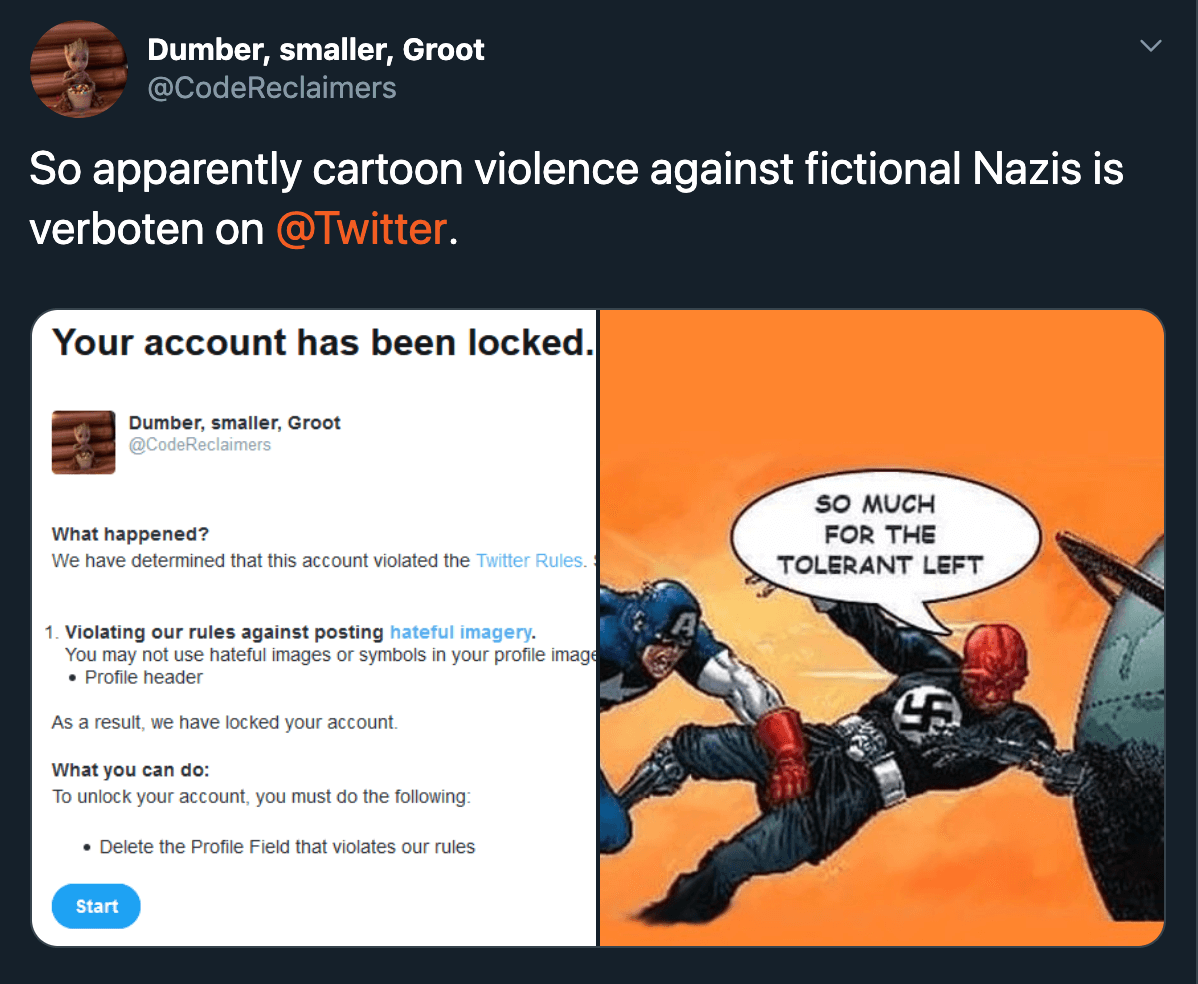 A Twitter spokesperson told the Daily Dot on Wednesday afternoon that the account was suspended in error and had been restored.
@CodeReclaimers, whose real name is Allen McIntire told the Daily Beast he received a message explaining his account was locked due to hateful imagery. The cartoon image depicts Captain America punching fellow Marvel Comics character, as a Nazi supervillain.
Twitter locked McIntire's account for several hours before correcting the mistake, the Daily Beast reported.
The photo was set as McIntires' profile cover photo for a year before the suspension. Now, @CodeReclaimers has posted the original image next to his suspension notice as his header.
Twitter has an algorithm to find hateful content, including images of Swastikas. The Daily Beast attributes McIntire's suspension to this automated system.
Debates over the ethics of punching Nazis came to a boil in 2017, when a viral video showed self-proclaimed "alt-right" activist and white nationalist Richard Spencer being punched in the face. The man who punched Spencer called him a neo-Nazi at the time of the attack, according to the New York Times.
The video brought to light problems with social media outlets, especially Twitter, that allowed neo-Nazis to thrive. Platforms like Twitter, Facebook and YouTube are still regularly under the magnifying glass for letting hate speech go unchecked.
Keegan Hankes from the Southern Poverty Law Center advocacy group explained to USA Today last month how platforms facilitate online hate that becomes reality.
"There is a direct correlation between the rise of hate groups on social media and the frequent attacks," Hankes told USA Today.
And despite platforms' ongoing attempts to squelch hate speech, sometimes Twitter users like @CodeReclaimers get caught in the crosshairs.
H/T Daily Beast