An Ohio Supreme Court Justice running for governor defended Sen. Al Franken (D-Minn.) amid accusations that he groped a sleeping woman in 2006 by publicly claiming that he has had intimate relationships with "approximately 50 very attractive females" over the past 50 years, adding that he was "disappointed" by the "national feeding frenzy" regarding sexual assault.
Bill O'Neill, a Democrat, said in a Facebook post on Friday that he wanted to speak "on behalf of all heterosexual males" in light of the allegations against Franken–where a woman provided photographic evidence of him groping her while she slept and said he forcefully kissed her during a rehearsal of a skit for soldiers in 2006.
In his defense of Franken, O'Neill says he had a tryst in a hayloft with a "gorgeous blonde" who was his "first true love" and "ended with a drop dead gorgeous redhead from Cleveland."
"Now that the dogs of war are calling for the head of Senator Al Franken I believe it is time to speak up on behalf of all heterosexual males," O'Neill wrote. "As a candidate for Governor let me save my opponents some research time. In the last fifty years I was sexually intimate with approximately 50 very attractive females. It ranged from a gorgeous blonde who was my first true love and we made passionate love in the hayloft of her parents barn and ended with a drop dead gorgeous red head from Cleveland."
O'Neill also said he was "sooooo disappointed by this national feeding frenzy about sexual indiscretions decades ago."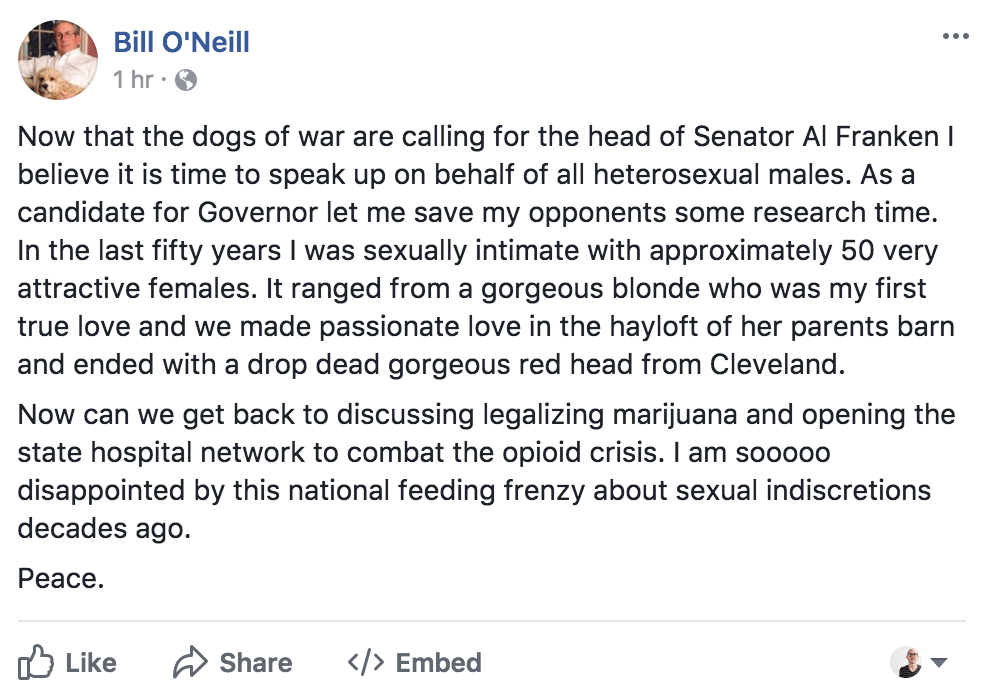 It's unclear why O'Neill conflated sexual assault and consensual sex, but he ended his Facebook post saying that he wanted to focus on "legalizing marijuana and opening the state hospital network to combat the opioid crisis," which he could have done without making the post in the first place.
It's also unclear why O'Neill referred to numerous reports of sexual assault that have come out against politicians, celebrities, and others in recent weeks as "indiscretions."
The post was subject to numerous condemnations.
"What the fuck is this," one person wrote in response to the post. "Yeah, heterosexual males are definitely the ones who need defending. What a joke. Although learning about your sex life while you attempt to dismiss the importance of this national conversation is…interesting and all, I wish Ohioans would finally elect someone who gives a damn about marginalized people."
Another person put their thoughts on the post more succinctly.
"You actually want Democrats to vote for you in the primary, right?" they wrote. "This doesn't help."