Amid the dozen-plus contraception options available to those of us who aren't currently pursuing pregnancy, there exist a few items almost everyone knows: condoms, birth control pills, patches, rings, and intrauterine devices (IUDs). And then you have your more under-discussed methods: sponges, diaphragms, spermicide. No one talks about the latter much, but apparently, some among you are curious enough as to how effective spermicide is that you've Googled it, and here we are. So, we asked physicians and women's health experts: What is spermicide? Here's everything you should know about how it works, how to use it, and just how effective it is. 
What is spermicide?
A chemical contraceptive, spermicide comes in cream, gel, foam, or film form, on a condom, or on a sponge.  "Think of spermicide like chemical warfare for sperm," says Dr. Jennifer Conti, a clinical assistant professor of obstetrics and gynecology at the Stanford University School of Medicine. "It's a chemical (Nonoxnyl-9) that coats the vagina and destroys any sperm with which it comes into contact.
Some readers may shudder at the thought of chemical warfare waged within the confines of their vaginal walls. It's normal to wonder whether or not spermicide is safe. And indeed, there are a few possible side effects worth noting before you buy a tube.
Spermicide side effects
"Because it's a chemical not normally found in your body, [nonoxynol-9] has the common side effects that you might imagine: vaginal and penile irritation for some people," Conti explains. So, you might find your genitals are somewhat sore after sexual activity with spermicide—particularly, as Planned Parenthood notes, if you're using it multiple times daily.
In addition to being uncomfortable, that irritation can be especially dangerous in terms of HIV transmission: According to Dr. Mary Jane Minkin, a clinical professor of obstetrics, gynecology, and reproductive sciences at the Yale School of Medicine, spermicide does not kill the organisms that cause sexually transmitted infections in conjunction with sperm. What it might do is increase users' risk of HIV transmission by irritating the vagina's mucosal cell lining and making them more prone to infection, Minkin says. If you or your partner are at high risk of HIV exposure, Minkin recommends you consider another contraceptive product.
So if it has the potential to inflame your most sensitive body parts and make your sexual organs more receptive to HIV, why use spermicide at all? Surely, it must be effective enough to outweigh the potential costs?
Hard "meh" on that one.
READ MORE:
Spermicide effectiveness
"The benefit of spermicide is that it can be used with condoms, and must be used with diaphragms or cervical caps, to make the contraceptive method more effective," says Conti. "It's also available on-demand, meaning you don't have to do much pre-sex planning." You do, however, need to use it every time you have sex if it's your primary form of birth control.
But there's a downside: Spermicide's failure rate is about 18 percent among people using the product correctly, according to Planned Parenthood. That means about 18 in 100 spermicide users will get pregnant each year, despite their adherence to the instructions. And that last part is hard, Conti notes.
"You have to let [spermicide] marinate in your vagina for at least 10 but no more than 60 minutes," she explains. "That means that you've got a 50-minute window wherein you're only 80 percent protected. So if the sex lasts longer or you're not patient enough to wait, this likely isn't the method for you." And indeed, when people don't set the clock just right, spermicide's failure rate jumps to about 28 percent, according to Planned Parenthood's numbers.
"In general, I would never suggest using just a spermicide as a contraceptive," Minkin warns, granting that it's a better option than using nothing at all. "A condom alone is better than using a spermicide alone."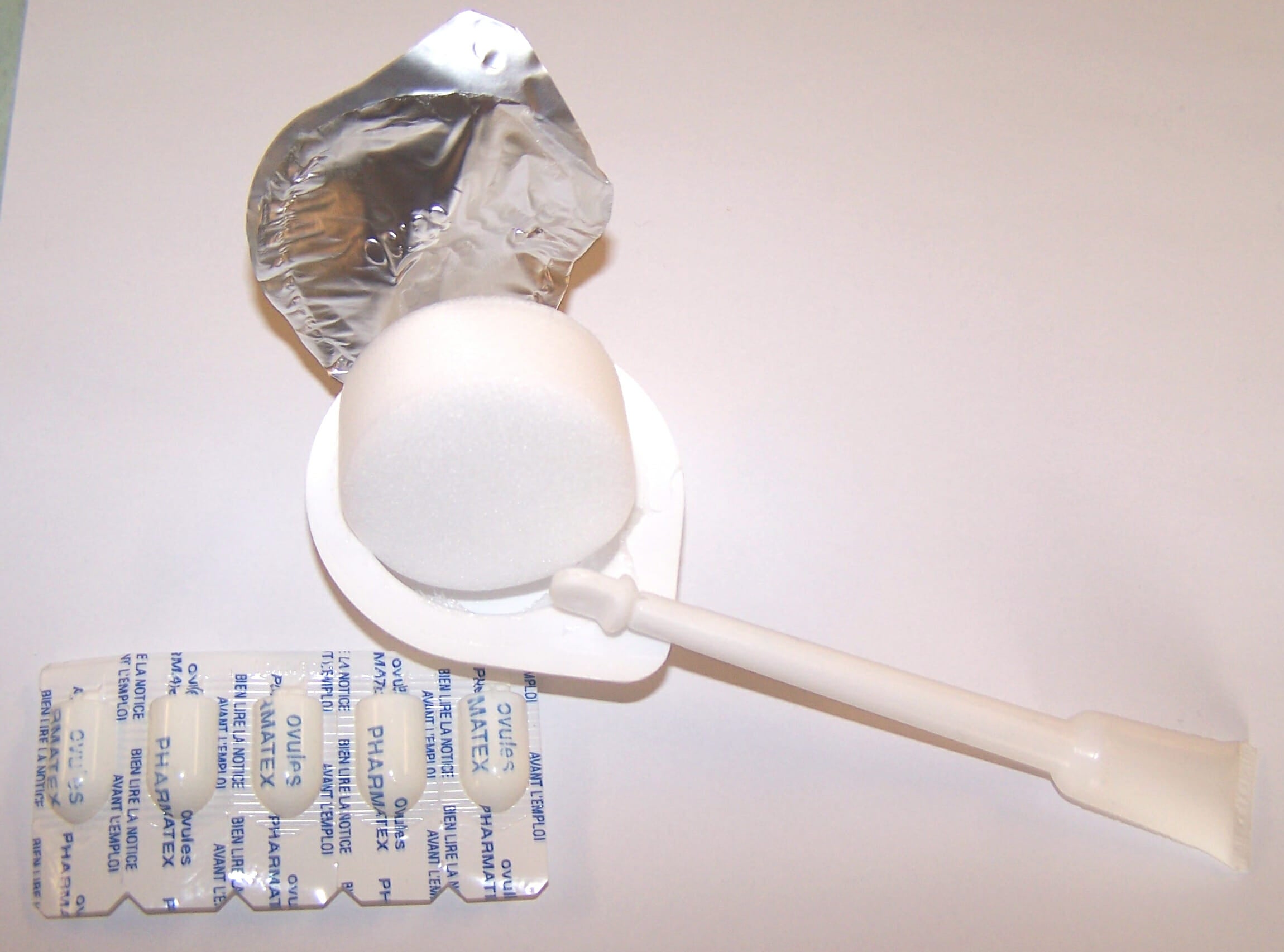 READ MORE:
Spermicide condoms
Condoms, meanwhile, maintain a 98 percent efficacy rate when used correctly, and while they can be used in conjunction with spermicide, some brands have done the legwork for you and included a sperm-murdering layer right on the rubber.
Healthline notes that spermicidal condoms skew more expensive than their non-spermicidal counterparts and that they don't last as long. While the presence of spermicide does nothing to make a condom more effective at STI prevention, it might increase the risk of HIV transmission (as previously discussed) and genital irritation. Most of the mainstream condom companies offer spermicidal options: Trojan, for example, makes spermicide-treated UltraThins (which, according to anecdotal Reddit evidence, can cause intense penile burning), Her Pleasure, Ultra Ribbed, Regular, and Magnum options; LifeStyles makes a spermicidal condom; Durex, however, eliminated nonoxynol-9 from its lubrication ingredients list in 2004, over concerns about HIV and STI transmission.
If you're taking care when you put on a condom, it seems to me—a writer, not a medical professional—that you won't significantly alter your odds of avoiding pregnancy by throwing spermicide into the mix. As with any contraceptive choice, though, you do you.
An important reminder
Please consult a doctor if you're considering new contraceptive options. That doctor probably won't push you toward a spermicide—as Minkin put it, "We have a heck of a lot of better methods" available these days—but if they do, at least you'll have an idea of what to expect and who to call for help in the case that your vagina begins to feel like it's on fire, or you need your UTI treated.
Editor's note: This article is regularly updated for relevance.