Knives. Needles. Scalpels. Nail scratching. Humans love to combine pain and pleasure, and there's no better proof than sex. Anyone familiar with bondage, dominance, sadism, and masochism (BDSM) knows just how popular it is among kinksters. And if you like a little consensual violence in your sex life, guro porn might be for you.
Warning: The following article contains graphic violence in a sexual context.
If you're familiar with macrophilia and vore, then you already know many fetishes sit at that intersection. Giantess fans enjoy the idea of a powerful, larger-than-life presence who can easily grind them into nothing. Vore kinksters want to be devoured by another person. Similar metaphors can be seen in guro porn, too. And while many guro fetishists are looked down upon for their more graphic sexual preferences, they aren't sociopaths, murderers, or serial killers in the making. There's more to the kink than just blood and guts too.
So let's dig into the heart of the matter, so to speak. Just be warned: This article isn't for the faint of heart.
What is guro porn?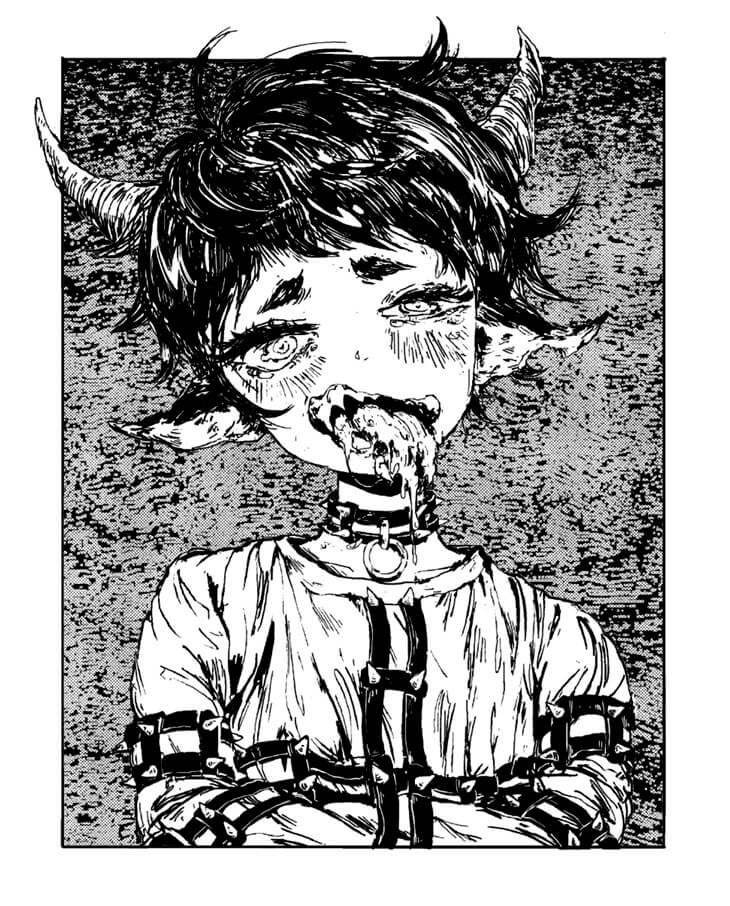 The term "guro" originates from "ero guro," a Japanese art form merging graphic, grotesque, and gory imagery with eroticism. According to the Japan Times, ero guro dates as far back as the Edo Period (1603 to 1868) when woodblock prints merged erotic artwork with explicit violence. One example includes Utagawa Toyokuni's "The Peony Lantern," in which a man has sex with the skeleton of his late partner.
Zerai Naoi, a special effects artist who specializes in gore for performances and movies, told the Japan Times that ero guro "doesn't differentiate between the erotic and the grotesque," and while those are underlying themes within the work, the form is "really about neither." Graphic violence and erotic imagery are commonplace in Japanese pop culture, so ero guro doesn't have the same shock value in Japan as it does in the West. Case in point, Naoi says his booth at both art and fetish events attracts a significant number of women.
"Girls seem to have a higher tolerance for brutal imagery," he told the Japan Times. "Some of the art is quite savage but they snap it up."
Anime played a major role in importing ero guro to the West. As the internet became more and more commonplace, the online anime and manga community grew in size and demand. An enormous fan translation community increased access to hentai with ero guro elements, fascinating readers. Some enjoyed the aesthetic as a visual taboo. Others found its themes sexually arousing. In some cases, ero guro's pleasures lie in both. Over time, "guro" became a catch-all term in the West for artwork inspired by Japanese ero guro, often with more sexual and pornographic connotations.
Ginny, a journalist and queer woman, told the Daily Dot that she first learned about guro while browsing 4chan when she was young, which sparked an unmistakably queer fascination in her. She defines guro as fixated on "eroticism, sexual corruption, and decadence."
"I think there's a misunderstanding about what constitutes guro. It's not 'gore porn,' even though there's an element of work being produced under the guro umbrella that fits that definition," Ginny said. "For me, guro marries a sense of nihilism with a traditional take on what's erotic. There's something that's almost a 'fuck you' to the idea of conceptions of desirability when you team it with scenarios that portray an almost joyful disrespect for the boundaries of what bodies can physically do, and what's morally right."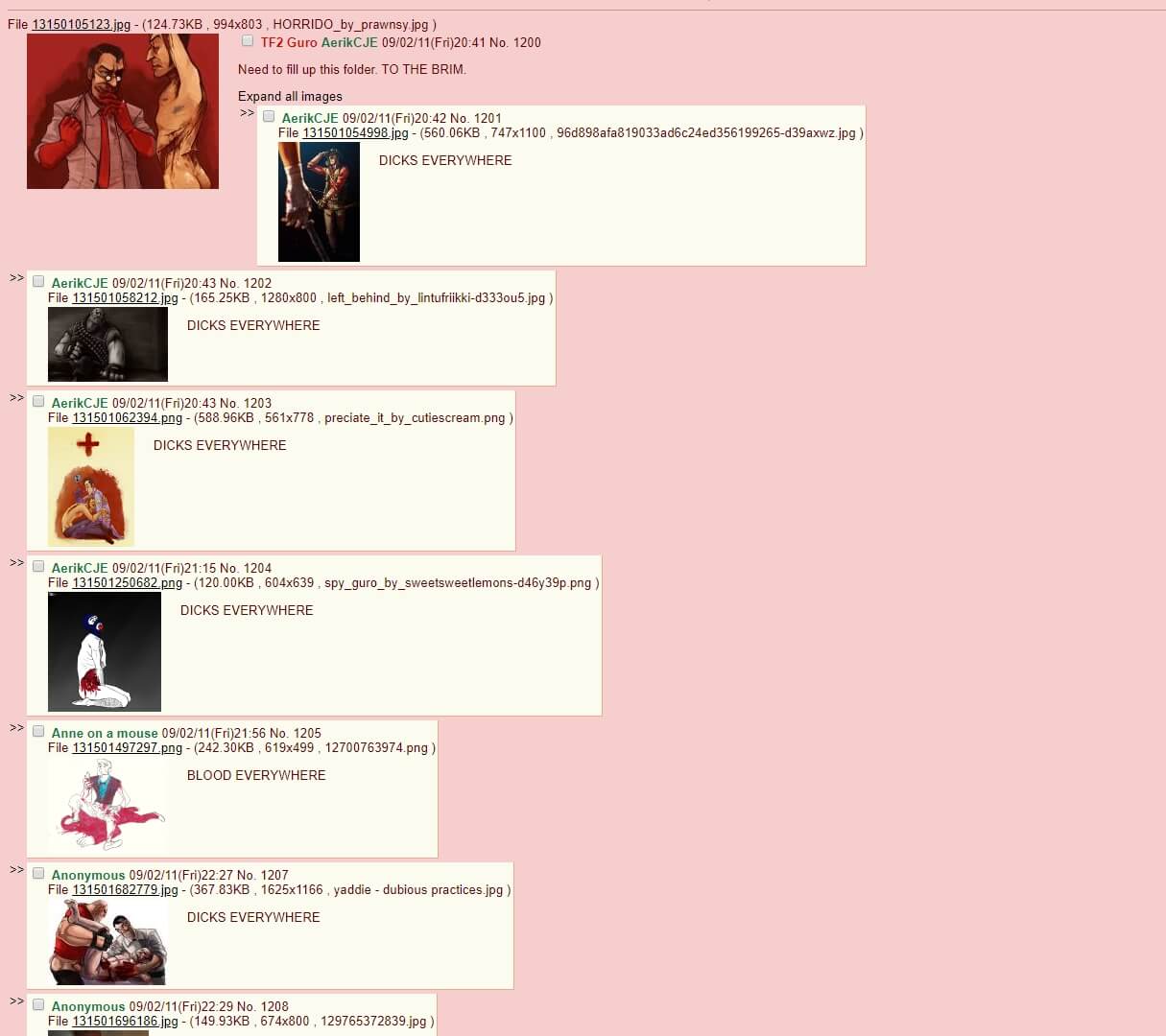 One queer artist named Lain (who uses she/they pronouns and asked for a pseudonym for this article) told the Daily Dot that she first discovered guro through the 
Team Fortress 2
-themed forum 
TF2chan
, where women would create art or fanfiction about the game's male characters with yaoi (or gay) guro themes. Soon, she found out about an imageboard dedicated entirely to guro, aptly called
Gurochan
.
"Gurochan itself was clearly masc-dominated. Pictures of girls getting their breasts hit with hammers, or getting mauled and then prepared and eaten by buisnessmen at a fancy dinner were the majority of the /gore/ board," Lain told the Daily Dot. "However, /freakshow/ was not only more gender inclusive in demographic, it was also more varied and not as violent, especially not towards the characters that I related to in the works."
Over time, guro trickled down from the imageboard world into Western fandom circles and artist communities on Tumblr, Twitter, and Deviant Art, among others.
READ MORE:
Why are people into guro porn?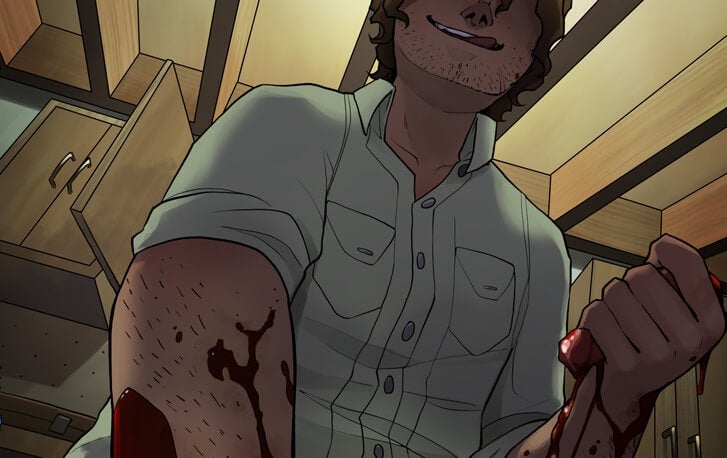 Tina Horn is the host and producer for Why Are People Into That?!, a podcast that unpacks kink and fetishism with guests. She's also the author of sci-fi comic book series SfSx. She says guro's appeal lies in its contradictions, which connect "pleasure, control, and catharsis to the fear of death and dismemberment."
"Repulsion and attraction are two forms of excitement with very similar sympathetic nervous responses: quickening pulses, pounding chests, shortness of breath, super focused attention. And it just makes sense that people are fascinated by the limits of what a body can do," Horn told the Daily Dot.
The various types of guro porn unsurprisingly elicit different reactions for different people. Gurochan's subforum /freakshow/, for example, focuses less on dismemberment and more on transformation, change, or monstrosity. One common example is "headless" porn, showing anime women going about day-to-day life with their heads detached from their bodies. These have much softer undertones than the more grotesque and graphic violence seen on /gore/, which covers dismemberment, hangings, "electro gore" (that is, electrocuting women to death), and "heart fucking," a term that probably needs no definition. Many of the photos in /gore/ depict nonconsensual guro, but there's a sizable amount of guro porn that involves mutual consent.
"I know there's a lot of focus on acts like decapitation in guro and an anatomical accuracy obsession almost in the work of some creators, but that's not where the bulk of my enjoyment is," Ginny said. "I'd argue that the eroticism of guro for me comes more from the connection and what the violence implies than from scrutinizing the violence itself."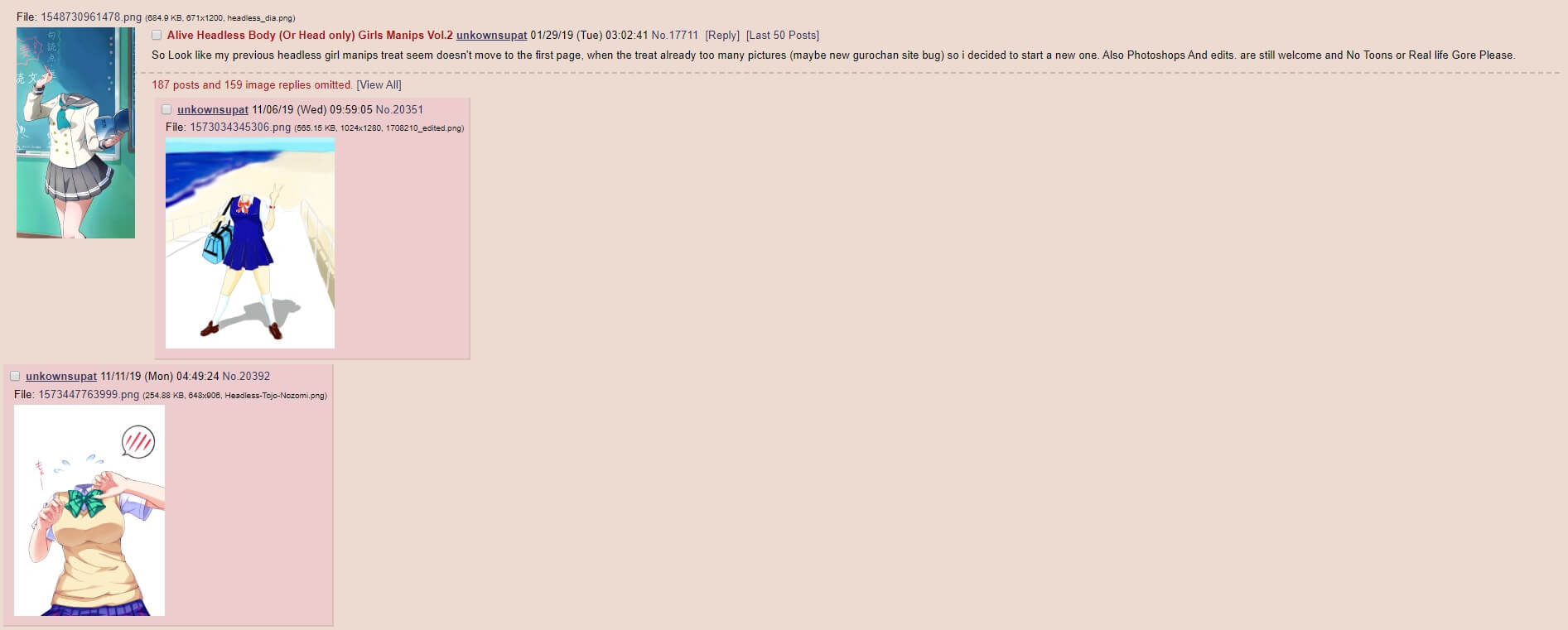 Lain, on the other hand, enjoys both consensual and nonconsensual depictions and compares guro to "a power dynamic" in the "dom/sub" and "top/bottom" variety. But she doesn't have an inherently sexual relationship with guro these days. Rather, she "[taps] into it for the feelings it conjures upon viewing." She also values the role anatomy plays in guro art.
"I love the human body and everything inside and out of it, and seeing depictions of it cut open without it being a cheesy biomedical rendering is so magical for me," Lain told the Daily Dot.
While Ginny and Lain's interest in guro diverge, they intersect in one important way: At its core, guro is about "someone allowing you to enter them, in a totally taboo and fatal way," as Lain puts it. It's not just a fantasy, it's also a metaphorical narrative for getting too close to another person—literally swimming around in another person's body.
What is candy gore?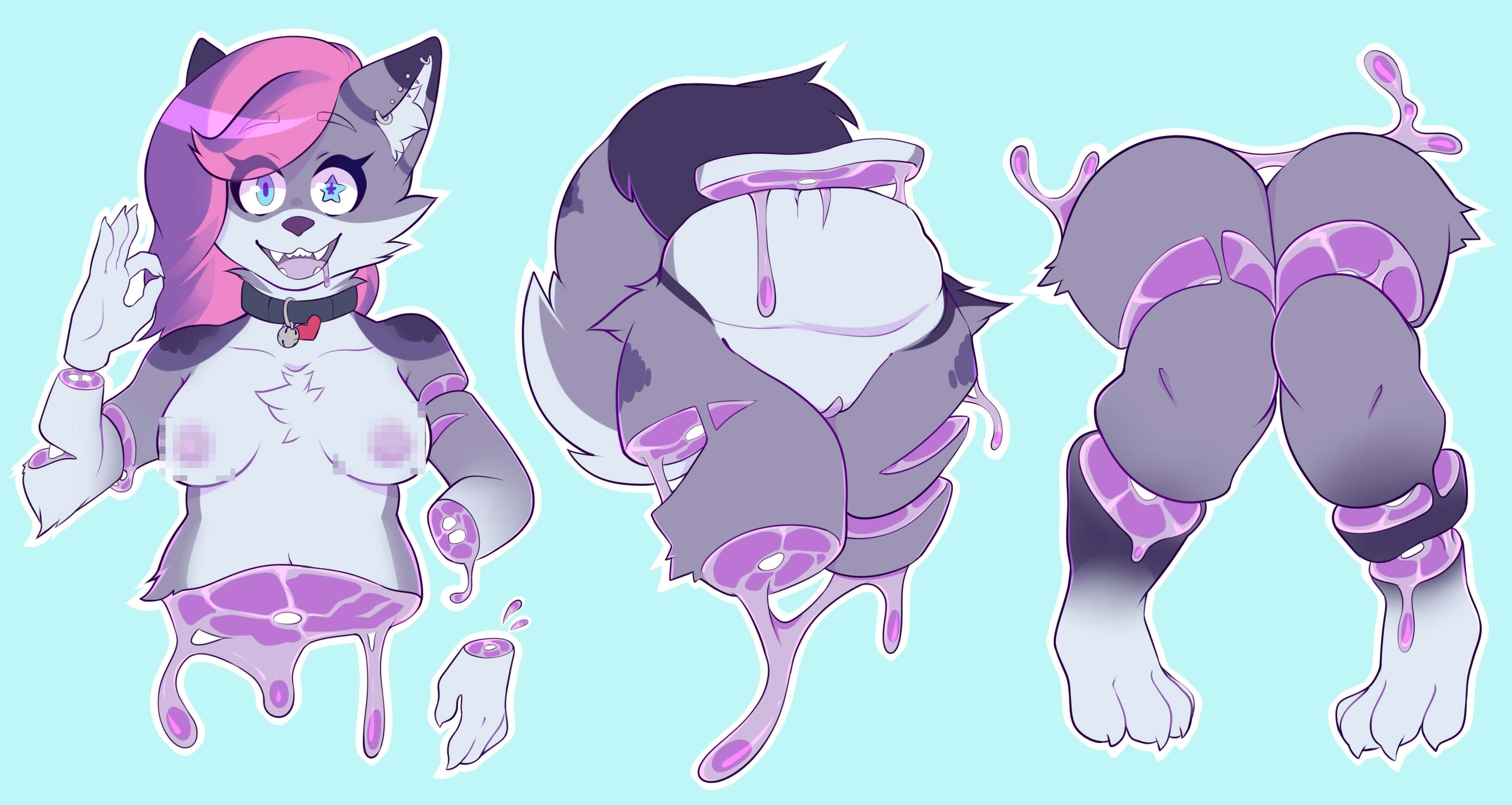 Candy gore shares similar themes with traditional guro. But instead of real, human participants, its gore is based around candy beings or creatures with colorful viscera. This softens guro's gruesomeness while still taking inspiration from ero guro.
Rose, who uses she/they pronouns, was always "super squeamish" about blood, guts, and viscera during childhood. While they were struggling with their gender identity in 2013 and 2014, they came across candy gore and were immediately hooked. Rose went on to create the Tumblr blog Candygore, featuring everything from mild dismemberment to vivisections. Unsurprisingly, many of the same interests that attract queer folks to guro also attract them to candy gore.
"The colors, the sparkles, the way it was kinda happy. Controlled. Like it was something a character wanted," Rose told the Daily Dot. "I guess I was feeling similarly, wanting control over my body in ways that others found unnatural."
Is there something wrong with liking guro?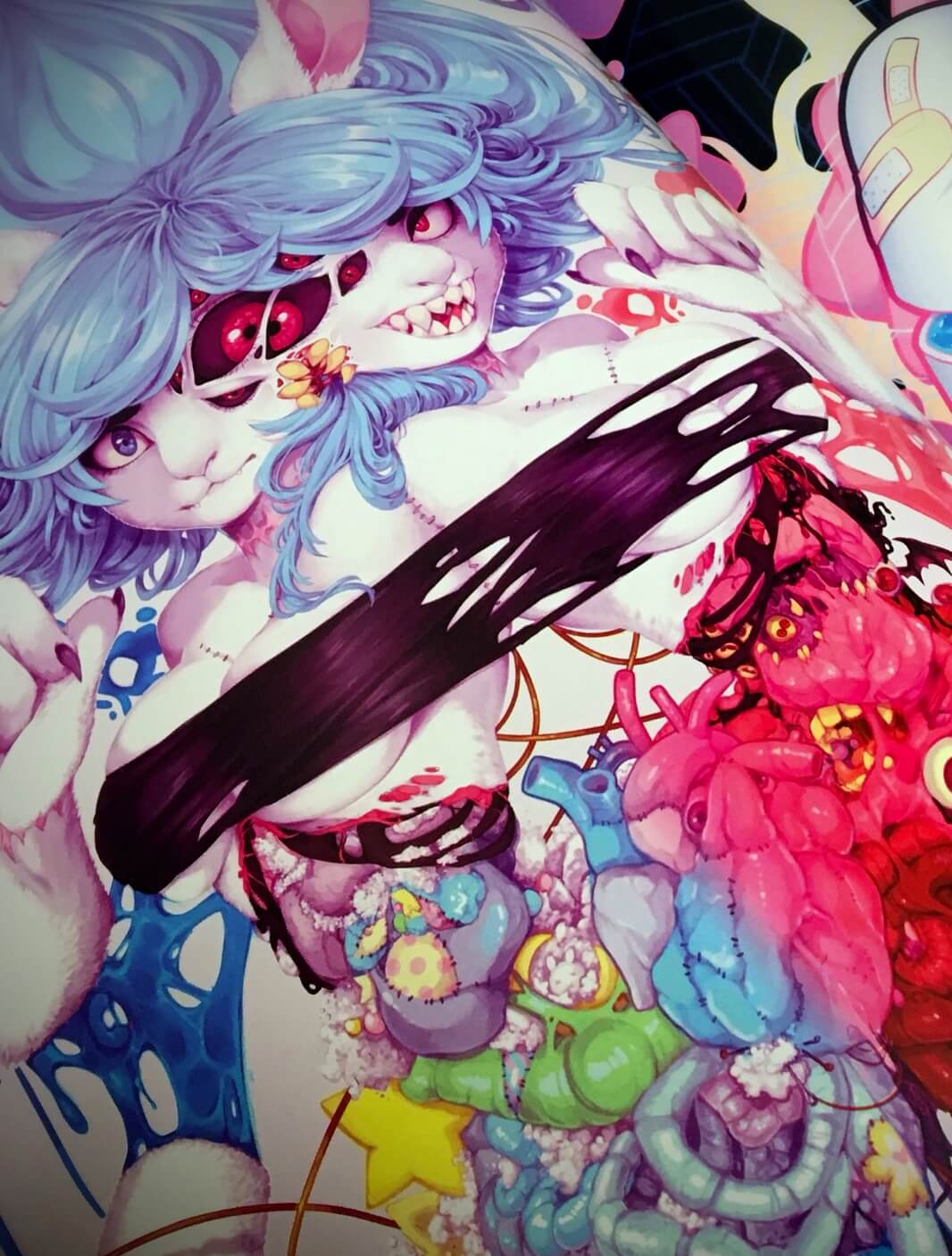 No.
Liking guro doesn't make you deranged, sociopathic, violent, or a predator. Guro fetishism is nothing more than a fantasy. And as long as creators and role-players understand the difference between fantasy and reality, there's nothing wrong with enjoying it.
Kate Sloan is a renowned sex educator and podcast host behind The Dildorks and Question Box. Like many kinksters, Sloan believes society stigmatizes violent sexual fantasies solely because they're sexual. In reality, kinky people are "not a bunch of sex-crazed boundary-crossers," she said, and they "tend to have good judgment," just as humans do in general.
"I think it's worth interrogating why we tend to demonize violence in kink/porn/fantasy but not as much in popular mainstream media properties," Sloan told the Daily Dot. "I think it's because kink and nonstandard sexual desires are associated with queer folks and (of course) with sexuality, both of which our culture likes to blame for things."
In fact, violent sexual fantasies are often metaphorical, and Sloan considers them a "potentially healthy outlet" for people's darker worries, fears, and desires. Women, for instance, are taught to "fear violence constantly" to the point of hypervigilance, and in turn, fetishism becomes a "twisted version of what we fear most."
"I know that when I have explored edgy kinks like knife play, fear play, and consensual nonconsent, it has helped me deal with and process my own fears of being attacked," she explained. "I get to control the experience from start to finish, so it's a powerful way of experiencing something that would normally make me feel very powerless."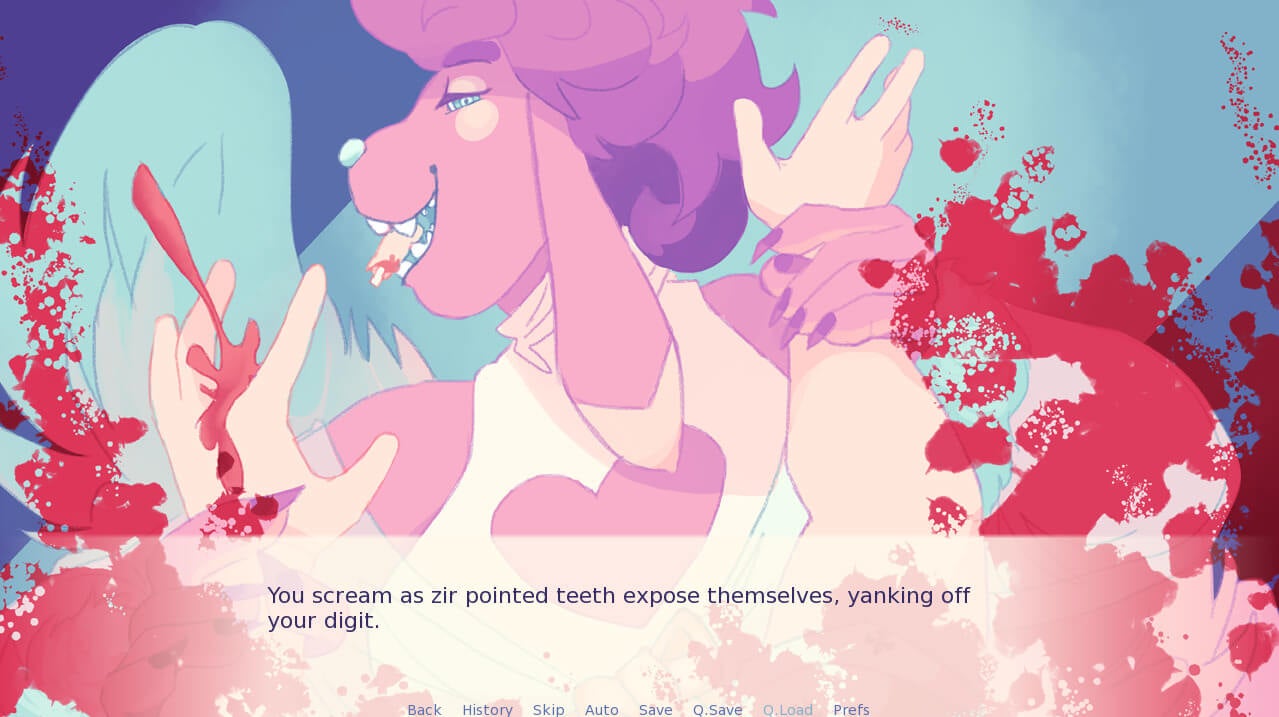 But kink isn't just about trauma. A running theme in queer desire, for instance, is longing for intimacy beyond what is socially acceptable, to merge with someone or be enriched entirely by the one we desire. To paraphrase Ginny, guro goes beyond the realms of what one should and shouldn't do and embraces it. This isn't always a trauma response, nor does it have to be. As long as fantasy stays fantasy, and all parties consent to risk-aware consensual play, it's no one else's business.
"You don't need to understand someone's desire in order to respect it, just like you don't need to understand someone's boundary to respect it," Horn told the Daily Dot. "You can fantasize for pleasure's sake and experiment for adventure's sake."
READ MORE: