Matching with people on social media is great. But unless you're an algorithmically driven robot, there comes a time when you actually want to meet that person in real life, which forces the question: "Where should we meet?" Bumble, which started as a dating app and has expanded to include ways to meet new friends and network (Bumble BFF and Bumble Bizz, respectively), is venturing offline with a new concept: BumbleSpot.  
What is BumbleSpot?
A BumbleSpot is a Bumble-verified physical location—be it a bar, a restaurant, or a coffee shop—where people can meet and mingle safely.
"This means that we have chosen spots that are inclusive spaces that align with our core values of kindness, respect, equality, accountability, and growth," wrote Bumble's Chief Brand Officer, Alex Williamson, in an email to the Daily Dot. "We want to make sure our BumbleSpots are a reflection of our values and are a place where our users feel comfortable to meet up for dinner, drinks, or coffee."
Bumble has already held several pop-up events, bringing women together to make them feel more empowered. Because after all, that is the startup's motto: "Make The First Move," whether in love, friendship, or business.
"Our users have an eagerness to meet new, like-minded people at Bumble events, so we wanted to create a more permanent location for them to meet that would last beyond a pop-up," Williamson added. "This discovery inspired our vision for BumbleSpot."
Where are these BumbleSpots?
Since launching the concept in November, Bumble, which now has over 48 million users in 150 countries, has rolled out 80 locations that are designated as a BumbleSpot in major cities across the U.S. and Canada. These include Austin, Chicago, New York City, Toronto, San Francisco, Los Angeles, and Miami. The company kicked off BumbleSpots by partnering with Moxy Hotels, Marriott International's millennial-focused brand. Actress and supermodel Jaime King attended the launch party in New York City, playfully participating in a game of giant Jenga.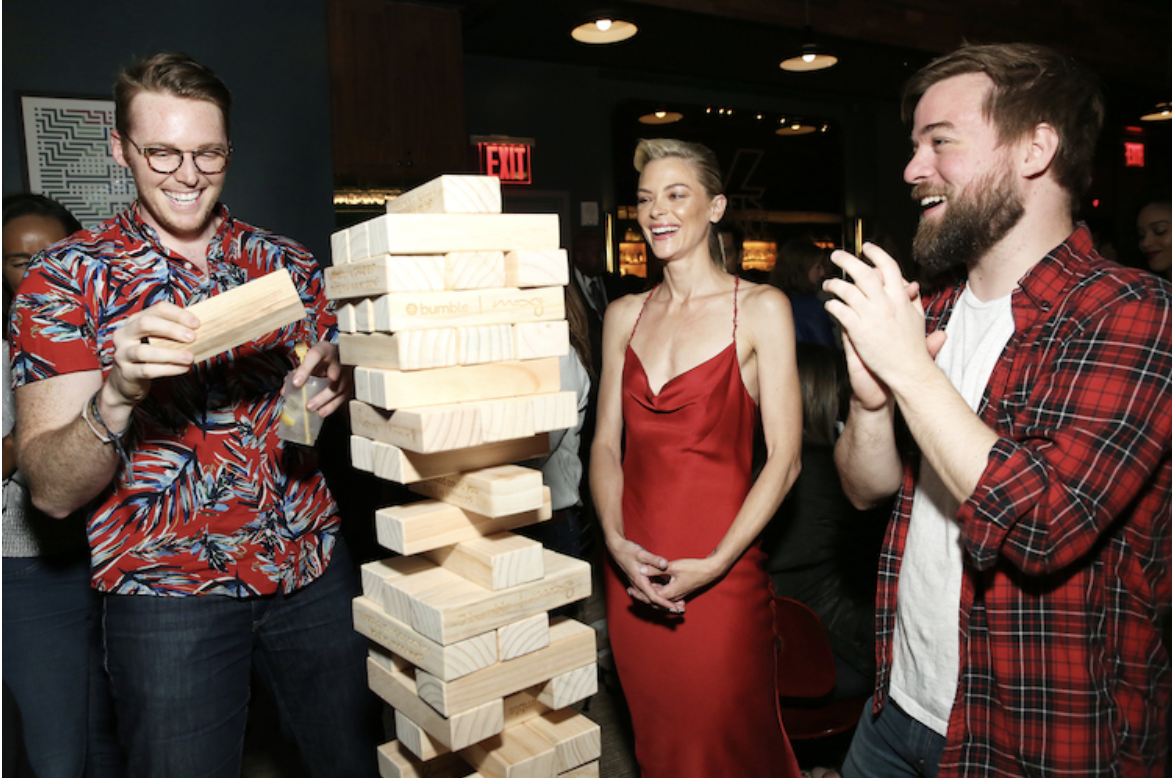 I had such a fun time with @Bumble and Moxy last month, giving the scoop on what makes a friend a bestie at the new BumbleSpot @MoxyHotels in NYC. pic.twitter.com/4LPsWmqwv2

— Jaime King (@Jaime_King) December 29, 2018
But most of the BumbleSpot locations are local businesses at this point. Jo's Coffee, a well-known fixture in the Austin community, is one example of a Bumble-verified location.
"It's the perfect spot where people can connect, whether it's casually grabbing a coffee while networking or a quick bite to eat with a date or friend," Williamson said.
What advantages do these BumbleSpots have?
In addition to being vetted by Bumble's city teams, there are some perks when visiting a BumbleSpot. Bumble users benefit from exclusive offers at participating locations across the country, like a "buy one, get one coffee" for you and your BFF, not unlike what you might see offered by a local business on Yelp. Wild Chix and Waffles, another funky Austin-based spot, offers a 15 percent discount on all menu items for Bumble users. (And FYI, you can't just say you're a Bumble user; you need to actually show your Bumble profile to get the discounts). In certain locations, there are also conversation starters laying around and other types of icebreakers (like that giant game of Jenga). 
How to find a BumbleSpot
Unfortunately, even though Bumble is a location-based app, it does not show you where these BumbleSpots are at this point. 
"News and updates on BumbleSpots are available exclusively to email subscribers on Bumble," wrote a Bumble PR rep in an email. 
Hopefully, this will change soon. There's not much use rolling out a new feature if it's not easy for users to take advantage of it. And personally, I'd like to be able to see where these BumbleSpots are when I'm traveling.