In Web Therapy, Lisa Kudrow plays Fiona Wallice, a therapist who finds standard-length therapy sessions boring because "they end up going on and on about feelings and dreams and memories and past experiences." So she's shortened her Skype sessions down to three minutes to force her patients to get to the point and accommodate her narcissistic agenda. She calls it a new "modality," though never explains exactly how it applies.
It works for the format of the show, which debuted online as short webisodes in 2011 and enjoyed a short run on Showtime. What makes Web Therapy funny is that Wallice is so self-centered and delusional, so sexually repressed and angry, and so at odds with her patients, played by Meryl Streep, Julia Louis-Dreyfus, and Conan O'Brien, among others. She often uses them as vehicles for her crazy business ideas, or to hack into her erstwhile husband's bank account. The only time that dynamic reverses is when her mother (Lily Tomlin) is on the other screen.  
But Web Therapy did tap into the zeitgeist, where ambient awareness is delivered via commenting on something, or keeping a Tumblr, or changing a status update on Facebook. We look for support from others via likes or retweets. In the last five years or so, online treatment has become more accepted, as people look for a way to fit counseling into their lives.
There are many ways to virtually medicate, with videos for hypnosis or white noise to help you sleep or concentrate. There are apps for teens who feel the need to meditate. Websites like Blah Therapy allow you to log in and "vent to a stranger" about social anxiety, depression, or relationships, or find a therapist. Scientists at the University of Southern California's Institute for Creative Technologies developed "Ellie," a virtual conduit for therapists designed to scan a patient's face and voice for signs of emotional distress.
Pretty Padded Room, which was recently featured on the show Shark Tank, offers online counseling for women, by women. Founder Bea Arthur (no, not that one) says the organization provides "therapy lite," but that she got the idea after hearing about a place in Japan where you could go into a store and break plates to vent.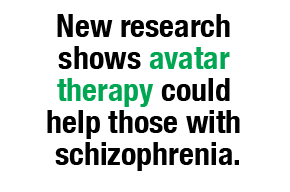 "[Women] are natural caretakers, and we seek out therapy more often than men," she explains. "[Pretty Padded Room] started as an interactive online journal. With online therapy, you can't immediately find a bond; there's a world of other things going on, and a lot of people don't know what therapy's supposed to be like. … Of course there are quality control issues. Everyone is hopping on the bandwagon, and with interstate counseling, a lot of people are doing therapy that shouldn't be."
DeeAnna Merz Nagel is cofounder of Online Therapy Institute, which advises therapists and mental health organizations on ways to advance therapy and virtual relationships via technology. While video conferencing is still the most popular form of online therapy, Nagel says OTI doesn't recommend Skype since, even though allegedly encrypted, it's not compliant with the Health Insurance Portability and Accountability Act. Her institute holds a certification in cyberculture and virtual worlds, and she mentions the burgeoning field of avatar therapy, which is gaining ground in certain psychiatric circles as it receives more funding.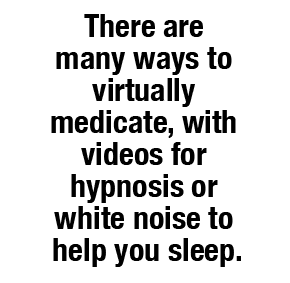 "A lot of research is being done on it," she explains. "The military is using it for soldiers with post-traumatic stress disorder; the Center for BrainHealth [in Dallas] is doing research on virtual worlds."
New research shows avatar therapy could help those with schizophrenia, by giving a patient's auditory hallucination a 3-D face they can confront. Nagel also mentions "addiction interventions via virtual worlds," which could change the landscape of substance abuse rehabilitation. The video game Oculus Rift—and more specifically, the headset that accompanies the game—has been tested on soldiers with PTSD, allowing them to relive a distressing situation in a safe virtual environment. But it could soon reach a larger audience with psychiatric disorders.
Of course, online therapy has the same dangers as any online forum. Therapists miss out on body language that can be beneficial to face-to-face meetings. Technology fails, and connections are lost. Nagel cites "online disinhibition effect," which was diagnosed by psychologist Jim Suler 15 years ago and predicted our tendency to overshare and disassociate under the protective wing of anonymity.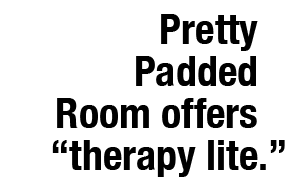 "We all have a tendency to do and say things differently face-to-face than online," she continues. "That's why the therapist needs to be properly trained."
So, what does she think of Web Therapy?
"[Kate and I] think it's hilarious," Nagel says. "We need to find humor in our field. But the three-minute sessions; that's strictly for comedy. That's not happening in the therapeutic world. We're trained as therapists first, whether we deliver in person or via distance.
"We build on a foundation of empathic listening, building rapport, being authentic. You can't get that in three minutes."
Illustration by Jason Reed / Original photo by Jlty33