Warning: The following article contains graphic sexual content.
A well-endowed woman with short hair bends over a green chair. She's naked. The camera quickly pans over her rear, which shows two enormous poles with purple dildos penetrating her ass and crotch. A third, shorter dildo sword rests on the chair's seat and thrusts up and down toward her head. Meanwhile, a mechanical hand grabs her skull and repositions her until the purple sex toy enters her mouth.
The whole scene looks like it could have been animated in Source Filmmaker or Blender. But the clip comes from a 48-second preview of Captain Hardcore, an upcoming adult video game with virtual reality support.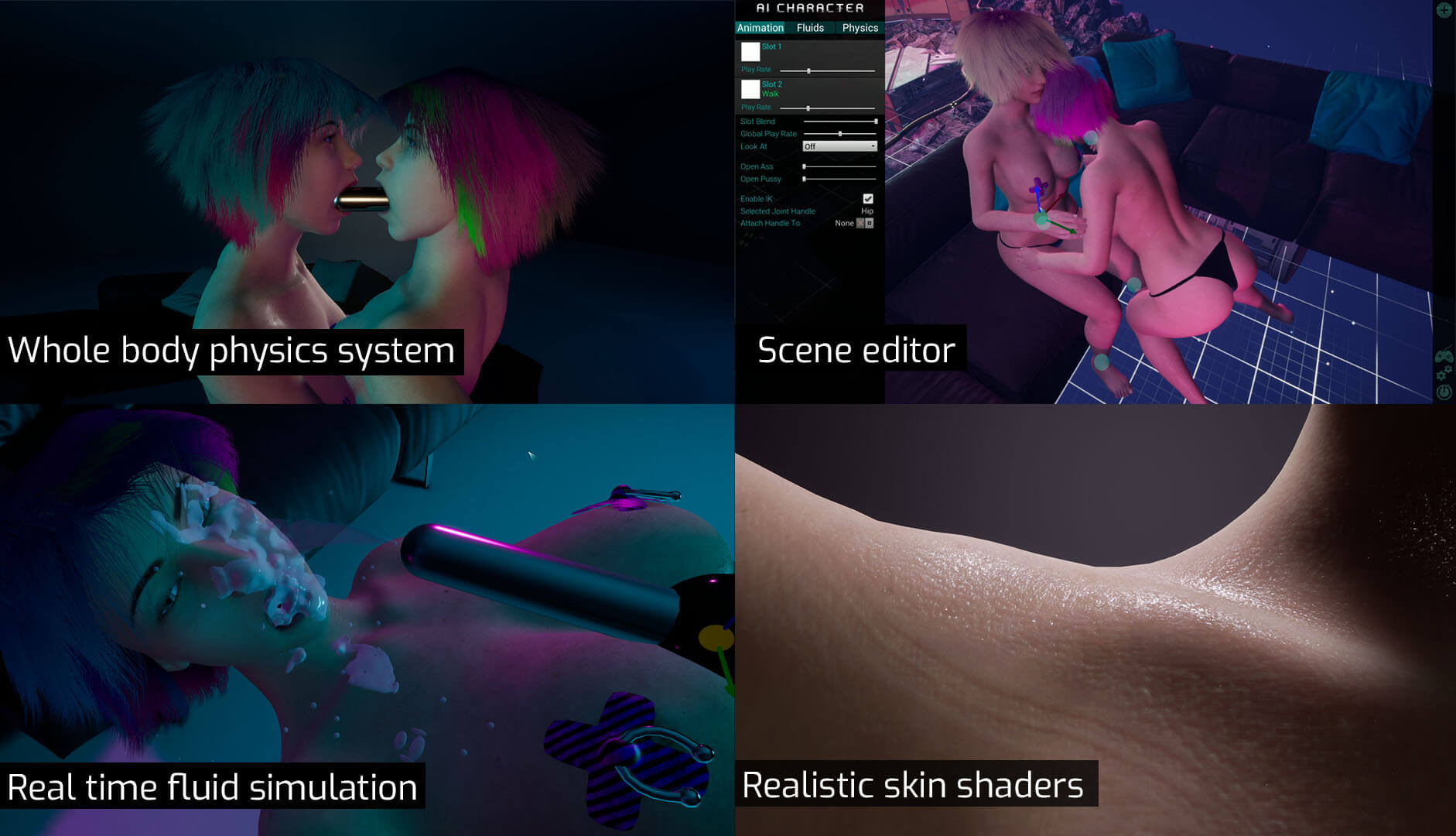 Captain Hardcore is a sci-fi adult video game created by a self-taught developer named AntiZero. In its "Cyber Masturbatorium," built from scratch by AntiZero, players can pose multiple female characters, animate them, and use a wide range of sex toys on models. These range from double-ended dildos to butt plugs, and the game supports realistic fluid dynamics that can be tested with a "jizz dildo" and, for the water sports fans out there, a "piss dildo." Additional features include realistic skin shaders, VR controls for immersive sexual experiences, and a "soft skin" physics system that mirrors real flesh. While the game only lets players pose cisgender women for now, AntiZero "definitely" plans to add trans characters, the developer told the Daily Dot.
Captain Hardcore largely stands out because of its creative potential. On Sunday, AntiZero shared a post on Reddit titled "experimenting with giants" that showed two small women having sex with a much larger one. While clearly still a work-in-progress, all three characters' movements feel natural, particularly from the giantess that jerks and spasms while a blonde woman eats her out. "Giant mode" still has some issues with scaling its skeletal mesh during physics simulations, but it's a promising addition that teases future fantasy fetishism material in the game.
"The great thing about having a sci-fi setting is it allows me to do almost anything!" AntiZero told the Daily Dot. "I listen to suggestions and have a big list of stuff I'd like to try once all the basics are covered. More bondage stuff, machines, aliens, and tentacles are definitely on the list, I don't have any plans for vore or furry creatures though. I have to be careful not to promise too much too early!"
Queer adult artist Lemmy is a fan of both fantastical queer characters and macrophilia. They say Captain Hardcore looks "well-made" and has a "neutral" sexual gaze, which means a wide assortment of players across genders can enjoy its scene creator. "The ability to play around with fluids, sizes, and other customization is really, really neat and it's super interesting for a NSFW game," they said. "It also looks like it can create some xeno characters like monsters and stuff, it's super interesting and sexy. I like it!"
Captain Hardcore has other potential uses outside of sexual gratification. Erotica author Leaf Tilde argues Captain Hardcore would help her with writing "more complicated" erotic sex scenes, letting her keep track of where characters' bodies are in relation to each other when their hands start wandering.
"More than two people in an encounter and it can be difficult to paint a mental picture for the audience of whose parts are where and who's doing what to who," Tilde told the Daily Dot. "The size changing stuff would also likely help for [writing] size difference kink. I enjoy shortstacks, your goblins and your halflings and the like, and I enjoy powerful orc ladies who tower over their partners. Knowing how tall and where people reach would help keep things internally consistent."
For the record, AntiZero hasn't met any adult artists interested in using the game as a reference during sex scenes, but knows some "that would like to produce art for the game."
All the attention itself is surprising. Captain Hardcore began as nothing more than a real-time fluid simulation, AntiZero said. And while the work demands long hours and endless creativity, there's a steady stream of backers interested in supporting Captain Hardcore. As of this article's publication, over 800 Patreon users have pledged $7,342 per month to support the game (roughly $88,000 per year).
"I was surprised because I ended up creating something much more interactive and physics based than I thought was possible, and I think that's the main thing people like about it. I don't think I've seen anything else that has the same level of physics and interaction, which also aims to be an actual game," AntiZero said. "My stretch goal is to create a campaign mode with dialogue, missions onboard space stations, and maybe even shooting mechanics with AI opponents."
Interested readers can download Captain Hardcore's free demo from AntiZero's Patreon or pledge for access to the game's expanded Demo+ and patron-only editions.
---
NOW HEAR THIS:
Inside the pornographic video game that took Kickstarter by storm
Introducing 2 GIRLS 1 PODCAST, a weekly comedy show where Alli Goldberg and Jen Jamula (two actors who perform bizarre internet content on stage) have hilarious and humanizing conversations with Bronies, top Reddit mods, professional ticklers, video game archaeologists, dating app engineers, adult babies, cuddling specialists, vampires, Jedi, living dolls, and more.
Subscribe to 2 GIRLS 1 PODCAST in your favorite podcast app.
---
READ MORE: