A man has been fired from his job as a family court supervisor after appearing in a video in which he said Black lives don't matter to him and removed signs supportive of the Black Lives Matter movement from a fence in Philadelphia's Columbus Square Park. 
The video, which was posted to the Facebook profile of a person named Jamie Kay, shows a man who has been identified as Michael Henkel taking signs off the fence and saying "My taxes pay for this" and "I can do whatever I want" when a woman off-camera tells him the fence isn't his property. At the end of their exchange, the woman says, "Black Lives Matter" to Henkel, and he replies, "Not to me they don't." 
Posted Sunday afternoon, the video has since received over a thousand comments, most of which excoriating Henkel's behavior.
"Idky he thinks he's the only one paying taxes," a Facebook user named Cotton Jones said.

Another user named Joann Green questioned whether his apparent view that Black lives don't matter impacted his work as a court supervisor.
"He was a family court supervisor (Michael Henkel) who was fired as a result," Green said in a comment. "How many black family lives has he destroyed based on his racism… he is part of the problem."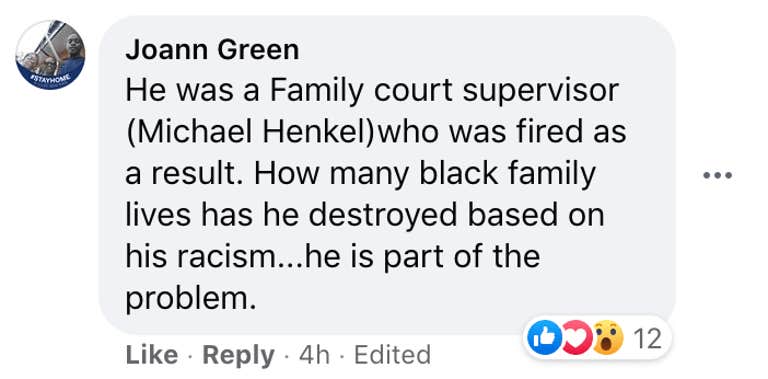 The Philadelphia Inquirer reported that Henkel was fired from his job as a supervisor writ server for family court, which paid him an annual base salary of $71,591, after the court reviewed the video. Family court spokesperson Martin O'Rourke said Henkle had no direct involvement with cases but did supervise employees.
O'Rourke said the decision to fire Henkel was due to multiple violations of the court's Code of Conduct and Non-Discrimination and Equal Employment Policy.
After the video of Henkel removing the signs picked up traction online, people placed new Black Lives Matter signs on the fence at Columbus Square Park. Philadelphia's NBC-affiliate also reported that, in an effort to shame him for taking down the previous signs, several pictures of Henkel had also been placed along the fence.
READ MORE: