A Muslim organizer from New Jersey said she was removed from an American Airlines flight and eventually arrested after a passenger on the flight said he was "uncomfortable" with her presence. 
Amani Al-Khatahtbeh live-tweeted the Nov. 14 incident as it happened. On Sunday, she shared a TikTok video that included clips of her arrest. 
Al-Khatahtbeh initially tweeted that a white man tried to cut her in the security line at Newark Liberty International Airport in Newark, New Jersey, on Nov. 14. She said he rushed past as she removed her shoes and that a Transportation Security Administration officer told her to "cut it out" after she told the man to wait.
"Y'all know if I, a VEILED MUSLIM WOMAN, had the audacity to throw a temper tantrum and run through TSA security, I would have gotten BODIED. I would have been detained, missed my flight, possibly gotten charged, etc," Al-Khatahtbeh wrote in a follow-up tweet.
Less than an hour later, she tweeted that the man made a complaint, and authorities were trying to remove her from the flight because a passenger didn't feel "comfortable" with her presence on the plane.
She shared a video of an American Airlines crew member explaining that he was following orders. "The reason why you're being removed is because … There's a passenger on board who doesn't feel comfortable with you being here," the crew member says.
When she asks if they would remove the man if she was "uncomfortable," the man says they could discuss that outside.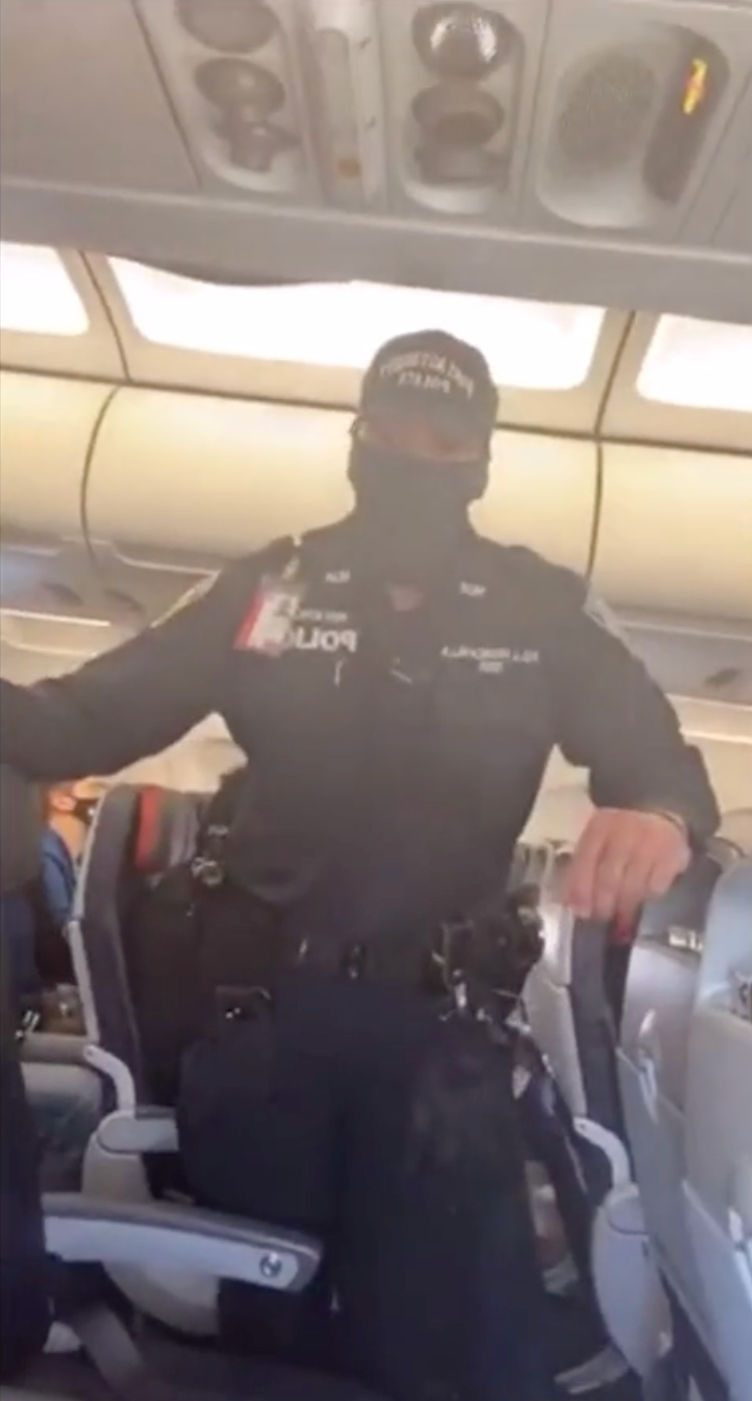 American Airlines responded to Al-Khatahtbeh's tweet right away and said the company was looking into the incident. In a statement to the Daily Dot on Monday, the airline said that it's still investigating the matter.
According to the statement, Al-Khatahtbeh was in line for TSA where the PreCheck and non-PreCheck passengers were all standing together. PreCheck passengers are afforded benefits such as shorter wait time and not having to remove their belts for the TSA check. 
"Our understanding is that Ms. Al-Khatahtbeh believed the other passenger, who is enrolled in PreCheck, was getting favorable treatment because he was allowed to proceed through security while she was removing her shoes," the statement said. "This led to a verbal altercation that continued through the terminal and on the plane where Ms. Al-Khatahtbeh confronted the passenger and began filming him before taking her seat."
When asked about removing someone from a flight based on another passenger being "uncomfortable," the airline directed the Daily Dot to its policies that every passenger is required to follow.
"We will respond seriously to any language or behavior that threatens the well-being or functionality of our crew and airport team members," one rule states. It's not clear if this was the rule Al-Khatahtbeh was accused of breaking.
According to the Guardian, the Port Authority of New York and New Jersey said its police department arrested Al-Khatahtbeh for "delay of transportation and trespass" after American Airlines authorities requested support. Al-Khatahtbeh was later released.
She did not respond to the Daily Dot's request for further comments. Her TikTok video has garnered at least a million views since being posted on Sunday. While her Twitter thread attracted comments that said she was overreacting, her TikTok followers expressed their support.
---
Today's top stories