A New York-based cosplayer is facing harassment from a swarm of gamers, incels, and homophobic trolls after she posted photos of herself dressed as the Joker.
Veronica Rae, who has more than 28,000 followers on Facebook, shared images from her photo shoot in the Bronx on Wednesday. 
"I used to think my life was a tragedy, but now I realize, it's a comedy…I whipped up a female Joker in about 2 days just so I could shoot on the iconic stairs!" she captioned the photos.
https://www.facebook.com/veronicaraeofficial/posts/2972864532728213?__tn__=H-R
Her post was soon flooded with trolls' sexist and disparaging comments. Many used language associated with "involuntary celibate" (incel) communities online made of men who believe they are entitled to sex with women.
"It's extremely disrespectful and offensive, who lets femoids do this," one commenter said. "Everyone who defends this woman is a coomer."
In incel lingo, "femoids" is a slur used to identify women as only sexual objects. "Coomer" is a derogatory term to describe someone addicted to masturbation.
The release of Todd Phillips' Joker movie earlier this month was preceded by controversy over the Joker character's fandom and concerns about online threats of violence. The U.S. Army warned service members to stay alert for incels at theaters screening the film.
Other commenters accused Rae of "appropriating" gamer culture, wrongly conflating real cultural appropriation with fandom, which is not exclusive to any specific group of people.
"This is oppressive to gamers," one person commented. "The Joker could have not been a woman," another user wrote. 
On her post, trolls accused Rae of "sexualizing" conversations on mental health. Some comments were misogynistic, some were homophobic, and some were Islamophobic. One person shared a GIF that reads "GAYYYY."
Many of the comments, however, were supportive of Rae and her Joker photos. One person, defending Rae against an incel, wrote, "So you not gon complain about anime girls having outrageously huge boobs bouncing around, but find this unsettling? You like boys don't you?"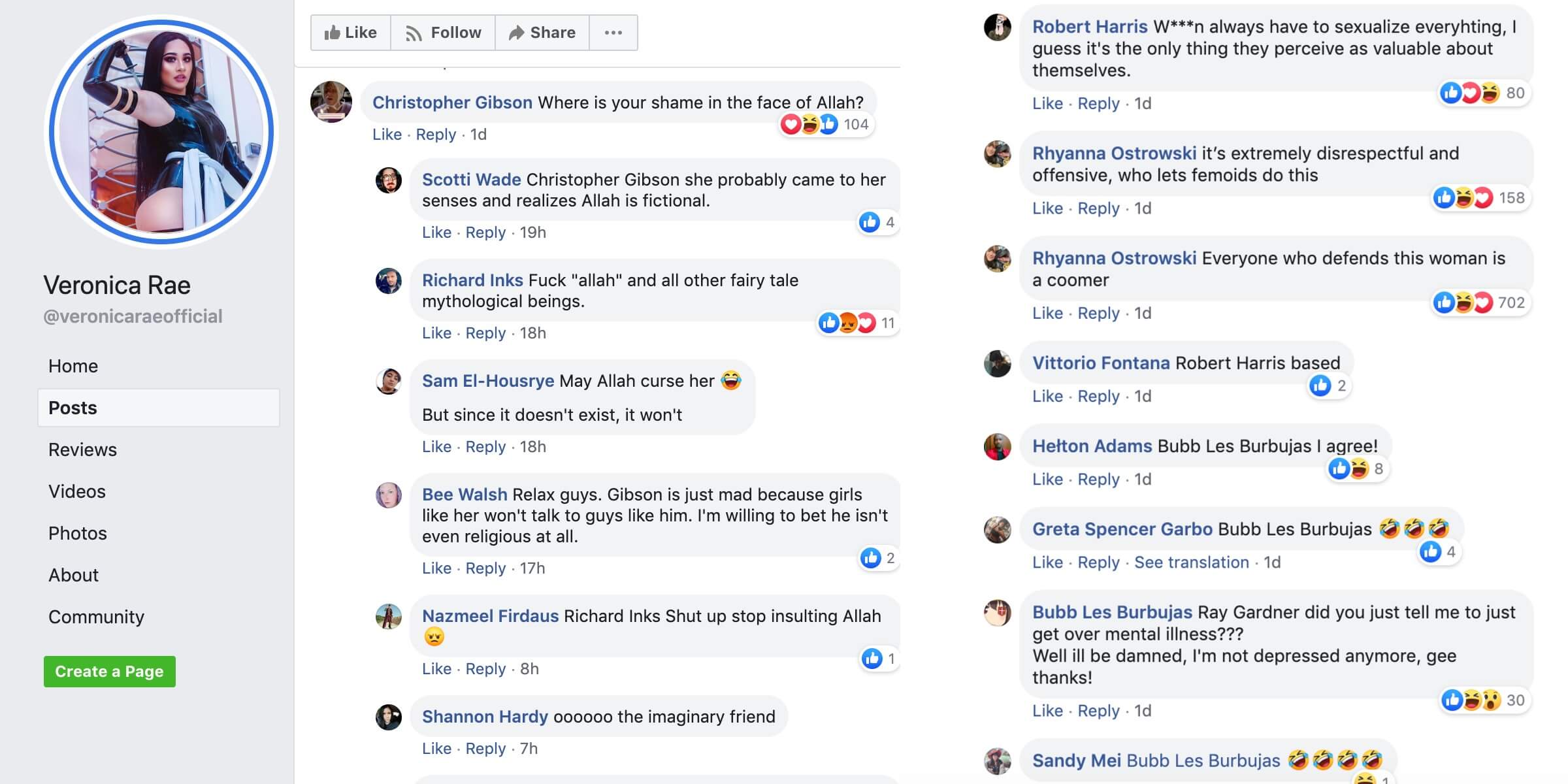 A few hours after her Joker post went viral, Rae posted a photo of herself in a Jar Jar Binks costume, which many thought was the most appropriate response to the vitriol. 
"I hear you all loud and clear. Is this better for you?" she wrote in the caption.
https://www.facebook.com/veronicaraeofficial/photos/a.1756049967743015/2975931305754869/?type=3&theater
"Best use of Jar Jars likeness ever," one person commented. "I'm glad you still have a sense of humour," said another.
Rae announced in a Facebook story on Wednesday that she was "logging off" of social media.
Update 8:08pm CT, Oct. 17: Rae told the Daily Dot in a message that the wave of trolls took her by surprise.
"I thought it would just be a 'normal day in the office' of two thousand reactions and that's it," she said. "But then again, we live in a world where primarily women, (and men) are judged on their every move. So it definitely comes with the sexy and controversial territory."
Ultimately, she said, she's "OK" with the trolls' backlash.
"They don't realize that the hate makes me grow stronger, and my content is getting noticed by inspiring and gracious people in this community," Rae said. "People know that clown culture isn't a thing. I think it was absolutely ABSURD that people were considering this to be a race issue. I'm so sorry but clown lives matter isn't a movement. And as a mixed Asian-American woman, that bothered me the most."
READ MORE: