On Monday, a blatantly violent and anti-Semitic tweet by Egyptian actor Hesham Mansour made the rounds on Twitter.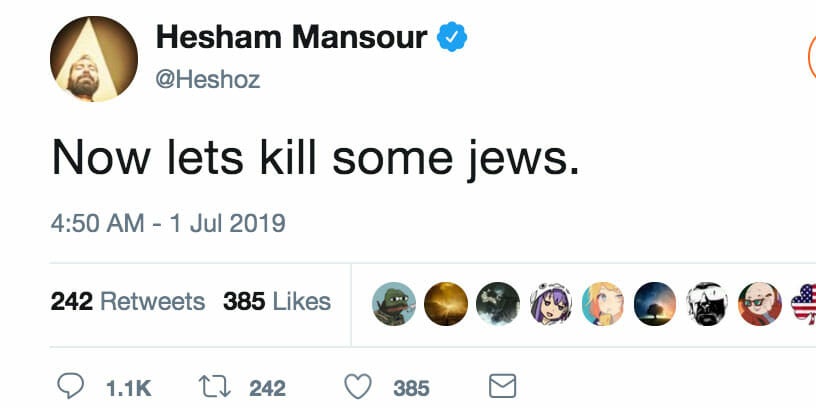 The tweet garnered about 250 retweets and more than 1,000 replies, with many users commenting that they'd reported the tweet. But it wasn't taken down until almost 12 hours after it was posted. 
Many commented on the excruciatingly long amount of time the tweet was allowed on the platform.
The fact that it is still up after 8 hours and been reported by thousands of people speaks volumes about whether or not @jack and @twitter endorse this kind of violent incitement against Jews.

If he'd told people to "learn to code," the account would have been banned in seconds!

— Some People Tweeted Something (@Fukumi_Fukuyu) July 1, 2019
I think the worst part is this has 100 retweets and 164 likes when its been up for 11 hours.

— Patrick Sheridan (@NotoriousPatt) July 1, 2019
According to screenshots shared by other users, this wasn't the first time Mansour tweeted out such violent comments about Jews to his 800,000 followers. In fact, the last few months were a build-up to his ultimately violent threat.
This *creature* has over 800 *thousand* followers. 800 thousand people watching him threaten violence to Jews. 800 thousand people watching him say Jews are the cause of every evil in the world. 800 thousand people saying Jews rape babies. Help make it stop. Report it. pic.twitter.com/HhNWazPFKw

— Joanne Bell (@jobellerina) July 1, 2019
"What is great about jews is how stupid they are, they have proven every single information I've told you about them," he wrote in a tweet on May 27. "They literally are assisting me prove what they are to the world! Thanks pigs, wont forget that when you burn."
In other tweets going back as far as May, Mansour said he would "torture" Jews and repeated violent threats.
These previous tweets seemed to have garnered little engagement, until the one from early Monday morning, which eventually led to his account being suspended. A Twitter spokesperson confirmed that his account was suspended "for multiple violations of the Twitter Rules" but did not specify why it was allowed to stay up for months.
What shocked many was that an account that was "verified" with a blue tick, often a sign of someone deemed noteworthy by Twitter, was allowed to keep such content up not just for a few hours, but for at least a couple of months. 
Oh hi @jack nice verified account you've got here

— Ollie Glanvill (@OllieGlanvill) July 1, 2019
https://twitter.com/Cameron_Gray/status/1145751452041830406
Mansour's is not the only such account—verified or not—that's been allowed to keep up content that attacks other ethnicities or religions, a clear violation of Twitter's rules, which explicitly say a user "may not threaten violence against an individual or a group of people," and further prohibits "the glorification of violence."
Replace "white people" with "Mexicans," "blacks," "Jews," "Indians," etc., and read it back, then view @prernaplal accordingly. https://t.co/DB0vl1UfAa

— Michael Knowles (@michaeljknowles) June 29, 2019
https://twitter.com/jennasaysquois/status/1143686638096277504
The hell that will be visited upon any Jewish person who supports Trump's fascism will be only slightly less horrific than the one they deserve.

— I am not Spartacus (@faberdp) June 24, 2019
Twitter did not confirm if it has separate, more stringent methods for checking content from verified accounts. In June, the social media platform announced it would apply warning labels to tweets from government officials that violate rules. 
When it comes to threats on social media, there's justifiable cause for alarm. The Pittsburgh synagogue shooter, for example, boasted his hatred for Jews on his Gab profile prior to the attack that killed 11 worshippers in October.
READ MORE:
Got five minutes? We'd love to hear from you. Help shape our journalism and be entered to win an Amazon gift card by filling out our 2019 reader survey.