Bravo has confirmed that several cast members will not be returning to Vanderpump Rules following what the company has called "racist actions."
Vanderpump Rules originals Stassi Schroeder and Kristen Doute were fired from the show over the same incident they were both parties to. They have been with the reality show since its inception in 2013. Newcomers Max Boyens and Brett Caprioni have also been fired after their past racist tweets resurfaced at the start of the current season.
In 2018, Schroeder and Doute called police on fellow cast member Faith Stowers for a crime she didn't commit. They told police Stowers, the only Black cast member, "drugged and robbed" men in Los Angeles.
The move was seemingly in retaliation to another original castmember, Jax Taylor, cheating on his then-girlfriend and fellow castmember Brittany Cartwright with Stowers. The cheating was featured in the show and played a large role in season 6's storyline. Taylor and Cartwright ended up getting married. Some fans believe Taylor walked away unscathed, while Stowers was ultimately blacklisted from the show.
Stowers reacted to the terminations in an interview with Page Six.
"I feel so vindicated studios and production are able to see blatant racism and make these positive changes and help move the race forward — help with the fight forward," Stowers told Page Six. "I was in the middle of prayer and I felt a sense of — I know it sounds corny — I felt a sense of glory. I felt God's presence and I'm seeing now maybe that is what that was. He gave me a sign of optimism meant to be hopeful and showing that all of this was worth it."
Following the premiere of season 8, fans dredged up Boyens and Caprioni's racist and homophobic tweets that were made in 2011 through 2013.
After Schroeder took part in the #BlackOutTuesday Instagram trend last week, she was called out for what she and Doute did to Stowers. Fans put pressure on her and other cast members' sponsors to have them dropped. Schroeder was subsequently dropped by her agency, publicist, and multiple sponsors before Bravo made its statement about all four cast members. Other cast members, including Doute, Lisa Vanderpump, and Cartwright, have also been dropped by sponsors. Schroeder and Doute recently released an apology via their Instagram accounts.
Schroeder has also faced controversy for describing an outfit look as "Nazi chic," which may have played a role in her termination, according to the Daily Mail.
Taylor also accused Stowers of committing crimes in a tweet back in December of 2017. "Shes wanted by police for grand theft auto and 'awol' from military, bad idea to be on a reality show dude. Someone's going to jail," he wrote at the time, referring to Stowers.
Taylor and Cartwright hired a pastor for their wedding who was outwardly homophobic and transphobic. They fired him only after it—along with the fan backlash—was brought up by Vanderpump and other cast members on the show. Taylor has also taken jabs at a bisexual cast member's sexuality. Fans are now calling for them to get axed from the show as well.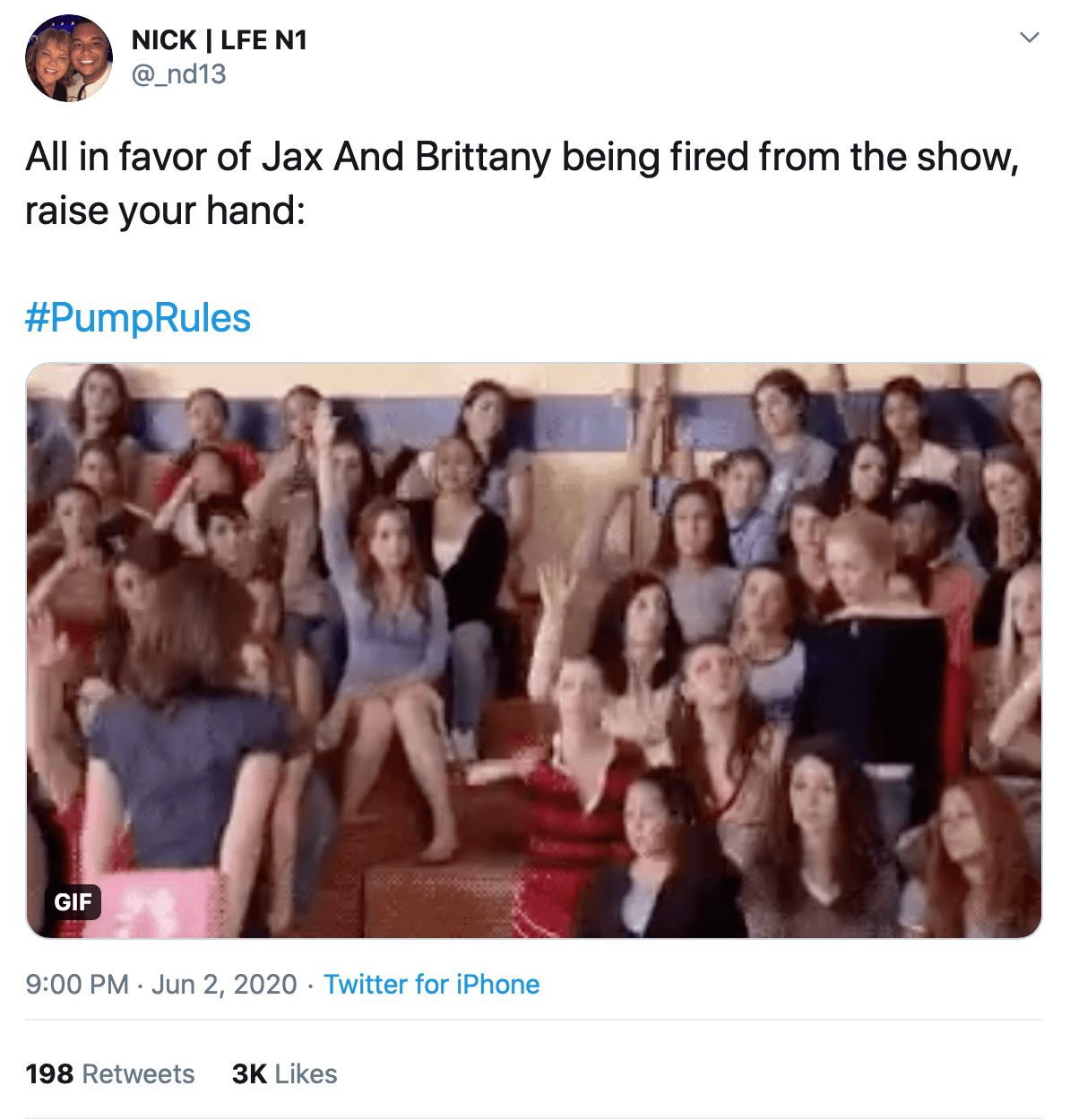 READ MORE:
H/T Variety