An anonymous Tumblr attempts to out students at the University of Chicago as alleged perpetrators of sexual assault.
As reported by Jezebel, the Hyde Park List (referring to the Chicago university neighborhood) declares it's "keeping the community safe—since the University won't."
The Hyde Park List was briefly taken down, but now it's back up, posting names again.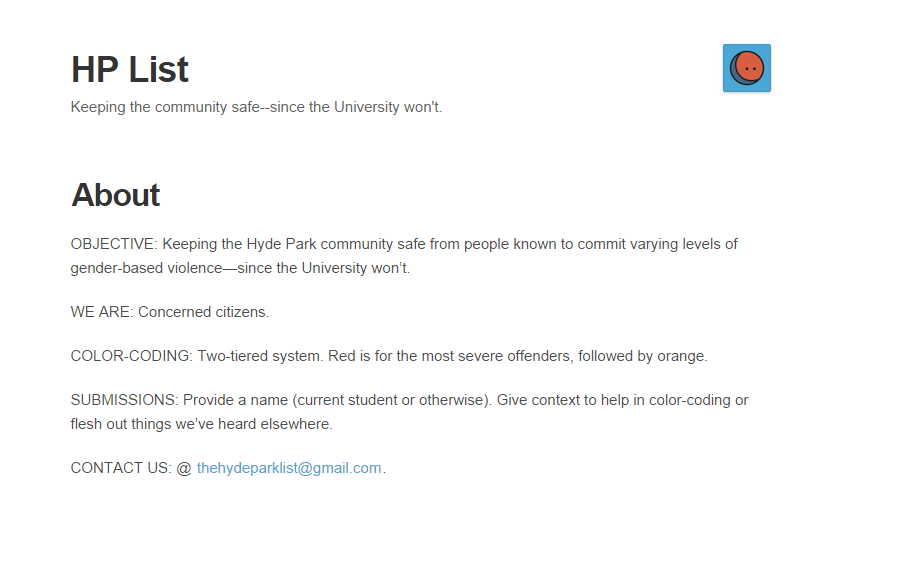 The community has a code system: orange to identify perpetrators of less violent or dangerous forms of sexual assault, and red for the "most severe offenders."
The move comes after an increasing push to publicly out alleged rapists on college campuses in order to focus attention on their behavior instead of that of the victim's. In April, Brown's student newspaper outed an alleged perpetrator In May over protest against his being allowed to return to the university this fall. In May, a series of "rapist lists" appeared on the bathroom stalls of Columbia University bathrooms.
The anonymous outing of perpetrators of sexual assault is essentially a real-life version of Laurie Halse Anderson's classic young adult novel Speak, in which a victim silenced after her rape finds her voice again after realizing she can share her experience anonymously on bathroom stall walls. She is ultimately validated by other young women who have had similar experiences.
But it's another thing to involve social media in outing the accused. The now-deleted website urged students to contribute names to the list:
"Provide a name (current student or otherwise). Give context to help in color-coding or flesh out things we've heard elsewhere."
The Tumblr could function as a grim wake-up call to University of Chicago authorities that students are unhappy with the steps they have taken so far to combat sexual assault on campus. The school is one of 55 accredited colleges and universities which are currently under investigation by the Department of Education to ensure that its sexual assault policies meet with Title IX regulations which qualify it for federal financial aid. In response to the investigation, the school recently hired an associate dean of students focused on combating sexual assault, in addition to creating a revised unlawful harassment policy.
A representative told Jezebel the university had no comment on the Tumblr, but stated U Chicago remained committed "to preventing and addressing sexual misconduct, unlawful harassment, and discrimination, which is essential to sustaining an academic community in which all can participate fully and freely."
But the existence of the Hyde Park List makes it clear there is still more work to be done.
Photo via Imgadelha/Flickr; CC-BY-SA-3.0