Twenty One Pilots singer Tyler Joseph faced a wave of Twitter backlash on Tuesday after making a joke about using his "platforms," which many followers thought trivialized the Black Lives Matter movement.
"You guys keep asking me to use my platforms. Feels good to dust these bad boys off," Joseph tweeted on Tuesday along with pictures of him wearing platform shoes. It marked the singer's first tweet in three months and was ostensibly a joke directed at people who have criticized him for staying silent about Black Lives Matter.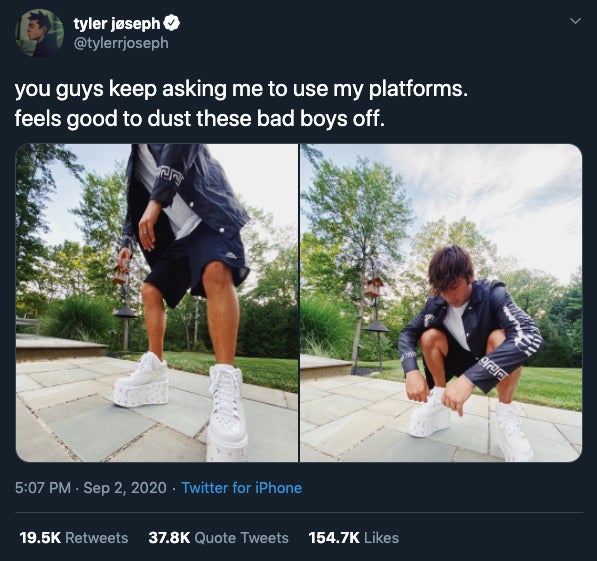 Besides a June 1 tweet commemorating Pride Month, the majority of Joseph's recent tweets pertain to his band, his daughter, or corny dad jokes.
Many people thought Joseph's platform tweet was a miss, and they let him know in the replies.
"You look good but this caption is really tone deaf and insensitive," @CHEETAHDEMA replied to the singer. "You've been known to not like to talk about 'politics' but are human rights really that political? No, they are not. As I am sure you've seen petitions going around: please spread them. Use your platform for real."
Twitter user @kittenztimeout cut right to the chase: "It's never political to express that you think Black people deserve to live."
Others defended Joseph, saying fans shouldn't expect artists to speak articulately on sociopolitical issues—and even if they did, they wouldn't effect change.
"But fr, do you think he will do something for the movement?" @Valerielovesyo3 asked. "He's just a singer. It's not like he's going to change injustice. No one can. It's something that has and is still going to happen."
Joseph followed up his platform post with a series of tweets about mental health, something he has been vocal about in the past.
"Mentally/emotionally, I can only carry so much, because what I do care about is so heavy, the thought of adding more on top of it makes me want to stop trying," the singer wrote. "But we can never stop trying."
This, again, rubbed some followers the wrong way, as people accused Joseph of portraying himself as the victim in his Twitter controversy and continuing to avoid speaking about BLM.
"Omg you are such a martyr posting a link to helpful resources is SOOOO much energy," @B7RBZ tweeted in response. "I'm so sorry that the struggles of minority groups are such a stressful thing for you as a cis straight white man."
"So you're saying you literally don't have the capacity to care about Black people?" @idkhbtfm asked.
After doubling down on his platform tweet, Joseph eventually apologized for his joke and clarified his stance on BLM.
"My tweet wasn't suppose to be about human rights. So in case you are wondering where I stand: Black Lives Matter," he wrote. "I just wanted to take a moment to raise awareness about something else that has meant a lot to me for a long time. But now I see there is no room for that right now."
Joseph followed up his apology with a BLM carrd that contained "a lot of great info that I stand by." Still, for some fans, it was too little, too late.
"YOU KNEW WHAT WE WANTED FROM YOU, SOMETHING EXTREMELY IMPORTANT, AND YOU MOCKED IT," @rocketmanic tweeted at the singer.
"That's the best you got? Really?" @thatbibitch_ asked. "Both issues are important. One does not negate the importance of the other. "Your joke, was insensitive as fuck. This tweet? Also pretty insensitive. You have been asked for months to say Black Lives Matter, and you said nothing."
---
Today's top stories