It's always bad to do bad tweets, but it's especially bad to do bad tweets when you are the front-facing social media director for a news organization that is receiving backlash for the way you positioned a story about sexual assault.
But the social media director at WPLG Local 10 News is in trouble after doing just that.
It started when they posted a news story about a man arrested for allegedly having sex with an incapacitated woman.
Although factually accurate, stories like this have been a point of contention for women, because they assert that framing these stories with softer, more passive language–instead of saying "rape" or "sexual assault"—is a way of minimizing the crimes committed.
A writer on Twitter pointed that out.
Hey @WPLGLocal10, I fixed this for you https://t.co/eC1daiFsCq pic.twitter.com/Qda7tuISlq

— Jessica Lipscomb (@jessicalipscomb) March 6, 2017
What the social media person running @WPLGLocal10 probably should have done was nothing. Or said, "Thank you, we are looking into it."
That's not what they did, though. Instead, they mocked Lipscomb for that.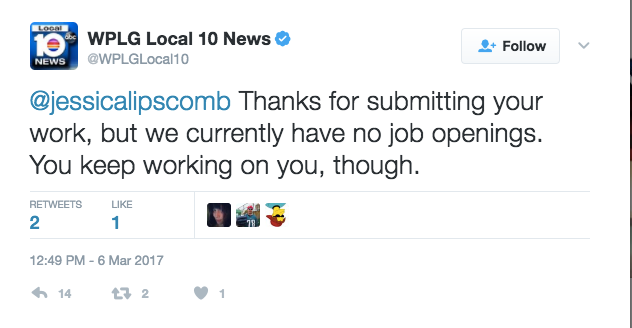 Yea that is about as big a "NOPE" as you can perform online.
Probably best to keep your head down after that.
Or not, apparently.
Rape apologists taking the low road I see, Jess.

— KTJ (@katejacobson) March 6, 2017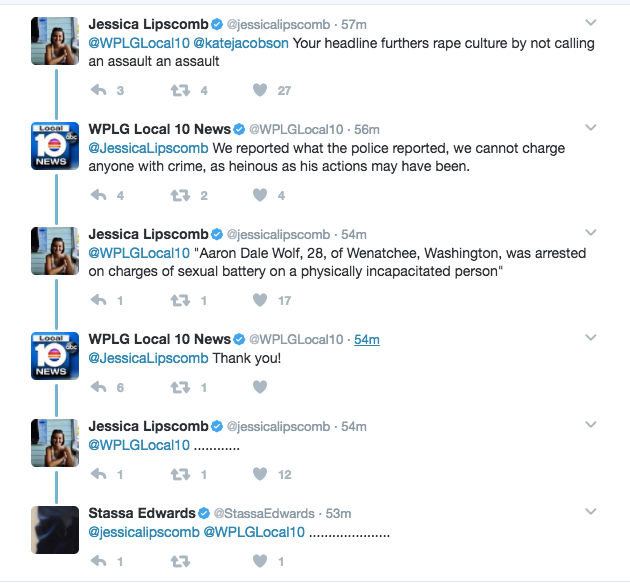 The article online has been updated after this, and according to the site's Twitter account, their social media person has been disciplined.
We apologize to @jessicalipscomb and we have changed the headline. The social media director has been disciplined.

— WPLG Local 10 News (@WPLGLocal10) March 6, 2017
The bad tweets, as they should be, have been deleted.