One year ago, Tumblr announced it would ban all adult content from the site. Now, sex workers, kinksters, 18+ artists, and queer users are afraid a Twitter NSFW ban is on the way.
Earlier this week, Twitter announced a change to its Terms of Service effective Jan. 1, 2020. While reviewing the site's Twitter Rules, governed by the terms, users found changes to Twitter's "sensitive media policy" that bans "violent sexual conduct" and "gratuitous gore content." The site defines adult content as media that is "pornographic or intended to cause sexual arousal," including "cartoons, hentai, or anime involving humans or depictions of animals with human-like features."
https://twitter.com/celineorelse/status/1201935431287394304
Reading through TOS with specific insights included below. To clarify, adult content is allowed if marked as "sensitive." But accounts dedicated to posting "sensitive media" will be banned. Going to take a stab that means SWers will lose their accountshttps://t.co/ZosTSr9zOz pic.twitter.com/XofVKsvUP4

— Ana Valens (@acvalens) December 3, 2019
Twitter considers "violent sexual conduct" to be any media that portrays violent actions alongside sexual interactions, "whether real or simulated." This includes "simulated lack of consent," or consensually produced porn that plays with nonconsensual themes (better known as "consensual nonconsent"). The site bans "sexualized violence," including "inflicting physical harm on an individual within an intimate setting" when "it is not immediately obvious" if all participants have given their consent. Given how Twitter defines adult content, it appears these policies also apply to adult artwork such as furry and anime porn.
Twitter further reserves the right to remove any adult material "that depicts violent sexual conduct or gratuitous gore anywhere," and the platform may permanently ban accounts "dedicated to posting this type of content." While adult content is still allowed, Twitter warns that any accounts "dedicated to posting sensitive media" may face a permanent suspension if sensitive content accounts for the "majority of your activity on Twitter." Taken to its logical conclusion, this could turn into a broader ban on NSFW content.
"We prohibit violent sexual conduct to prevent the normalization of sexual assault and non-consensual violence associated with sexual acts," Twitter states. "We prohibit gratuitous gore content because research has shown that repeated exposure to violent content online may negatively impact an individual's wellbeing. For these reasons, you can't share images or videos that depict violent sexual conduct or gratuitous gore on Twitter."
These policies seemingly signal risks for posting sexual material that strays from straight, heteronormative depictions of sex. Adult creators and sex workers who specialize in consensual nonconsent, Domination/submission, impact play, bondage, sadomasochism, blood play, and guro could eventually find their material banned and their accounts suspended. Sex workers and adult artists who do not violate Twitter's "violent sexual conduct" clause but mainly post "sensitive media" could be kicked out.
The new sensitive media policies actually predate December's terms of service update. Twitter silently instituted a new version of the policy between late May and early June, according to the Internet Wayback Machine. Changes to the sensitive media policy in December were minimal, with new info clarifying how users can report content.
It's unclear if Twitter actively enforces the current sensitive media policy. But if it hasn't yet, Twitter could start aggressively policing sex workers and adult creators. XBIZ reports Twitter's 2020 terms of service grants the right to "limit distribution or visibility of any Content on the service." This is a form of shadowbanning, a technique that can be used to limit sex workers' and adult creators' presence on the site. Theoretically, the right to limit content distribution could include outright banning it.
Vague wording is an ongoing issue with Twitter's guidelines, and many sex workers are concerned for their livelihoods. With Facebook, Instagram, Tumblr, and Patreon's actions targeting their work, sex workers have largely turned to Twitter to maintain their income.
"Tumblr is gone. Instagram and Facebook and horrible. Twitter is our only safe space at the moment other than our sites. This is where we market," Softestlittledoggo, a sex worker who relies on Twitter to reach her 14,000 followers, told the Daily Dot. "I'm tired of big companies being so vague in their TOS. Speak to us as humans clearly about what is or isn't allowed. We want to stay here and keep everyone safe without being cast out."
Since Tumblr banned porn and the site's alternatives are much smaller than Twitter, adult content creators are in a similar position. Queer artists, in particular, are under threat because sites like Hentai Foundry and Newgrounds aren't as friendly to content by and for LGBTQ kinksters.
"I think the point of having a social media platform is so its users can get to express themselves however they want. Like, in the case of Tumblr, it was the site's main appeal back in the day, and the NSFW ban broke this fundamental right to freedom of expression. So people fled en masse to Twitter, and it will happen again," Lemmy, a queer adult artist who left Tumblr for Twitter, told the Daily Dot. "It puts many people's livelihoods at risk."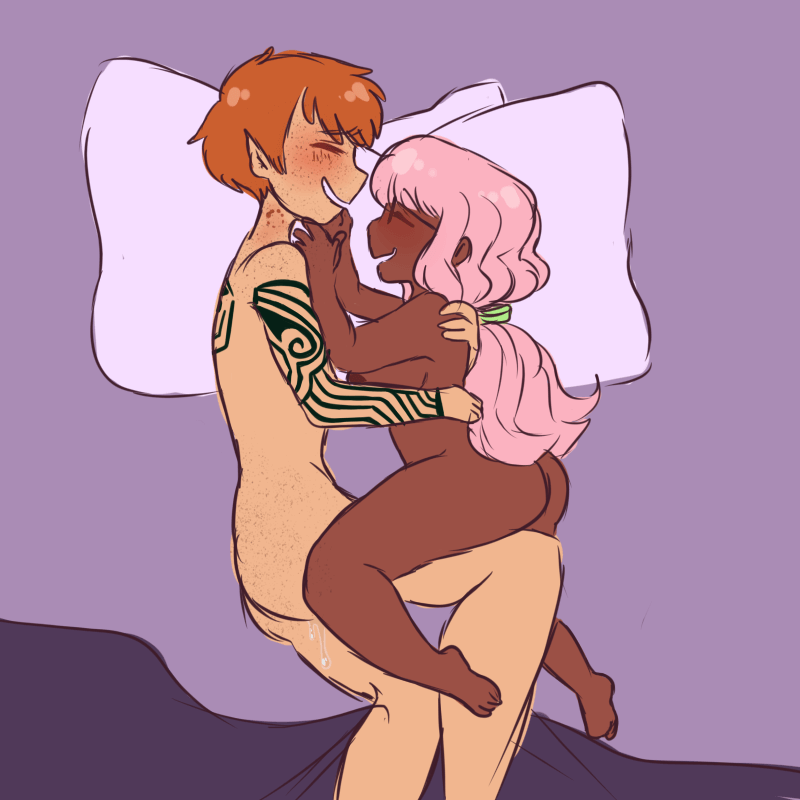 Even if a full-on "Twitter NSFW ban" isn't in the works, the site has a precedent for targeting sex workers, queer folks, and kinksters. The site temporarily banned using the word "bimbo" in a sexual context in March, including users referring to their own account. Twitter suspended this reporter twice for calling herself a "slut."
A source close to Twitter's internal workings at the time told the Daily Dot that these bans were mistakes. But the source also explained that they and others within the company were unfamiliar with the use of "bimbo" as a kink term. Given Twitter's revised policies, this means Twitter's handle on adult content could be at the whim of a staff member who is unversed in topics like BDSM. That ignorance could devastate people who rely on NSFW material for their incomes.
"The problem is that no matter what loopholes we try to take, it will all come down to what Twitter Support personally feels, because of how loosely [the sensitive media policy is] worded," Elliot, a queer adult artist, told the Daily Dot. "Non-kink people controlling a social media where kink communities partake [will] always subject us and sex workers to their personal beliefs."
READ MORE:
Update 10:15am CT, Dec. 5: When reached for comment, a Twitter spokesperson told the Daily Dot that the sensitive media policy's updated language did not change Twitter's policy implementations. The updates, the spokesperson said, clarified Twitter's current policy on sensitive material.
The spokesperson said Twitter enforces its sensitive media policy depending on the media shared and where. Adult media that is consensually created can be shared as long as it's marked sensitive, but per the policy, adult content in profile and header images is not allowed. Sexual material targeting users is also not allowed. However, Twitter encourages users to appeal enforcement responses in the case of a mistake.
When asked whether Twitter will ban users who primarily share consensual porn or fictional illustrations of consensual nonconsent, Twitter did not clarify.