With a facial deformity that made it difficult to speak and impossible to go to school, 13-year-old Esinam desperately needed surgery. Unfortunately, that operation would cost $10,000, and as an orphan living in the care of Ghanaian nonprofit New Seed International, she didn't have access to that kind of money. The only ray of hope was creating a page on crowdfunding site GoFundMe. 
Unlike Kickstarter or Indiegogo, GoFundMe allows traditional donations rather than an "all or nothing" model of having to meet a certain fundraising goal. But sadly, even after nine months on the site, Esinam's story had only elicited $130 in donation—nowhere near enough for surgery. That is, until the Tumblr community found her campaign page.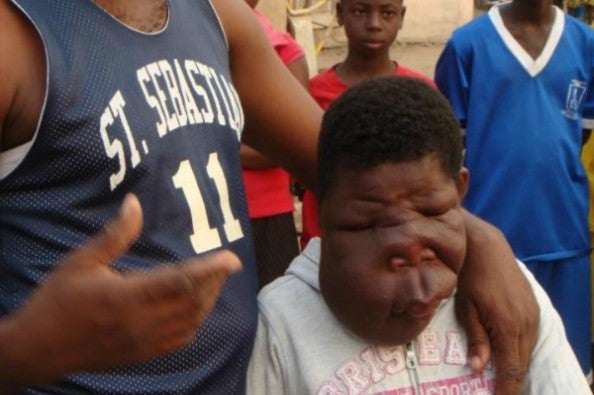 Esinam. Photo via agentblye/Tumblr
Agentblye, a Tumblr user who visited New Seed International in Ghana three years ago, discovered Esinam's GoFundMe page last week, and began to spread the word. Posting on her blog, she explained the situation:
Esinam, 13, is in the care of New Seed International and she wants to go to school and become a doctor one day, but she needs facial surgery before she can do so. Both of her parents died when she was young, and her grandmother who was taking care of her has recently had a stroke.
Moved by Esinam's predicament and a Facebook video where she asks for help, Tumblr users were inspired to "boost the signal," sharing Esinam's story with their friends and followers. Now, in just five days, the GoFundMe page has raised over $9,800, close to reaching the total required for Esinam to have surgery on Nov 28. Posting on GoFundMe to thank people for the sudden influx of support, a representative from New Seed International wrote, 
Esinam is very happy now and the old lady that is caring for Esinam is also happy though sick in bed, knowing well that soon Esinam will receive the needed medical attention and she will go back to school.

Please help let's hit our target of 10,000 by 15th of November, 2013. Once again, thank you all for your continue support and exhibition of Love towards Esinam future.
Tumblr may be known for incomprehensible memes and teenaged One Direction fans, but its users can also have an incredible community spirit. Thanks to the site's signal-boost culture, this girl will soon be able to go back to school and pursue her dreams, just like any other teenager.
Photo via New Seed International/Facebook