Update 11:07 CT, Nov. 13: This story has been updated with quotes from protester Andi Janeway.
The University of Wisconsin Madison is investigating an employee in response to a video showing the moment he drove his motorcycle through a group of protesters in Capitol Square.
One of the protesters, Andi Janeway, uploaded the video in question to Facebook. Janeway, who uses they/them pronouns, shared the video with a content warning on the evening of Nov. 6. It shows the protesters arguing with a man on a motorcycle identified as Richard Yaeger, a senior power plant operator at the university.
Demonstrators were gathered to counter-protest a pro-Trump/Stop the Count protest, according to attendees. There were alternate routes around the protest available.
The three-minute video shows as Yaeger attempts to drive past the protest but is blocked by several cars that are parked nearby. Protesters said the cars were parked in the street to protect the group from traffic. After a brief but heated interaction, Yaeger can be seen blasting through the gathered protesters, dragging one along for several feet, before briefly mounting a sidewalk and turning his bike around. He then engages with the protesters for another stretch, calling them "pussies" and referring to one as a "sexy woman."
Janeway confirmed to the Daily Dot that they were the person seen being partially dragged by the motorcycle. They sustained a number of minor injuries.
"The bone on the tip of my right pinky is likely bruised, the tendons in my right hand are strained and still swollen and stiff, as well as a palm-sized bruise on the back of my right tricep," they said. Other protesters' injuries included "extensive bruising" on the person whose foot was run over "to such a degree that the treads of the motorcycle wheel were easily discernable in the bruise pattern." Janeway also noted that one other individual may have "suffered exhaust burns," but they don't yet have confirmation.
A spokesperson for the university, Meredith McGlone, confirmed Yaeger's identity and status at the school to the Wisconsin State Journal.
"UW-Madison is investigating this incident and will take appropriate action when the investigation is complete," she said. "We won't have further comment until the investigation is done."
The short interaction sees Yaeger yelling a range of disconnected talking points at the group. In response to one protester's "stop killing Black people" mask, he says, "I think Black people are killing Black people, aren't they? I mean, statistically, right?" (President Donald Trump made this unsubstantiated claim in 2015 when he tweeted a meme containing a slew of incorrect murder statistics by race. The meme recirculated after the death of George Floyd and remains false.)
A variety of videos piece together the interaction from either side. Janeway's video begins after Yaeger is already idling in front of protesters, all of whom are wearing masks. Yaeger is not, though he was driving before the interaction began. He tells the protesters that he cannot get past their group while they shout for him to back up. There are no protesters blocking the back of his bike, which has several Trump stickers decorating its sides.
Things become heated when the protesters resume their chant and Yaeger begins yelling for help. His reason for requesting help is unclear. After calling the protesters "pathetic," Yaeger attaches his phone, which is recording, to the front of his bike and begins driving through the protesters, hitting several of them.
In a video posted to his own Facebook page, Yaeger gleefully informs his followers about the incident as he drives away. He boasts about having "harassed" the group and claims that they injured him. He says his right shoulder is in pain from "being pushed down by those terrorists." No video—including his own—shows him being pushed over.
In a second video posted less than an hour later, Yaeger jokes that he was "assaulted by terrorists." His own version of the incident, uploaded to YouTube in five parts—part three of which is missing—shows his approach to the group and the subsequent interactions. It is missing the moment he drives through the protesters.
Yaeger's bike appears to have been damaged by the incident. He wrote in a Facebook update that he "barely made it out with my life." He also told a commenter, "I was scared for my life!"
Janeway disputes Yaeger's version of events, telling the Daily Dot that no clear threat to Yaeger was apparent at the protest and "the only time anyone's body made physical contact with him was when they were thrown against his vehicle." They also provided screenshots of text accompanying Yaeger's YouTube uploads, which has since been deleted, claiming that protesters dislodged his glasses. In a video of him leaving the location, however, Yaeger's glasses are visible on his face.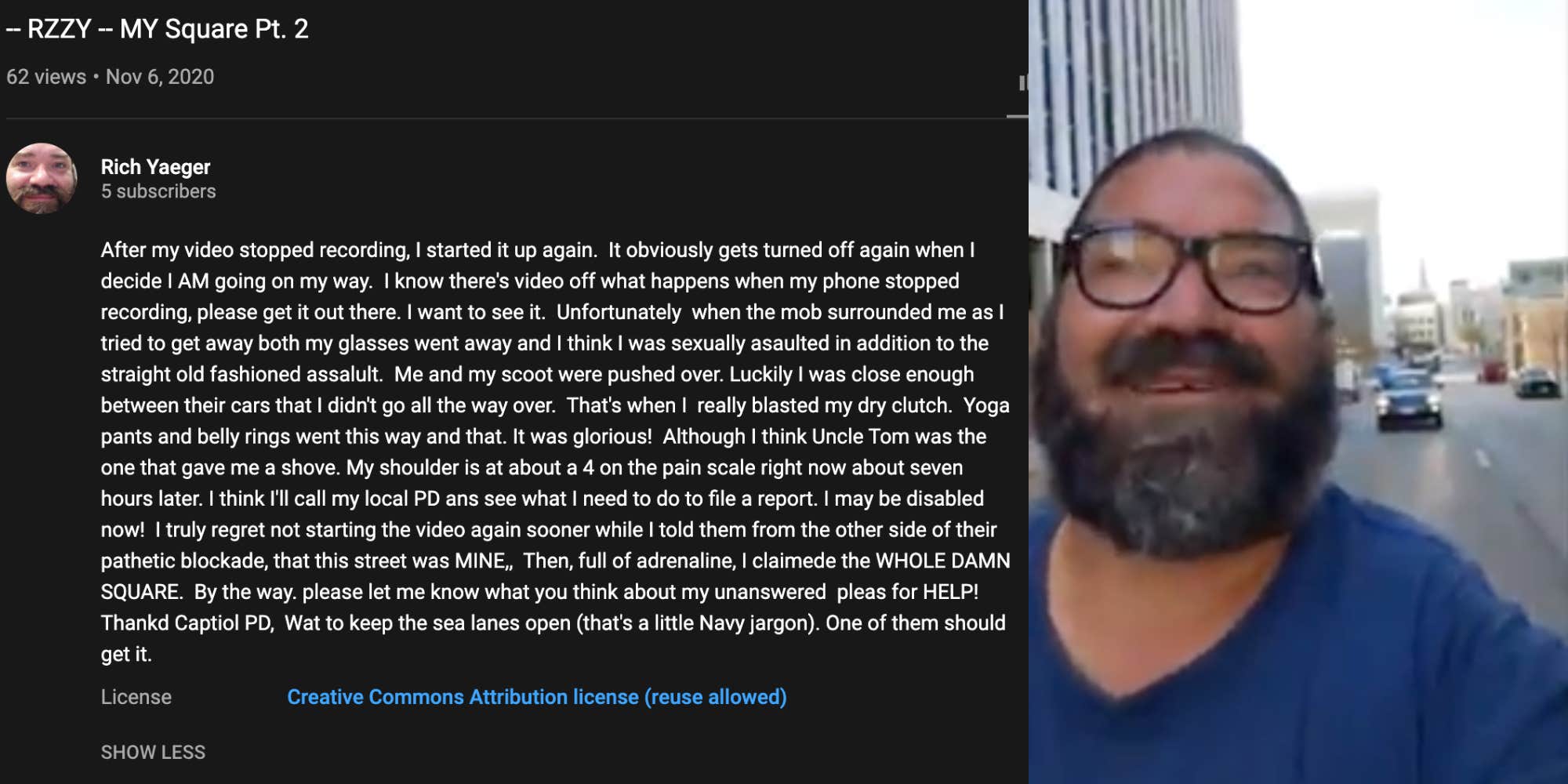 Several updates on Janeway's Facebook page show subsequent interactions between protesters and Yaeger. Following the video's rise to viral status, it appears Yaeger reached out to protesters, accusing them of doxing him. Several messages show him attempting to start conversations, only to turn toxic.
"You can't even win a one sided conversation queer," Yaeger wrote to Janeway. "Did I use that right? I don't want to musgender (sic) you, tough guy...gal...uhh...toughie. Come over, we can talk like adults."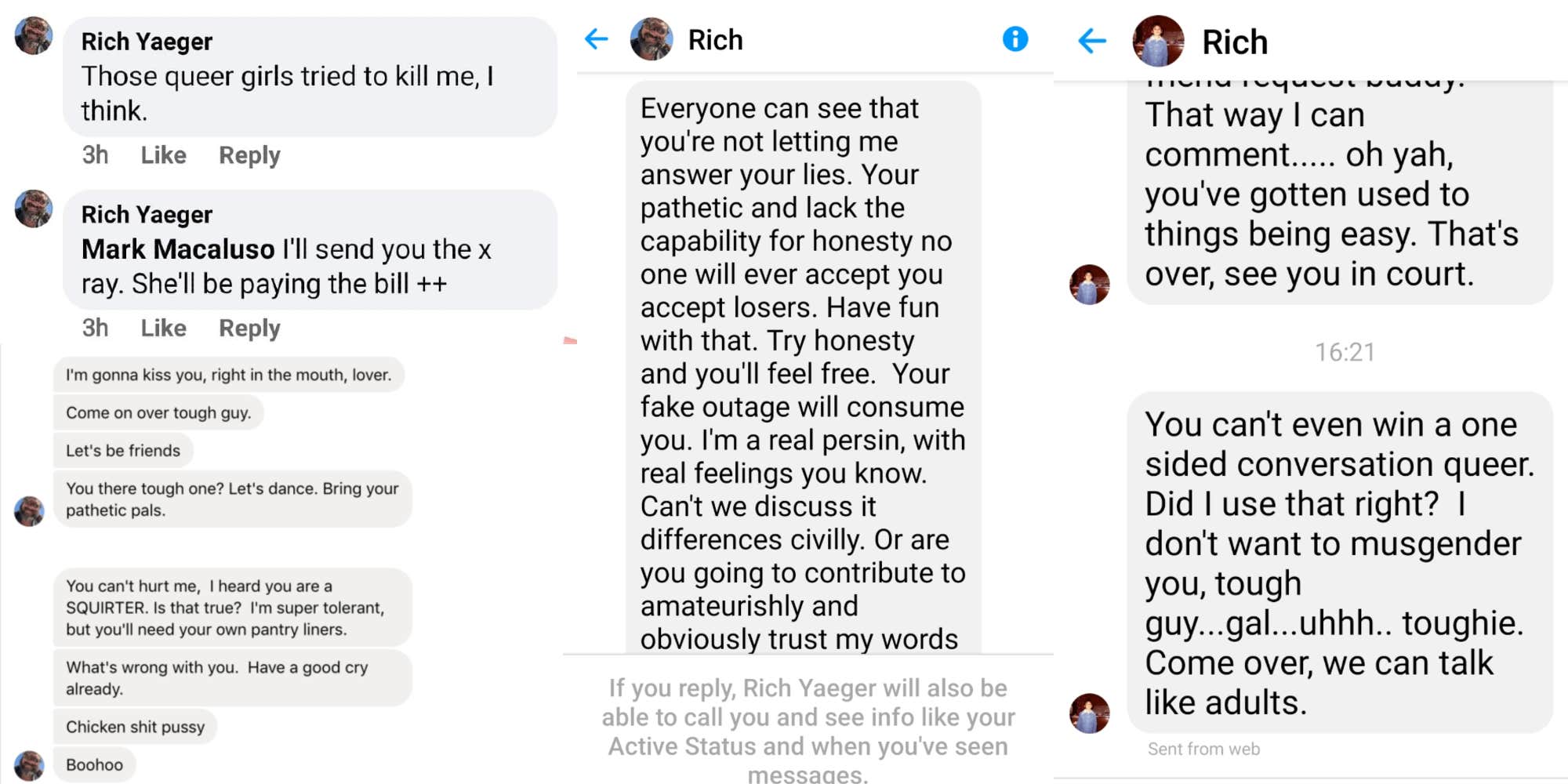 In a recent update, Janeway claimed that they, along with several other protesters, are being harassed by Yaeger.
"Richard Yaeger still hasn't turned himself in, and is harassing myself and another victim, as well as just about anyone who acknowledges this abhorrent behavior for what it is (intentional violence committed against nonviolent parties)," they wrote.
An Instagram account dedicated to sharing the experiences of BIPOC on UW Madison's campus also shared the story. The post asks followers to contact the university about the incident.
Yaeger told the Daily Dot via Facebook Messenger that he is "not a racist I'm not a misogynist I'm a good person and I didn't do anything wrong." He declined to comment further on the story, citing the Daily Dot's previous reporting on GamerGate and a lack of trust as his reasoning.
Janeway tells the Daily Dot that they are seeking charges against Yaeger and would like to see him removed from his position at UW Madison.
"I will accept nothing less than seeing Mr. Yaeger removed from his position entirely as an employee of the UW," they said. "As he has demonstrated not only reprehensible tendencies toward violence, but also a track record of harassment, racist behavior, and making false claims against victims of violence."
The Madison Police Department is currently investigating the incident.
---
Today's top stories