A recent video shows a Trump supporter and local racing legend telling Black Lives Matter protesters that "Black lives don't matter," spewing homophobic slurs, and coughing on them at a Utah gas station.
"You're the one talking shit to me," says Robert Brissette, who in 2014 set a land speed record at California's El Dorado land speed racing track. "Everybody knows who I am. My name is Robert Brissette. Find me on Facebook! I hate all you Democrats. Black lives don't matter. All lives matter. You look like a little pansy-ass piece of shit."
Brissette then coughs directly into a protester's face. She recoils and hits him in the neck as she retreats.
Brissette continues coughing in the protesters' direction and taunting them: "Oh, I'm so scared of your fucking virus."
After they swat at him with signs, he yells that he "could charge you with assault for hitting me."
When a protester reminds Brissette that he could also be charged for coughing on them, he turns childish: "Fuck you, you assaulted me first."
Social media users quickly found Brissette's information on his Facebook page and asked Twitter to "do its thing."
Careful, though: He's apparently a black belt in judo.
Brissette set up a GoFundMe to help with potential legal fees, but it has since been taken down. As of Wednesday afternoon, it had only raised $50 of its $10,000 goal, according to the New York Post.
Towleroad captured the fundraiser's full statement before it was removed:
On Saturday 10/10/20 I was attacked by BLM protesters in Kanab Utah. I now have legal issues do to this. .. What happened I was pumping gas had my Trump flag on my truck. Some other random guy Rolled Coal from his truck on some BLM/Biden people that were on the corner. Every one around me was laughing. Two of the protesters threw rocks at me. I went to confront them and was totally verbally attacked. So without touching anyone I called out the BLM at this point someone started recording it. During my rant two women hit me. And now I'm being charged with starting it. I need help to clear my name against these race baiting protesters.
Brissette continues, verifying that he has been charged for numerous crimes:
The BLM member has made a video go viral. And it only show me calling them out. It does not show 1st 5 mins were I was being assaulted with rocks and verbal attacks. Also there is a video show me go after a guy but it starts after he messed with my truck while I was in the gas station. I'm getting charged with 5 different crimes and my reputation trashed. help me to combat these people.
Brissette, clearly not understanding how any of this works, has been trying to defend himself on social media.
"Okay to all. do not believe partial Videos they do not tell the hole [sic] story," he wrote on Facebook. "A group will only post what they want you to believe. And With out telling the hole [sic] story behind the actions of the person."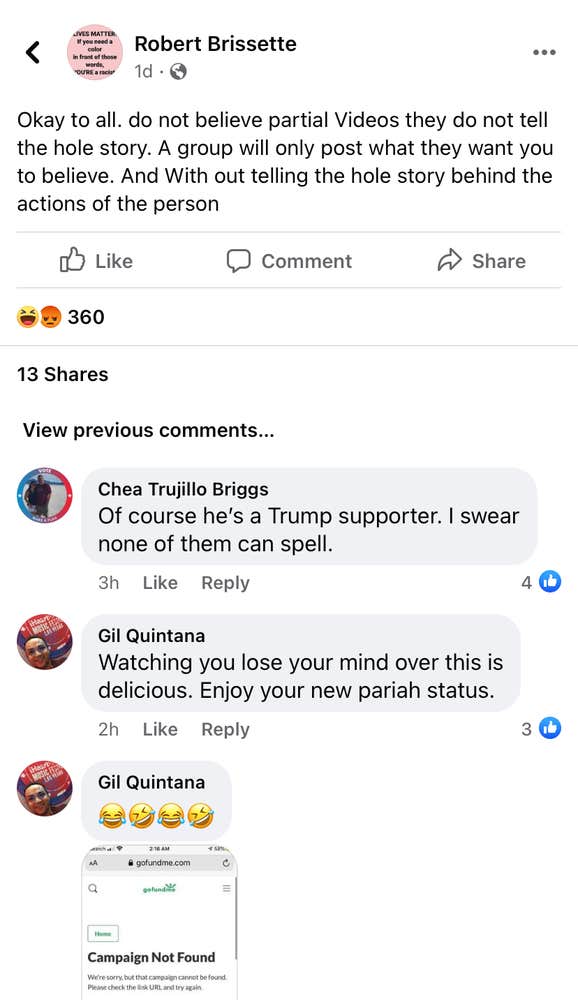 He even posted the fundraiser to a local Facebook group, where he was relentlessly dragged.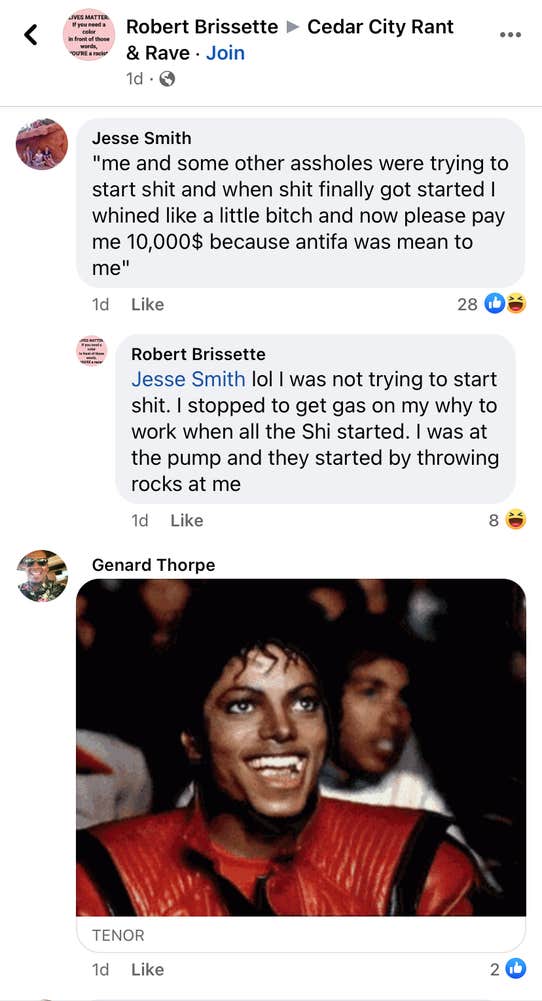 "Me and some other assholes were trying to start shit and when shit finally got started I whined like a little bitch and now please pay me 10,000$ because antifa was mean to me," one Facebook user wrote in jest.
The Kanab City Police Department did not immediately respond to the Daily Dot's request for comment.
---
Today's top stories