It happens to the best of us: Inspired by a craft seen on Pinterest, you decide to try making it yourself—only to discover it doesn't quite come out as beautifully as the original pin portrayed. 
From these attempts, many Pinterest fails have been born. But what if there was a place you could go to make the crafts you see on Pinterest, and get advice while doing it? Or better yet, join a class where someone's teaching you how to make it step-by-step? 
Enter Texas-based artisan craft studio and shop The Tinderbox. It all started when Ren Mitchell wanted to fill a void she discovered in Houston.
"We needed a place you could shop from local vendors [and] makers all year round, and a space where adults can learn craft skills, revisit traditional making techniques, and get more comfortable with using their own hands," Mitchell told the Daily Dot.
She was already using Pinterest personally at this point but began to utilize the organization offered by boards once she knew The Tinderbox was going to become a reality. The virtual pinboard site offered a source of inspiration from the larger creative community as well as fellow shops and crafters.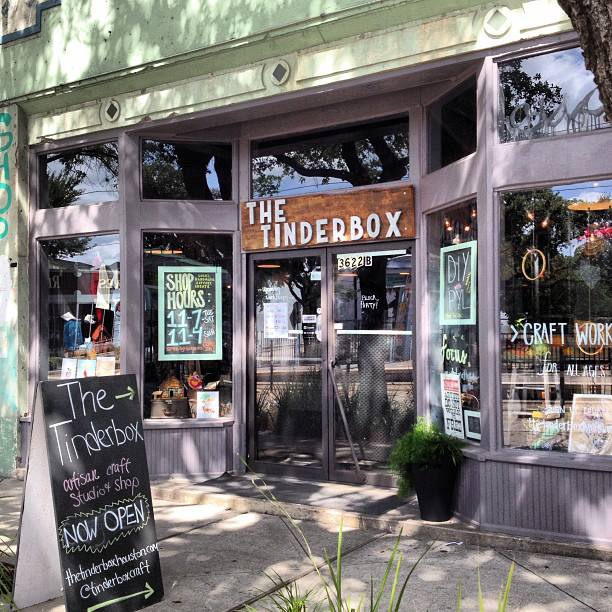 Mitchell already had some artists in mind whose work she wanted to sell when the store opened. Adding more has been an organic process as she finds others whose craftsmanship and aesthetic fit with the shop. She finds artists at state markets, festivals, and now even has some reach out to her as the shop's success grows.
The Tinderbox also offers a craft studio where anyone who wants to work on a project whether inspired by Pinterest or not can just walk in and use the tools available. Sometimes artists who sell their work in the shop drop by to work and chat with customers. Even kids can just come in and create crafts using leftover materials.
"I try to encourage people to stop by and see how we can help them finish a project or utilize a tool that they don't need to go out and buy," Mitchell said. 
The studio also has workshops and classes. According to Mitchell, they have monthly recurring workshops on sewing, knitting, crochet, jewelry-making, and soaps and scrubs as well as classes on woodworking, upholstery, leatherwork, and more.
Some of these workshops have been inspired by Pinterest. Mitchell said they've hosted several private craft parties inspired by items seen on the site, offering a place where people can find guidance to make the DIY projects they discover a reality when they might otherwise be hesitant to give them a try.
"It is comforting to people to know they can go somewhere and make a mess, and have the proper tools and instruction to create something," she said.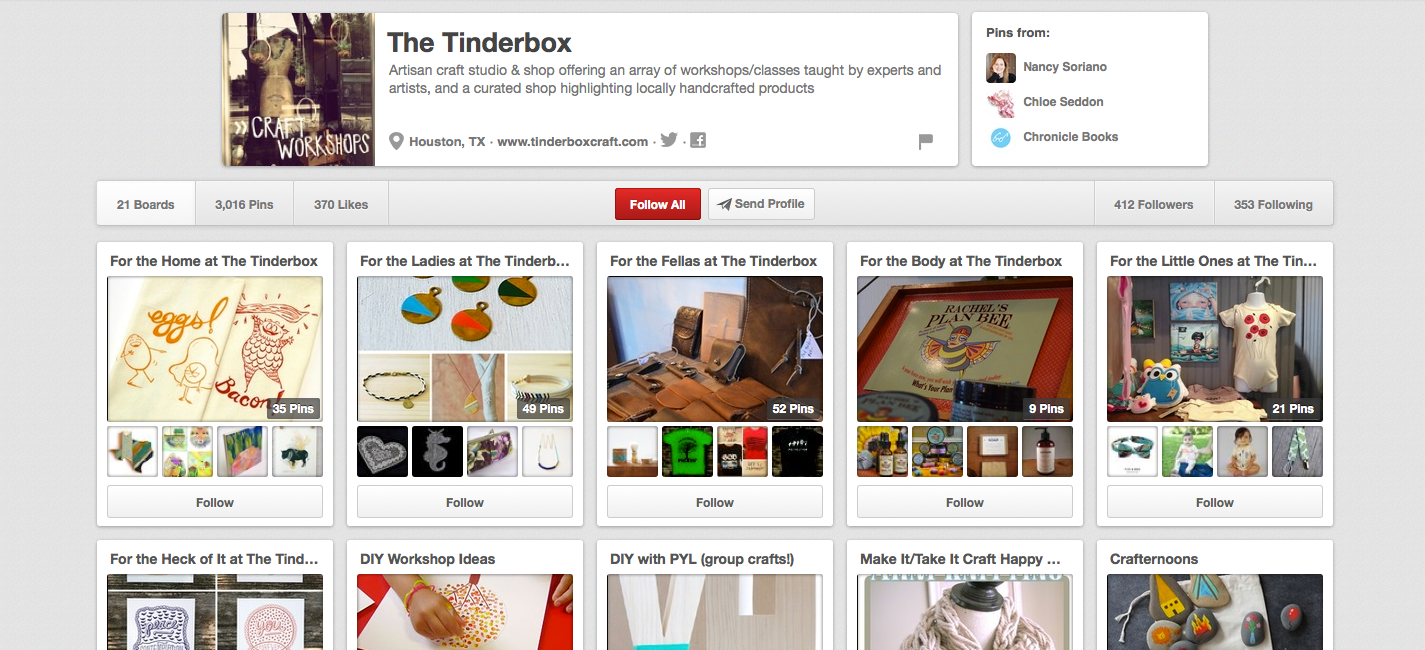 The Tinderbox has 21 boards on their own Pinterest page, which Mitchell said she uses not only to share shop products, but also pins with a handmade feel that can let people "see how handmade products or personal touches can really elevate one's life and surroundings." She also uses the site to see what's trending and what project variations are out there, so even if they are not offering something in the shop, they can be up to date on what people are sharing and talking about.
The combination of Pinterest crafts and real-world advice has helped The Tinderbox get noticed over the last year. During the summer Mitchell was asked to take part in the popular Pinterest-focused Twitter chat #pinchat, where everyone was curious about how The Tinderbox uses the site and how they can start crafting the stuff they see on Pinterest.
@Tribe2point0 We provide the #expertise and the supplies in our #workshops, so it is a fail-proof way to take off creatively #DIY #pinchat

— The Tinderbox (@TinderboxCraft) July 25, 2013
"I think a vast majority of people would like to be more creative in one way or another, so they are curious on just how to get started—a craft studio specifically for adults has been the remedy for that," Mitchell said.
She thinks the reception to The Tinderbox so far is wonderful, and that while Houston may be a tough city to thrive in, it's full of creative people and those who want to take up crafting thanks to Pinterest and even Etsy. If the Tinderbox continues to succeed, it may soon inspire even more spaces to open up and help people create what they find online. 
This might be the happy end to Pinterest fails as we know them.
Photos via The Tinderbox/Pinterest and The Tinderbox/Facebook