There are many ways to grieve. Some people choose to go to a therapist, while others may take some time to slow down and give themselves space to heal on their own.
But a young mother on TikTok is apparently grieving her stillborn daughter by posting videos of her, claiming that it is a "coping mechanism" assisted by dark humor, as reported by Distractify.
TikToker @lex.isssss shared a video of herself holding her child while using the clown face filter from the platform, captioned as, "Waiting 8 months just for you to come out with no heartbeat."
"Dark humor at its finest," she wrote when she posted the video. "let me cope in peace pls."
It's received 4.5 million views as of Friday. In another video with more than 2 million views, she's dancing while holding the baby.
The 21-year-old made multiple videos following the first, both "showing off" her stillborn child and responding to criticism. The Daily Dot has not been able to independently verify the authenticity of the videos.
Comments are disabled on all of her videos, but she does reference people trying to get her videos taken down, claiming they violate community guidelines.
"Honestly can y'all pls stop making videos about me?" she captioned yet another video. "I'm sharing the ONLY moments I had with my girl, it's helping me let go. Ty."
According to Hashtag Hyena, TikTok didn't take the videos down because they weren't violent or graphic in nature. People were just offended by them.
The videos were removed by TikTok and later re-uploaded by the creator. A statement from TikTok, given to Hastag Hyena, explains why they initially went offline:
"Our concern is also the well-being of our users, including the woman who shared her experience and those who may have viewed the content, and after careful review, we have removed the videos in question."

"While it can be difficult for platforms like ours to balance the individual's need for healing expression with the community's expectation for a safe viewing experience, our own Community Guidelines determined this as the appropriate action to take."
While the creator may have disabled comments on her own videos, there are still plenty of people remarking on the videos on Twitter.
"That girl posted 8 tiktok videos with her stillborn baby…" @awrightden wrote. "She doesn't need ppl to judge and bash her…she needs help…it's honestly a cry for help. Remember ppl deal with grief in so many different ways, even the unhealthy ways too."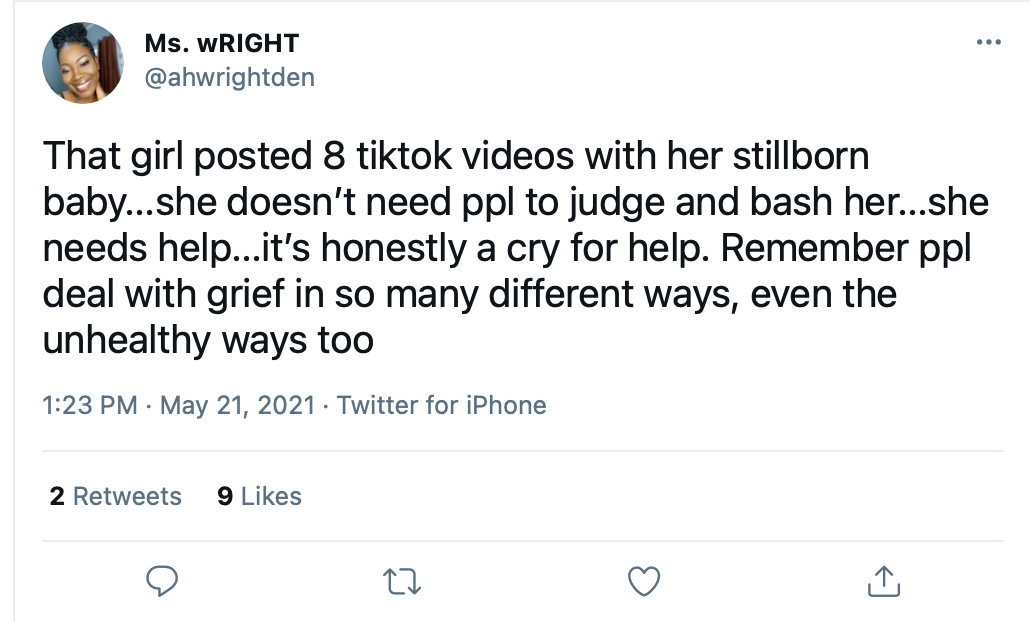 "I cannot believe I just saw some videos on Tiktok of a woman dancing around and holding her stillborn baby," @CreativeNameCos wrote. "I get that she's heartbroken, but seriously? Dancing around with your dead baby and posting that shit online? Disrespectful and distasteful. Stomach churning, too."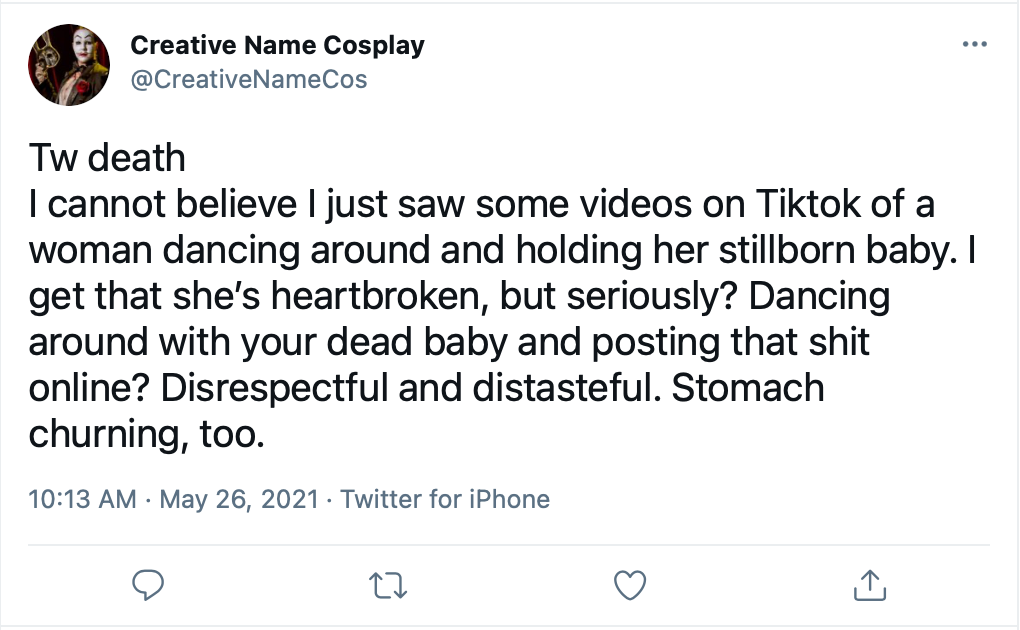 The Daily Dot has reached out to TikTok.
---
Today's top stories