Jamie Styblo is documenting the last days of her life on TikTok.
The young West Virginia woman says she's dying of something called calcifilaxisis, a rare disease that causes a build-up of calcium in the body. The 22-year-old recently decided to begin documenting the end of her life via TikTok, where she's been sharing updates on her condition. Styblo is approaching her last days with humor, charm, and courage, and people online can't get enough.
Styblo has been uploading videos to TikTok for awhile now, but she only recently began sharing details on her condition. After uploading a TikTok in which she noted that she was "literally dying over here," her followers started asking questions. As more and more flooded in, Styblo decided to address them through a series of videos.
Styblo brought users along as she planned her own funeral and prepared to shift into hospice care. She noted, in a string of videos, that she has been in a wheelchair since she was 12. Then, at 16 she began dialysis to combat her kidney failure. She said complications from her dialysis lead her to the decision to enter hospice. Throughout the series of videos, which Styblo has labeled her #deathseries, she and her family approached her decision to enter hospice with humor.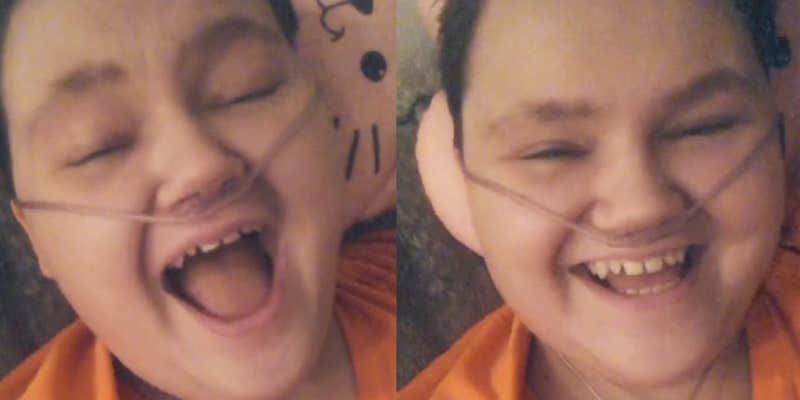 In the background of one of the videos, Styblo's close friend can be heard explaining the situation. "You were saying that you've been dealing with this for a really long time," he said. "And that it's at the point where we all just have to accept it and we've been laughing about it because it's better than crying and sobbing and screaming and being upset."
In another video, Styblo pointed viewers to her memorial fund through the funeral home. As of press time, $3,210 had been raised of the $7,500 goal. According to the page, Styblo contracted transverse myelitis—an inflammation of the spinal cord—when she was 12, which paralyzed her from the waist down. Eventually, Styblo's condition lead to kidney failure, which led to further complications.
Following a late-night video in which Styblo said that her fingers, tongue, and the roof of her mouth were going numb, her friend Kurtis took over recording the TikToks.
Since then, he's been giving updates on Styblo's condition. According to Kurtis, Styblo—after several days of waiting—was finally transported into hospice. He noted that he would be giving updates whenever possible, and thanked followers for their support and donations. Upon speaking to hospice nurses, Kurtis noted that "they think she'll last over the weekend, but next week it'll be really rough."
"We have her for a few more days, thankfully," he said. In a follow-up video, Kurtis noted that he will be with Styblo up until the end, regardless of how long she hangs on. "She's happy, she's doing OK. She just wants everyone to know that she's so thankful for everything."
Kurtis and Styblo's sister Stacy have gone live several times, giving viewers updates and answering questions. According to one of the page's most recent videos, however, they were banned from going live for six days. If people want to watch them go live again, they will do so through Kurtis and Stacy's TikTok accounts.
Kurtis created an Instagram account for the purposes of live-streaming, where he promised viewers he would give updates. For now, he hasn't given any more details on Styblo's condition. As of the last time we saw her, she was cozied up in her hospice bed and seemed to be in good spirits. Kurtis promised to keep people updated as things change but noted that he will likely be unable to keep posting after she passes away. For now, at least, he is allowing people to join him and Styblo's family in their last days with her.
The comment sections for each video are flooded with well wishes, prayers, and messages of love and strength. We've reached out to the family.