A Nevada teacher responded to her school district's restrictions on LGBTQ "signage" by making a TikTok video that shows her classroom plastered with rainbow decor. 
Jennifer Leja, whom BuzzFeed News identified as a teacher of middle school students in Reno, Nevada, posted a video on her TikTok last week showing off her rainbow posters, teacher's desk, and duct tape separating student desks.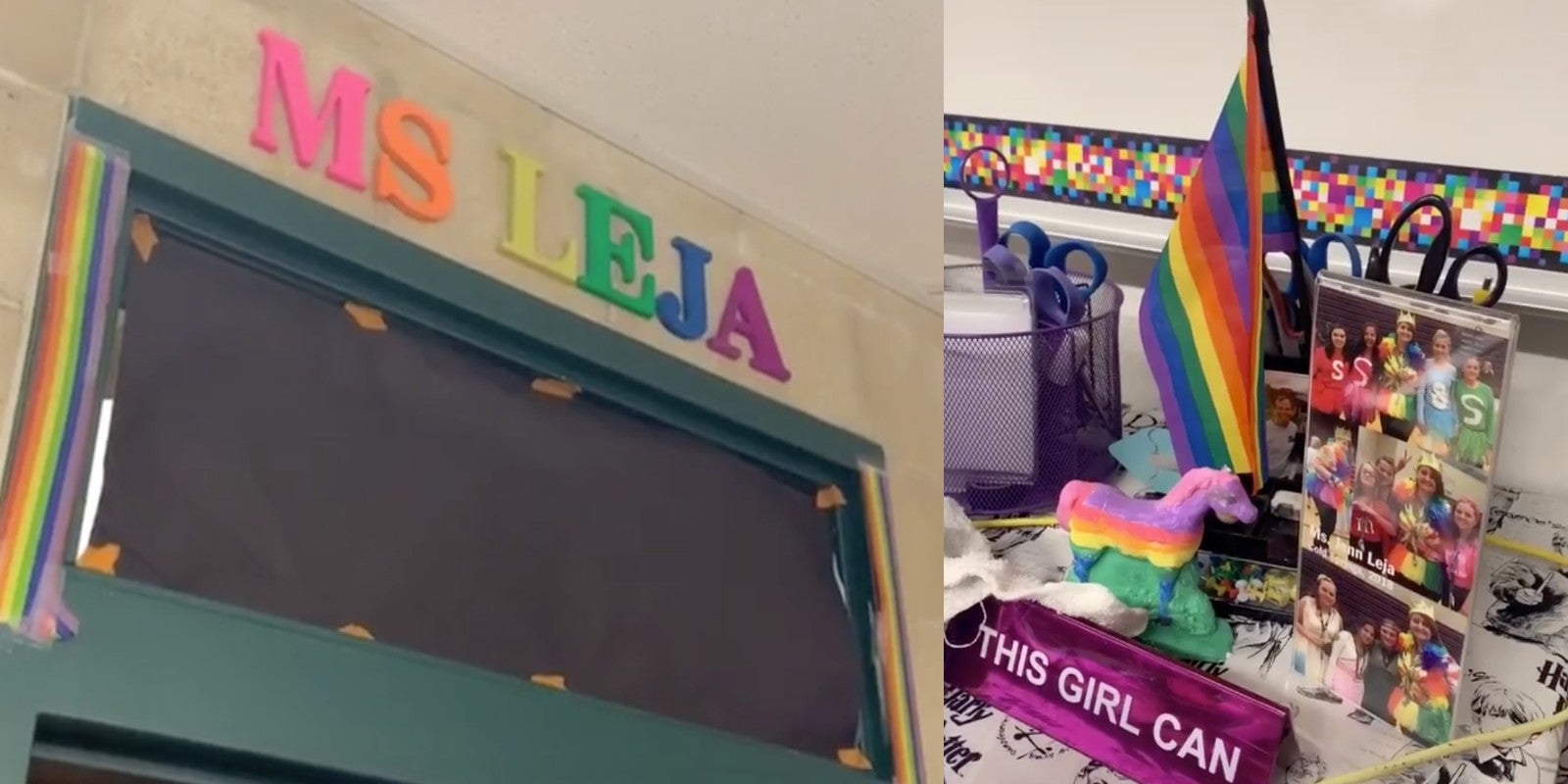 According to her TikTok video, the school said talking about LGBTQ issues would be considered "supporting a single political party."
"And if anybody asks, I just really like rainbows, like, I just really like rainbows," Leja says.
She takes the viewers on a tour of different parts of her classroom, including a pen stand flaunting rainbow feathers and a sign above her classroom door, decorated in rainbow colors. 
"No politics in Ms. Leja's classroom," she says. "She just likes rainbows. Rainbows aren't political, not at all, rainbows are just colorful."
The video then lands on her wearing a face mask with a rainbow heart. She says, "What, this? This is not political, this is just that I really like rainbows."
She told BuzzFeed News that students often come to her when they're exploring their identities.
She has always kept a rainbow flag, but a new policy issued by the Washoe County School District bans political "signage" and "partisan political activities," according to BuzzFeed News. 
In an email reviewed by BuzzFeed News, banned "political activities" include signs supporting LGBTQ issues, Black Lives Matter, pro-life, and pro-gun campaigns. An official for the school district said, however, that teachers are still allowed to share their sexuality or talk about same-sex partners with students.
Leja's video has garnered thousands of "hearts" and comments, with many pointing out that one's ability to love or identify with their gender is not a matter of politics.
---
Must-reads on the Daily Dot
H/T BuzzFeed News