Hype House members Sienna Mae Gomez and Jack Wright have brought their more than 20 million combined TikTok followers to an online stir following accusations of sexual assault, Dexerto reports. On Tuesday, Gomez denied all accusations and turned the tables.
A post shared by Wright's friend Mason Rizzo, which has now been deleted, alleges that Gomez, who shares body-positive messages across her socials, has been known to verbally abuse others and that she told Wright to "kill himself." While the post has been deleted, the text is reported by Meaww.com as such:
"I struggle with seeing a girl getting praised after telling my best friend to kill himself and sexually assaulting him numerous times after he set boundaries and then reportedly wonder why 'he doesn't like [her] back'." He wrote, "She also has a history of verbally abusing people in high school and in LA. She prioritizes the growth of her platform rather than the positive message she represents herself as."
Additionally, Jack's brother James posted cryptic messages about the situation and later retweeted Rizzo and according to Dexerto, added "This is why 'I couldn't just let it go and stay out of it."
In response, Gomez has posted to her own Instagram account, stating that the accusations are false. Both Gomez and Wright are 17 years old.
"Friends fight and relationships sometimes change, but allegations of a criminal act are not to be thrown around loosely," she wrote. "Making an untrue sexual assault claim is never okay. I'm beyond saddened by this situation."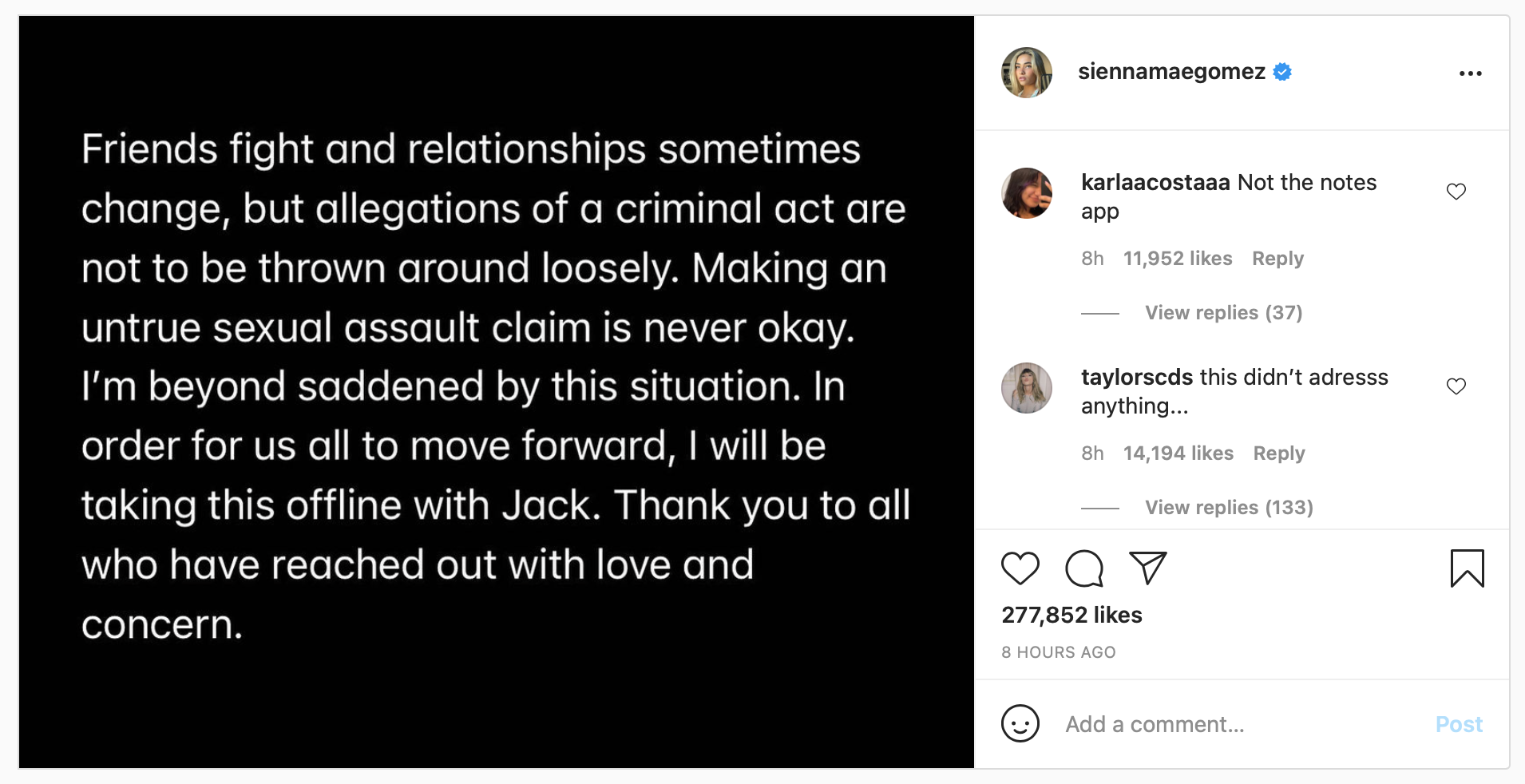 On Tuesday morning, Gomez posted a video to her 383,000 YouTube subscribers, reversing course on an initial pledge to take the situation "offline."
"I unequivocally deny the allegations that I sexual assaulted Jack Wright," Gomez said. "I am not making an apology video."
"I have nothing to apologize for because I did not sexually assault Jack Wright," Gomez added. "Jack never confirmed or denied it, which makes the situation worse because he never denied it knowing that it's not true."
She said she'd seen him several times over the past few months, and said she never had sex with Jack after being "strung along" by him.
The video has been viewed more than 98,000 times since being uploaded.
She didn't stop there.
Gomez said that her legal team was gathering evidence and told Rizzo to "be ready." She also called out Jack Wright's brother James.
"I'm so surprised that you're so outspoken on an issue that we both know you relate so closely with," Gomez said. "It would really suck if a large group of people… had to share the experiences that they've had with you. Saying that I sexually assaulted your twin is very bold—especially coming from you."
Jack Wright has not addressed these accusations online. However, Rizzo tweeted that the Wright family is choosing to deal with the situation offline.
"The Wright family, Sienna's family, and I have decided to delete all information about the situation and handle it off of social media," Rizzo wrote late Monday.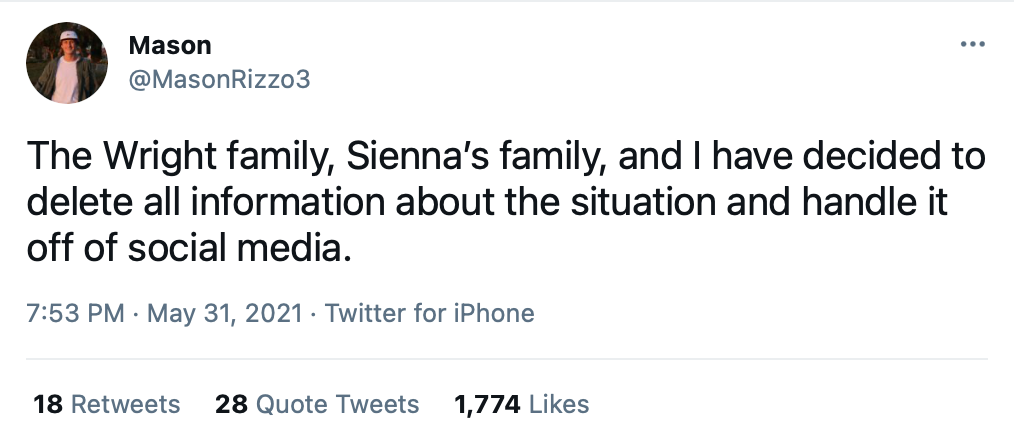 Online, in lieu of verified information being shared by involved parties, fans have started to speculate.
The Daily Dot has reached out to Wright and Gomez.
If you are a victim of sexual assault or want more information on sexual assault, contact the Rape, Abuse & Incest National Network at 1-800-656-HOPE (4673).
---
Today's top stories