A now-viral TikTok video shows a nurse crying and expressing her anger about President Donald Trump remarks downplaying the coronavirus.
User @foleyfriends, whose name on her bio is Cristina, posted a TikTok video on Tuesday blasting the president for his tweet, which has been deemed tone-deaf by many.
CNN identified the user as Cristina Hops, a nurse in Seattle. Hops says at the beginning of the video that she saw the tweet after she'd walked home from work.
"I just wanna say: How dare he? How dare he undermine all of the work that we have done as nurses and healthcare providers and respiratory therapists? And I'm sorry I'm having a mental breakdown over this," she says.
"I have seen hundreds of people suffocating to death," Hops says later in the video. "And for him to say do not be afraid of COVID is astounding. I cannot compute."
The video has been viewed more than 300,000 times, garnering a much higher view count than her other videos from her 52,000 followers.
On Tuesday, the president tweeted before he was leaving Walter Reed medical center that people shouldn't let the virus "dominate [their] life." "We have developed, under the Trump Administration, some really great drugs & knowledge," Trump wrote. "I feel better than I did 20 years ago!"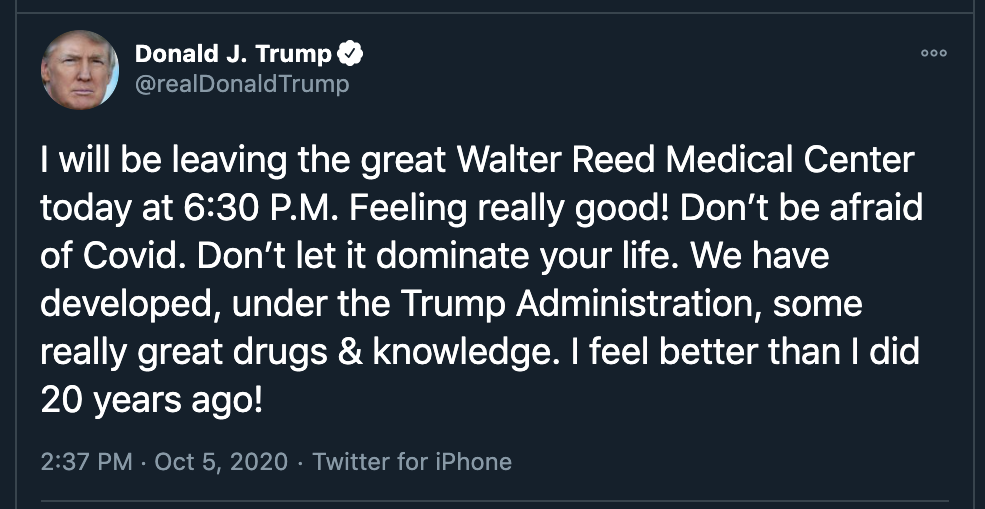 It stirred angry reactions from many, not only for his downplaying of a virus that has killed more than 200,000 and infected more than 7 million people in the country but also because most of them did not have access to the exceptional and prompt healthcare that he did.
"Not every American has access to the top therapeutics and doctors with the most advanced equipment available to the President of the United States," wrote Dr. Eugene Gu, a vocal critic of the president.
"Wouldn't it be nice if everyone could get the same care you have received without having to pay a single dime?" another user wrote. "You love universal health care when it's benefiting you, don't you?"
---
Today's top stories
H/T CNN