Afterthought LLC, the developer behind hit indie multiplayer dinosaur survival game The Isle, has placed one of its core developers on leave over a resurfaced claim of child sexual exploitation. The accusation, which stems from a series of events from five years ago, is at the center of a schism rocketing through the game's Discord and Reddit community.
Users on The Isle's popular subreddit r/theisle claim Afterthought LLC's marketing director Chris "ParadymShift" Wistock is a sexual predator who targets underage girls in the gaming community. Users also say The Isle's lead developer and creator Donald "Dondi" Wittich III enabled Wistock's behavior, covered it up, and engaged in emotionally abusive treatment toward fans himself. Wistock was placed on leave three days after the initial allegations against him surfaced over Reddit DMs.
"In regards to the claims involving ParadymShift, we are placing him on leave from The Isle pending the outcome of a legal investigation into the events alleged to have occured in 2015 and the circumstances therein," The Isle community manager Bruce "PunchPacket" Wells wrote on the game's Discord on Wednesday, "The safety of our community is our top priority. During this time, please respect the privacy of all parties involved."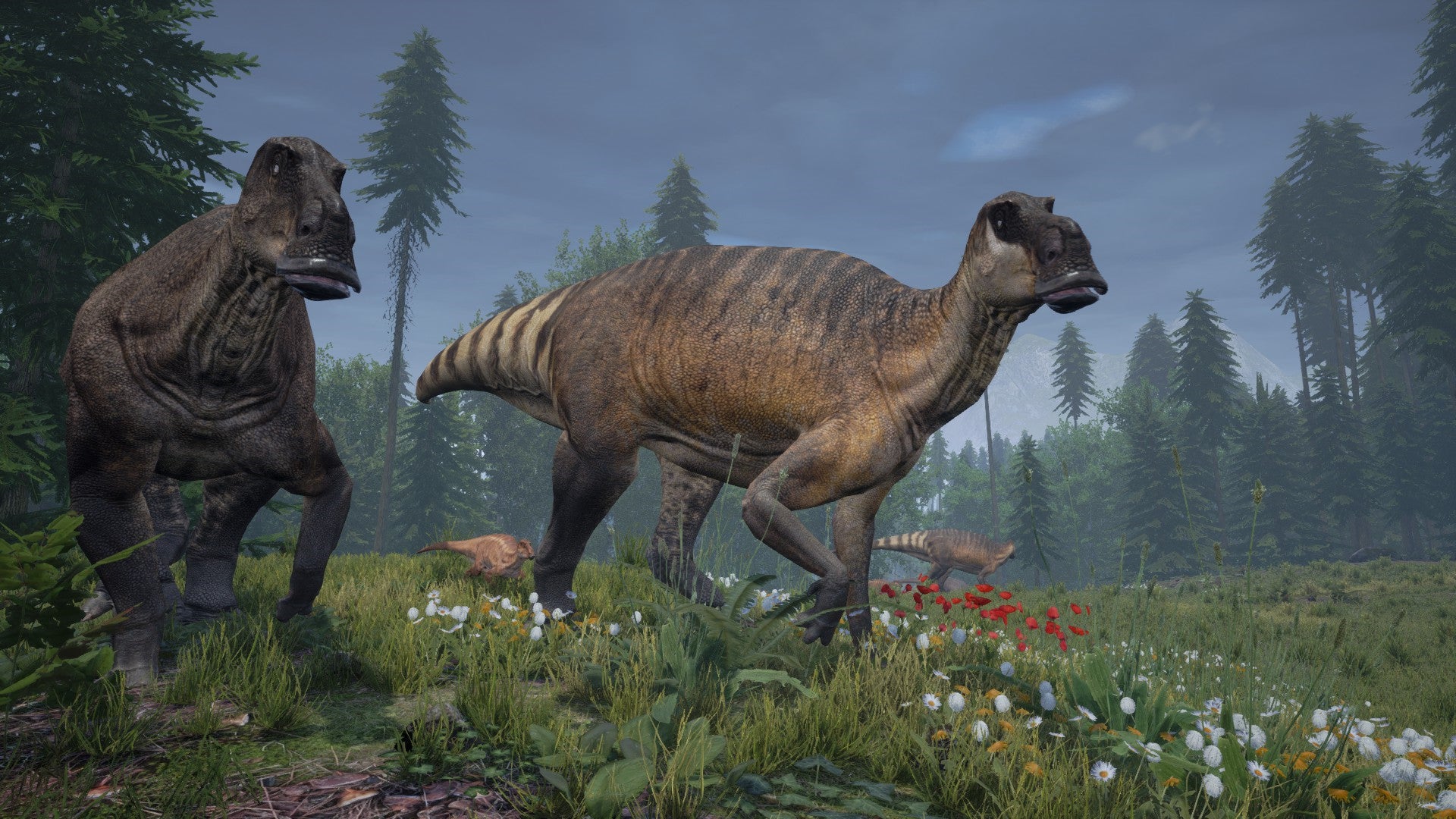 On Sunday, r/theisle moderator SweetSweetGaben announced that they could "no longer support this game" after "much thought and some discussion with the other kids." The post was later removed by SweetSweetGaben, but an archived version of the thread reveals a cryptic message about the game's developers.
"Due to other reasons that I cannot reveal here (certain users will know what I am talking about), I no longer wish to be associated with this title or its development members," the former moderator wrote. "I have removed the game from my Steam library permanently. Believe me when I say that it is not the community, I love you guys and I appreciate all of your content and laughs that your memes have provided."
The same night, another moderator named Joxxill also left, stating that they wanted no association with the developers. A user named Darth_EA encouraged Redditors to check their comment history for context. In it, Darth_EA alleges Wittich is a known emotional abuser and sexual harasser and that Wistock has "aggressively approached" women in and out of the dinosaur-based games world to create "some kind of NXIVM-style sex dungeon." The Daily Dot could not confirm that Wittich engaged in sexual harassment nor that Wistock is actively approaching women to create a sex cult.
However, evidence circulating privately across r/theisle reinforces the allegation that Wistock has a history of sexually preying on underage girls. The Daily Dot obtained a MEGA directory of 25 images shared across r/theisle that provides chat logs alleging Wistock, under the username "Spartan5150," sent explicit photos of genitals to underage girls while part of the Taco N Banana Garry's Mod role-play community. The MEGA directory connected Wistock to "Spartan5150" and Wistock's name to the "ParadymShift" and "Spartan5150" accounts. The Daily Dot also obtained Wistock's Discord username, which referenced the numbers "5150," and is connected to a Spotify profile named Chris Wistock.
In a video posted Wednesday evening, YouTuber SidAlpha says he provided Wittich with evidence he obtained from two women who say Wistock sexually harassed them as teenagers. This includes images from one of the women allegedly depicting unsolicited messages from Wistock, such as requests for nudes, requests for sex, and a picture of his genitals. SidAlpha claims Wistock's leave was announced after Wittich contacted him.
When reached for comment, Wittich confirmed to the Daily Dot that Spartan5150 was Wistock's "original name" and that he's known Wistock for "over 10 years." He described the Taco N Banana community's culture at the time as "volatile and unforgiving." While Wittich said he was not present when the initial accusations against Wistock emerged, he does not believe events took place as alleged due to the Taco N Banana community's supposed toxicity.
"I'm not trying to be vague and evasive, it's just like, that whole place… you just gotta go find people that came from there. Because it's its own culture," Wittich told the Daily Dot. "And looking back on it you realize a) how fucked up the culture was, and b) how fucked was I for being there. Socially maladjusted teenagers all hanging out kinda deal? Oh my god. No one's really proud of their days."
Despite their gravity, The Isle's developers initially addressed the accusations haphazardly. Prior to Wistock's leave, Wells publicly acknowledged the team is "aware of the rumors being propagated against a member of our staff" and vowed to "both correct the fallacies brought about by this situation and defend those that are impacted by it." Earlier, he called the MEGA directory "a bunch of completely unrelated images spliced together to push a fake malicious narrative" and questioned why the accusations have "never been acted upon by actual law enforcement." Wistock addressed the allegations on Discord, stating "the lawyers are going to handle this" and that the allegations come from "folks who have a pretty clear agenda."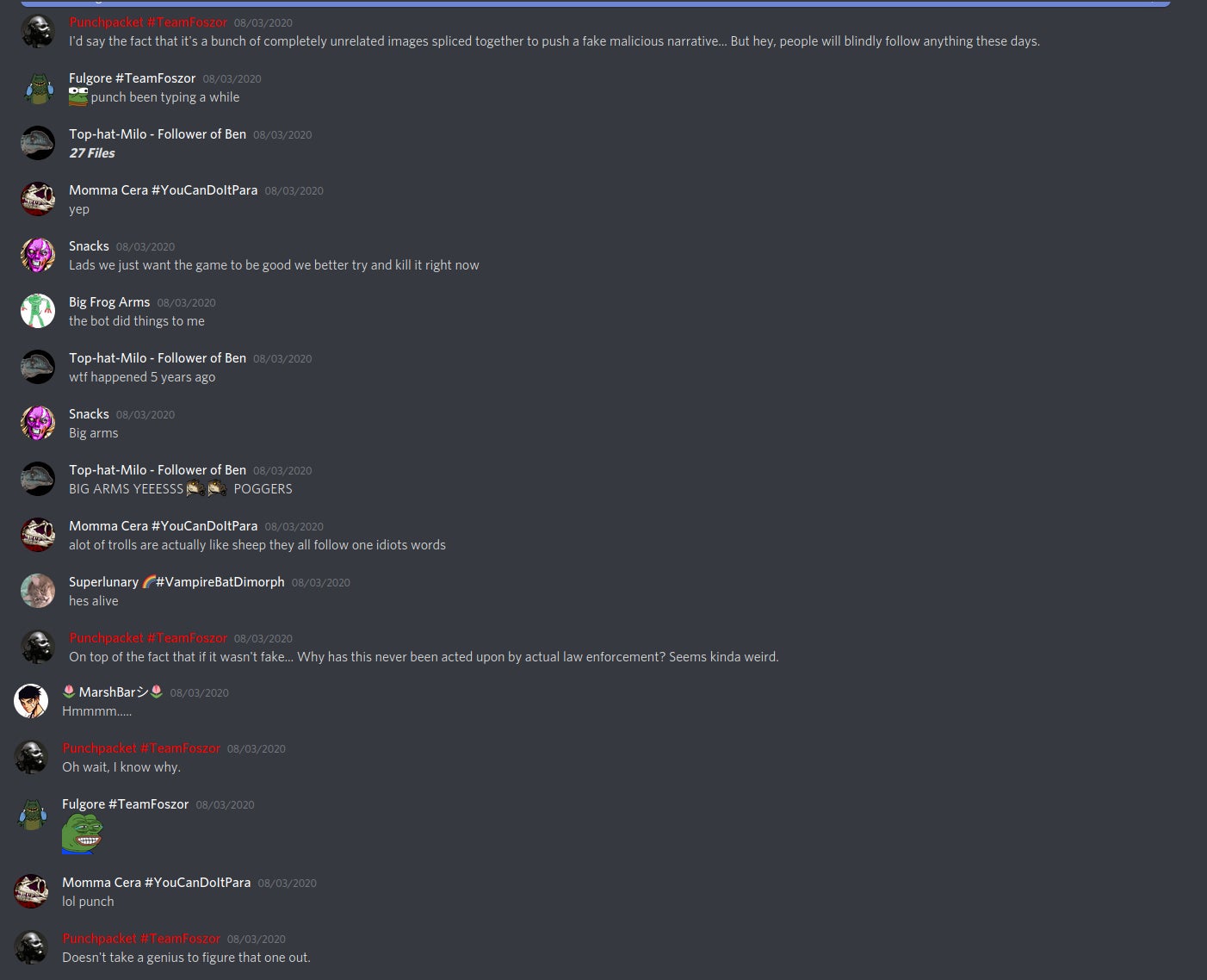 These beliefs echoed comments Wittich made. A leaked developer call from Aug. 5 shows Wittich criticizing the directory documenting Wistock's behavior, saying "nothing can be done" with "fuck-all censored Discord images" and "a picture of genitalia [he] never needed to see." In the video, Wittich also says he's "known [Wistock] for a while" and that he has "reason to doubt" the allegations. He also complains that the accusations took time away from his vacation.
"A random shadow cabal of people making an accusation who then tried, poorly, to cover their tracks after they made a blanket, very loose accusation just screams 'suss,'" Wittich said in the call. "Because any person that goes 'yeah, this is real, fuck this dude' is usually the first person to step into the light."
Wittich confirmed the video's validity with the Daily Dot and corroborated that he did not find the initial images warranted action and that he still believes the situation "doesn't add up properly." However, Wittich said he was contacted by a trustworthy source, later confirmed to be SidAlpha, who believes the allegations against Wistock are credible. Wittich asked if he could put the SidAlpha in touch with his lawyer.
"I have an obligation to my community, number one, please be safe, end of discussion. Number two, I have an obligation to my team. The issue that stems from this is, oh hey, you can just label anyone anything," Wittich told the Daily Dot. "And number three is that if I'm going to ask someone candidly that I've known for years, 'Hey we need to talk,' [I will] go to bat for you in the sense of there will be justice to be had [but] that door can go both ways."
As for Dark_EA's allegations against Wistock, Wittich said he "can't attest to" the claims circling around the community, claiming it does not describe Wistock's character. "The man's happily married, I know his wife," he told the Daily Dot. Wittich said the allegations of sexual harassment by Dark_EA left him in "amusement and bewilderment."
As for claims of bullying, Wittich said that he struggles with "expressing emotions" and internalizes his hurt feelings "like a child" until it "festers into a mental illness." He acknowledged that his behavior may be seen as bullying.
"It could be perceived. I can't really say. That's up to the person. I can't tell someone else how I made them feel," Wittich told the Daily Dot. "But at the same time I also struggle to express how I feel, which is not healthy, which is why I took my—well, absence that isn't so much an absence anymore."
Wittich's behavior and his treatment toward fans has been an ongoing issue in The Isle community. In a video titled "The End of The Isle," dinosaur gaming YouTuber Nettai alleges that Wittich and Wistock retaliated against another YouTuber who criticized The Isle's animator Bryan Phillips' feelings on the Ankylosaurus character. Nettai said the behavior was not uncommon for Wittich and that the developer is antagonistic. One Reddit post from May 2019 reinforces Nettai's claim and shows Wittich making fun of fans and their complaints. A series of Reddit comments shared by Nettai depicts a fan calling Wittich "one of the snootiest, condescending, [most] insecure chads on earth," and another claims the game "is led by a manchild who gets offended at anyone and anything."
While Wittich appears to be at the center of The Isle's problematic development culture, this behavior isn't isolated to him. Arogyle, a former member of The Isle's community, told the Daily Dot that players commonly experienced verbal abuse at the hands of the game's developers, including bigotry.
"Not in-game (since it was rare to ever see them there), but on the Discord people were spoken down to, had slurs used on them, harassment directed their way if someone spoke up in disagreement, or general toxicity displayed as casual conversation by members of the development team or Discord moderation team," Arogyle said. "Much of the team for Path of Titans were former employees who worked on The Isle who experienced unprofessional or abusive behavior from [Wittich] directly."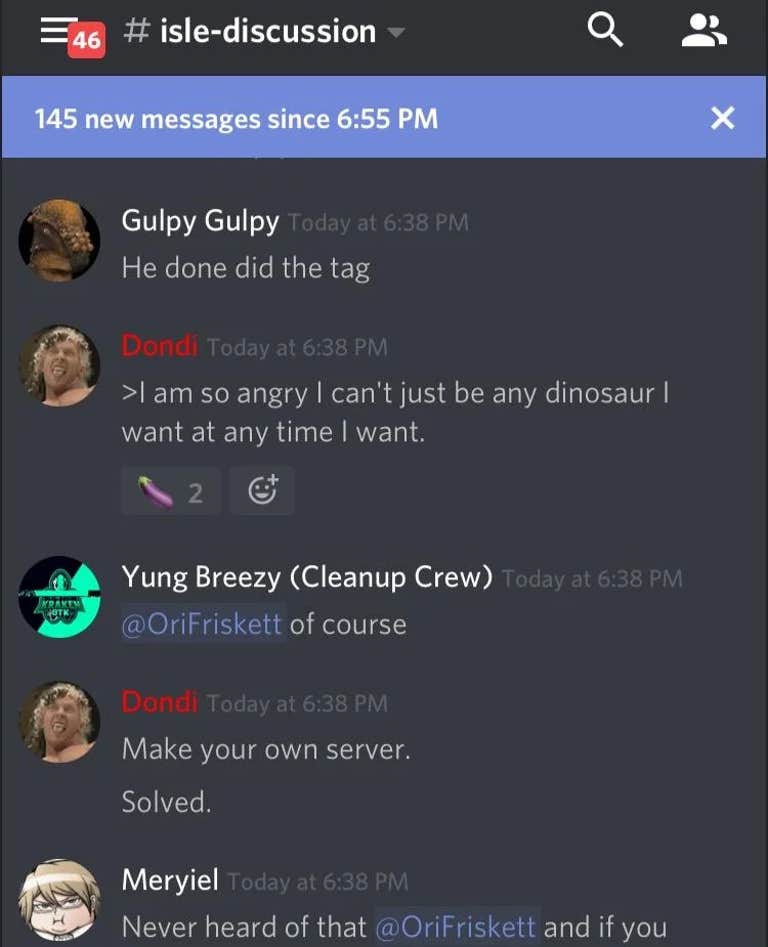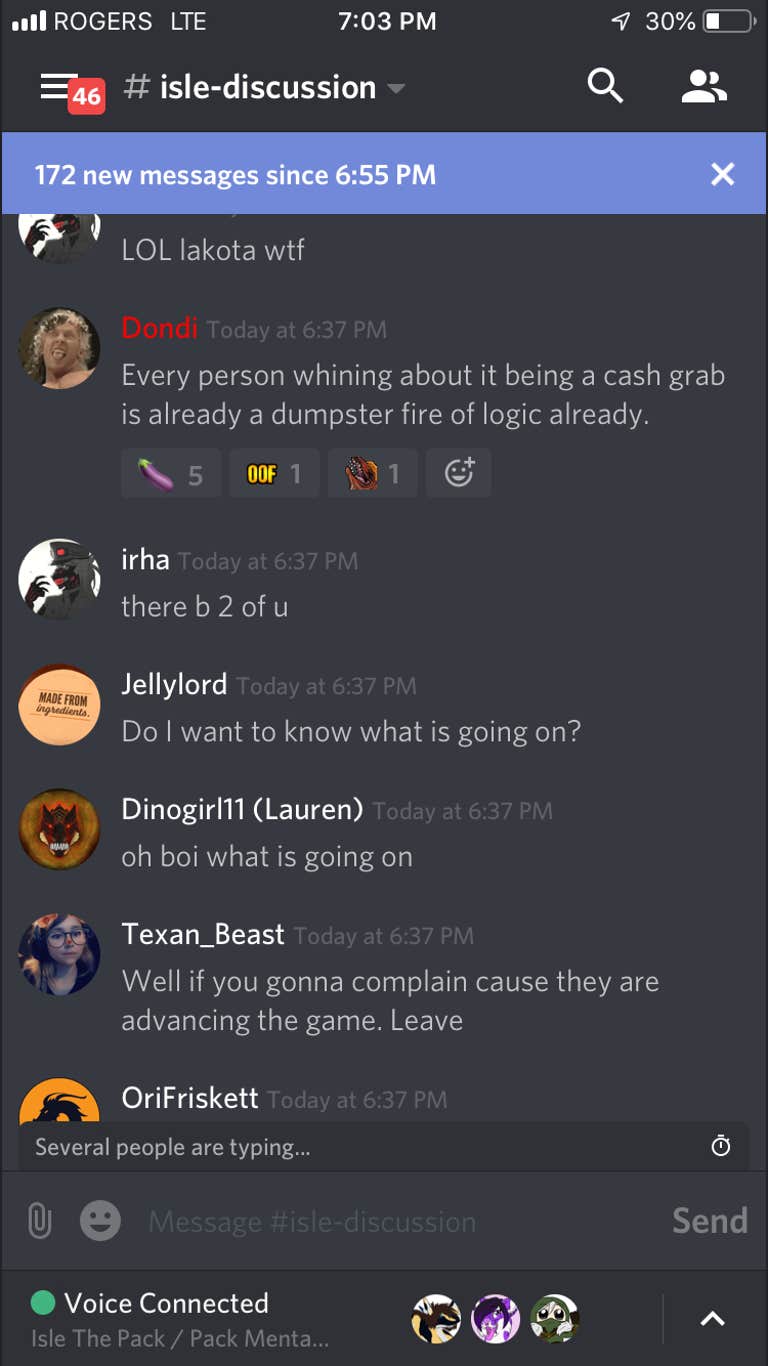 Wittich initially stepped back from The Isle in late July, claiming that his hyperfixation with the game significantly hindered his personal life. This was a point he corroborated with the Daily Dot, saying management stepped in and advised him to take a mental health and wellness break.
It remains unclear if other developers on The Isle condone Wittich's behavior toward fans, although Arogyle says developer exoduses were not uncommon in the game's five-year history.
"Paleontology is a fairly niche interest and (without knowing statistics) I would say The Isle is one of the more successful dinosaur games. This allowed Dondi to get away with a lot of unprofessional behavior while players would put up with it in hopes for scrap of content," they told the Daily Dot. "Those who were professional or well-rounded individuals moved on to other projects or communities leaving only horrible people to feed on each other's toxicity."
A core group of fans remain on the game's Discord, but those frustrated with the game's leadership seem to consider the accusations cause enough to abandon the game's fandom altogether. Case in point, the r/theisle community largely remains convinced in both the allegations against Wistock and Wittich's role in orchestrating a coverup. As one GIF of General Grievous put it: "Time to abandon ship."
Update 10:42am CT, Aug. 6: After this article's publication, SidAlpha told the Daily Dot that Wittich contacted him on Wednesday after learning the YouTuber was making a video on the allegations against Wistock.
"I gave him a basic 30,000 foot view of my findings and my discussions with the two girls. He did ask me if he could have his attorney reach out to me, which I agreed to and provided my email address," SidAlpha told the Daily Dot. SidAlpha said The Isle's legal team contacted him via email, and he left a voicemail with an attorney on Wednesday.
SidAlpha said he was surprised by the way the allegations against Wistock were handled, given their seriousness.
"What surprised me was the vehement defense and refusal to take action coupled with the moderators continuing to blindly dismiss such things as lacking any sort of merit without even doing the most basic of investigation," SidAlpha said. "To my mind, their community management and company management failed utterly in that regard."
Update 3:37pm CT, Aug. 7: On Friday, a firm representing The Isle sent two statements to the Daily Dot from Wittich and Wistock.
In Wittich's statement, he said The Isle community's "enjoyment and safety" is the development team's "top priority." He also said Wistock no longer works with The Isle development team.
"While an internal investigation shows no improprieties during the individual's interaction with our company or within our community, we have accepted the termination of his contract. The individual continues to deny any wrongdoing, and we wish him well going forward," Wittich said in the statement. "As an industry, several stories of inappropriate interactions and behaviors (current and years past) have finally been coming out. Members of our own community have regrettably been on both sides of this pervasive culture, and I have personally not been immune to negligence in my delivery style, which can be interpreted as cyberbullying."
In Wistock's statement, he "adamantly" denied "knowingly sending any private photos to any underage individual."
"While I have sent personal pictures to individuals I have met on adult, 18-and-over only websites, they have always been sent with consent of the recipient. It is libelous for these accusations to be made now after more than five years have passed when full copies of chat conversations and its context which would prove my innocence are irretrievable," Wistock said.
Must-reads on the Daily Dot