This Thanksgiving—sorry, this Hanukkah—something amazing is happening. November 28 is the first day of Thanksgiving and Hanukkah, and it's the first time in history the two holidays fall on the same date. It also won't happen again until the year 79,811—another 77,798 years. Thank an annual drift in the Jewish calendar.
Move over, Festivus. The Internet has a new holiday obsession. Make room for—wait for it—Thanksgivukkah.
While this holiday doesn't roll off the tongue quite as easily as "Festivus," it has nevertheless made a major splash on the Internet without the use of a 13-year-old Seinfeld episode. Fruitcakes and possibly the government shutdown might last another 2,500 generations, but most of us certainly will not. Thus, Jewish and non-Jewish Internet users alike are seizing the once-in-a-lifetime opportunity to mark Thanksgivukkah.
On Reddit, Thanksgivukkah discussions have popped up on both r/TodayILearned and r/Judaism throughout the past few weeks. Unsurprisingly, redditors have been brainstorming recipes that combine the traditional tastes of each occasion.
"Three words: Sweet Potato Latkes. Heck, even I'm getting excited at his prospect and I'm not even from the US. However, there is something rather ironic to simultaneously embrace a holiday about quasi-national liberation, and mix it with what is, essentially a celebration of colonialism," redditor tamaravel said.
"I'm making cranberry sufganiyot (round jelly doughnut typically consumed on Hanukkah)" redditor KrunchyKale said.
Give it a month before these concoctions ultimately wind up on the subreddit r/shittyfoodporn.
On Kickstarter, 820 donors raised over $48,000 to fund the creation of a 3-D-printed Thanksgivukkah centerpiece: the Menurkey.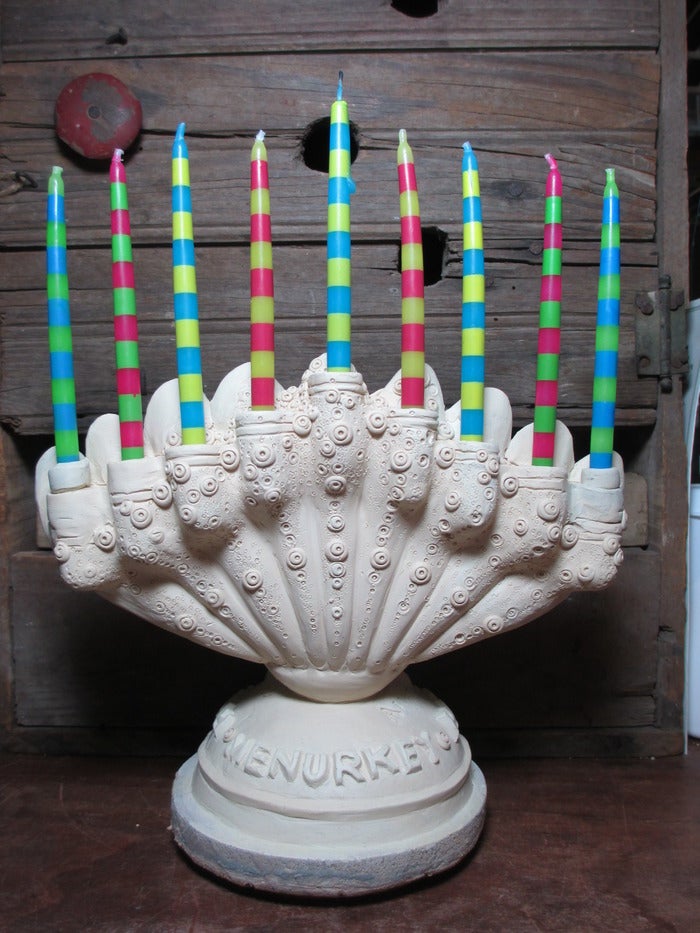 Image via Anthony Weintraub/Kickstarter
The Menurkey combines the traditional Thanksgiving turkey with the nine-candle menorah of Hanukkah. It is the brainchild of 9-year-old Asher Weintraub, whose family plans to sell both ceramic and plaster editions of the decoration.
"We have a lot of demand for the plaster edition, and we're likely to make a couple of thousand of those. The ceramic edition is very limited, so we'll probably only produce about 500 of those," Asher's father Anthony told HyperVocal.
While the Menurkey looks like it'd be an excellent breakthrough in self-cooking food, it is unfortunately not edible. Even if it were, it'd probably be sacrilegious to consume it.
No one has come forward to say exactly how the second day of Hanukkah, which typically signifies "ascension," will gel with Black Friday. Perhaps we will see an extremely deep discount on dreidels or Mel Brooks movies for everyone who crowds the local mall at 3am.
Original image via Ted Eytan/Flickr