Most people don't get the warm fuzzies when they pass by the hospital where their dead husband got chemotherapy for stage-four brain cancer. Most people also don't wax nostalgic about that time in their life as being the hardest but happiest because they got to enjoy "real wealthy people stuff," like middle-of-the-week brunch and Sopranos marathons.
But Nora McInerny is not most people. As the host of Terrible, Thanks for Asking, a podcast from American Public Media, the 35-year-old spends her days sitting inside other people's pain, offering listeners a new, perhaps hopeful, but above all honest, perspective on what it's like to live through the worst moments of your life.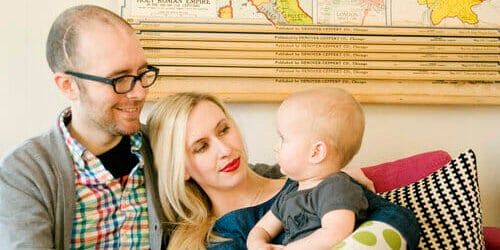 "I want to give people what the world gave me," she explains, referring to the incredible support she received after her husband, Aaron, died in December of 2014. "I want them to feel seen."
That's because she believes—and proves it with each episode of TTFA—that just because someone's story is sad, it doesn't mean that they're a sad story.
"I wanna ask people how they are and get the real answer, and tell their stories, but not in a 'oh, this poor person' kind of way, but in a really compassionate way," she continues. "There's a difference—a big difference—that people have a hard time seeing, between pity and empathy, between pity and compassion."
Empathy takes work, McInerny says, and she's not afraid to exercise this oft ill-used muscle. She's eager to break a sweat in order to produce a podcast that will be impactful, whether it's about her chronically single friend or a woman with a traumatic brain injury who can't even remember what she had for breakfast. She readily admits that 10 years ago, she would not have been able to do this job, and probably wouldn't even have listened to this podcast. Back then, she was still like most people—side-stepping tragedies because she thought they were depressing.
Then, she met and fell in love with Aaron. "I lived such a privileged life, that even the sad things were not that hard," she says. "There was just no situation where I wasn't going to end up OK." All that changed when her husband was diagnosed with brain cancer at age 35. Four years later, Aaron passed away, she miscarried their second child, and her father also died from cancer, all within a few weeks of each other.
These experiences taught her more than she could ever adequately surmise, but she's now dedicated her life to shining where and when others need it most. "You see that people struggle with the suffering of others, people struggle with how to show up, and it doesn't make them bad people, it's just a side effect of being human," she explains. "We just don't know what to do, and if we don't know what to do, then we think maybe it's best if I don't do anything 'cause then I can't make it worse."
Unfortunately, that's not how healing happens. People need to talk and McInerny, who also authored the memoir It's Okay to Laugh: (Crying Is Cool Too), has become an expert at listening to what is and isn't being said. Each episode of TTFA features a different subject, and topics range far and wide, from a Baby Huey, a 9-year-old with Fragile X Syndrome who's never had a friend, to Sarah Super, a sexual violence survivor who was raped by her ex-boyfriend at knifepoint.
With her executive producer, 36-year-old Hans Buetow, McInerny isn't afraid of embracing issues that can be polarizing and politically uncomfortable. They've shared Naomi Thompson's story, whose teenage son, Khaleel, was shot in a park by the Minnesota police on May 24, 2017. And they've featured Malena, a 10-year-old who, after President Trump was elected, has spent her days riddled with anxiety over her father's possible deportation.
"People get different things out of it, but no matter what it is, people have a strong reaction," Buetow says of listener feedback. "Some people get hope and they get beauty, some people comfort, some people get confirmation, validation—it depends on the story and it depends on the person."
This past November, University of Minnesota instructor Amee McDonald took a deep breath and via TTFA publicly shared her story of being sexually abused by her father as a child, a first for the 32-year-old. She describes the experience as healing and doesn't believe she would've been able to do it without McInerny and Buetow, who cried right along with her. "I feel like they did such a great job, not only taking care of my story, but trying to be kind to me as I was being so vulnerable," she says.
"It was also really beautiful to hear all the way to how they ended it, and just for the first time in my adult life to be validated," McDonald continues. "To actually hear a peer say, you realize that's all fucked up and you deserve a huge apology was a big deal."
That any given episode may make listeners cry is a given, but what may come as a surprise is the chance that these tears are the result of joy, not heartbreak. McInerny is hilarious, and from the cadence of her voice, to her quick, self-deprecating wit, TTFA does a good job of showcasing the healing power of laughter. In one breath she can leap from telling you about her son Ralph wandering around the oncology floor of Aaron's hospital, to her passion for Costco-brand muffins and the second-degree burns she gives herself in her fervor to eat them hot out of the oven.
"She's so warm and she's so disarming that you just want to share with her and hear what she has to say," Buetow explains. "That is a rare thing to find in a host."
Her storytelling throughout TTFA's three seasons is so poetically compelling, it's hard to believe that her fear of failure almost prevented the podcast from ever happening. During season one, McInerny worried constantly about the audience thinking she was "an idiot" and knowing she'd never made a podcast before.
"Everybody, especially women, we want to be perfect at something before we try it," she says. "And you don't get better at something until you try it and sort of flail at it a little bit."
While she and Buetow have now hit a stride, many of the first and second season's episodes were recorded the day before they were released, which, needless to say, was highly stressful. That's also because they wouldn't hesitate to scrap a show if the interviewee suddenly decided they weren't ready to share their story with the world. McInerny is always clear that she's just the medium, the means through which the extraordinary experiences of ordinary humans can be shared.  
"I think in some ways the show, and just all the work that I've been doing since Aaron died, has shown me that I was actually always this person," she says. "I was always capable of doing big, scary, creative things."
"Something that this has taught me that's maybe a bit more salient is that everybody has a story that they think is not a story," McInerny continues. "I'm here for the normals, it's what's interesting to me."