Despite what most parents think, teenagers are not just on the Internet messaging their friends on Facebook, watching silly YouTube videos or reblogging cat GiFs on Tumblr.
Large percentages of teens are viewing porn, cheating on assignments and even breaking the law all under their parents noses, according to a new study by computer security firm McAfee.
The average teenager spends about five hours a day on the the Internet and often engages in inappropriate or illegal activity. About 32 percent have accessed nude content or pornography, 15 percent have hacked someone's social network account, 31 percent have pirated movies and music, and 48 percent have looked up assignment and test answers online, according to the 2012 edition of McAfee's Teen Internet Behavior Study.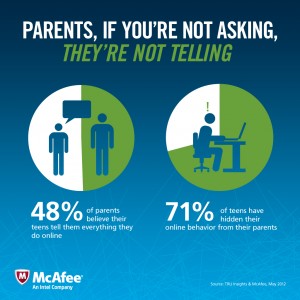 The study also reveals how prolonged Internet use has had a serious impact on teenage development. McAfee's Robert Siciliano outlined some of these changes in a blog post:
Friendships – 20% of teens said they had ended a friendship with someone because of something that happened on a social network.
Physical safety – 7% feared for their safety because of something that happened online, and 5% reported getting into a physical fight because of a problem that started online. More than 1 in 10 (12%) of teens have met someone in real life that they only knew online.
Criminal record – 15% said they have hacked someone's social networking account and 31% have pirated music and movies.
Innocence – 46% of teens report accidentally accessing pornography online and 32% reported accessing pornography intentionally.
Teens are increasingly keeping their parents out of the loop about these activities, as well. According to McAfee, "70 percent have hidden their online behavior from their parents, which has increased from 45 percent in 2010 with 22.8 percent of parents so overwhelmed by technology they just hope for the best."
Visit McAfee to see the entire study.
Photo by Extra Ketchup