A California mom accused her professor of denying her the right to breastfeed during Zoom class in September.
Marcella Mares reportedly asked her math professor, Hung Hua, if she could turn her camera off during the four-hour class while she breastfeeds her 10-month-old.
"Please do not breastfeed your daughter during class time because it is not what you should be doing. Just do that after class," Hua emailed Mares, who made the inquiry after he announced a new policy that requires all students to keep their cameras on for the duration of the class.
He later allegedly told her whole class that she wanted to do "inappropriate things" during class. "I'm in class right now, and he said, 'I got a weird email from a student about her having to take care of some things that have nothing to do with my class. You guys need to put those distractions aside and give your full attention to this course,'" she recalled him telling the class.
While he didn't reveal Mares' identity, Mares said on Facebook, where she shared the email exchange and her story, that she was embarrassed and angry.
"He literally said wants me to ignore my crying baby for the 4 hours of class just so I can copy notes that are available to me indefinitely. He wants me to let my baby be hungry or even just crying because she won't even be hungry & she'll just want me for comfort," Mares wrote.
Hua reportedly violated Title IX and the California Civil Code section 43.3 by denying her the right to breastfeed and not making accommodations to allow her to do so, such as letting her temporarily turn her camera off. After Mares went to her her school's Title IX coordinator, Fresno City College asked Hua to apologize to her for the violation. Both Fresno City College and Hua apologized to Mares, and Hua eventually complied, allowing Mares to turn off her camera and mic while breastfeeding her baby. However, she later given an "unsatisfactory" grade on an exam and was subsequently advised by an academic counselor to drop his class.
When asked about the poor grade by the Lily on Wednesday, Hua said: "It has nothing to do with breastfeeding nor was it retaliation."
Hua also chose to double down on his initial, controversial stance.
"She went too far. I think she got offended in a way that I didn't let her breastfeed her baby, [like] her baby's going to die of starvation. There are other ways of feeding the baby besides feeding it with their breasts. You can feed it with the bottle," he said.
Hua's stance and subsequent comments to the Lily aren't going down well online.
"This professor is a shitthead … A woman can and should absolutely be allowed to feed her child during class. Would this professor have thrown a fit if she fed her child a bottle instead? Would the professor rather listen to a screaming baby all class? Fuck this guy," one user wrote of Hua's quote in the Lily.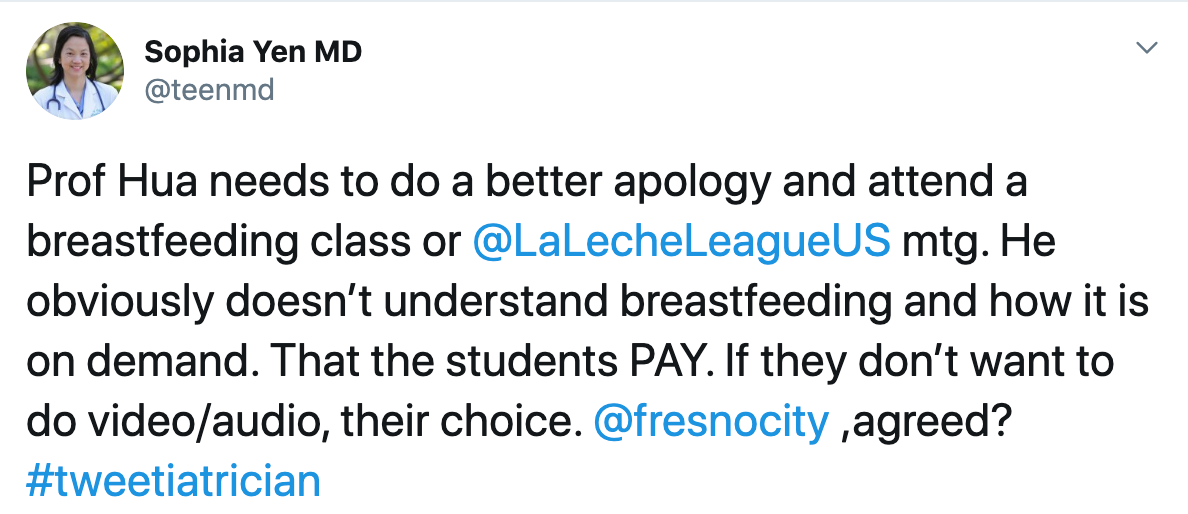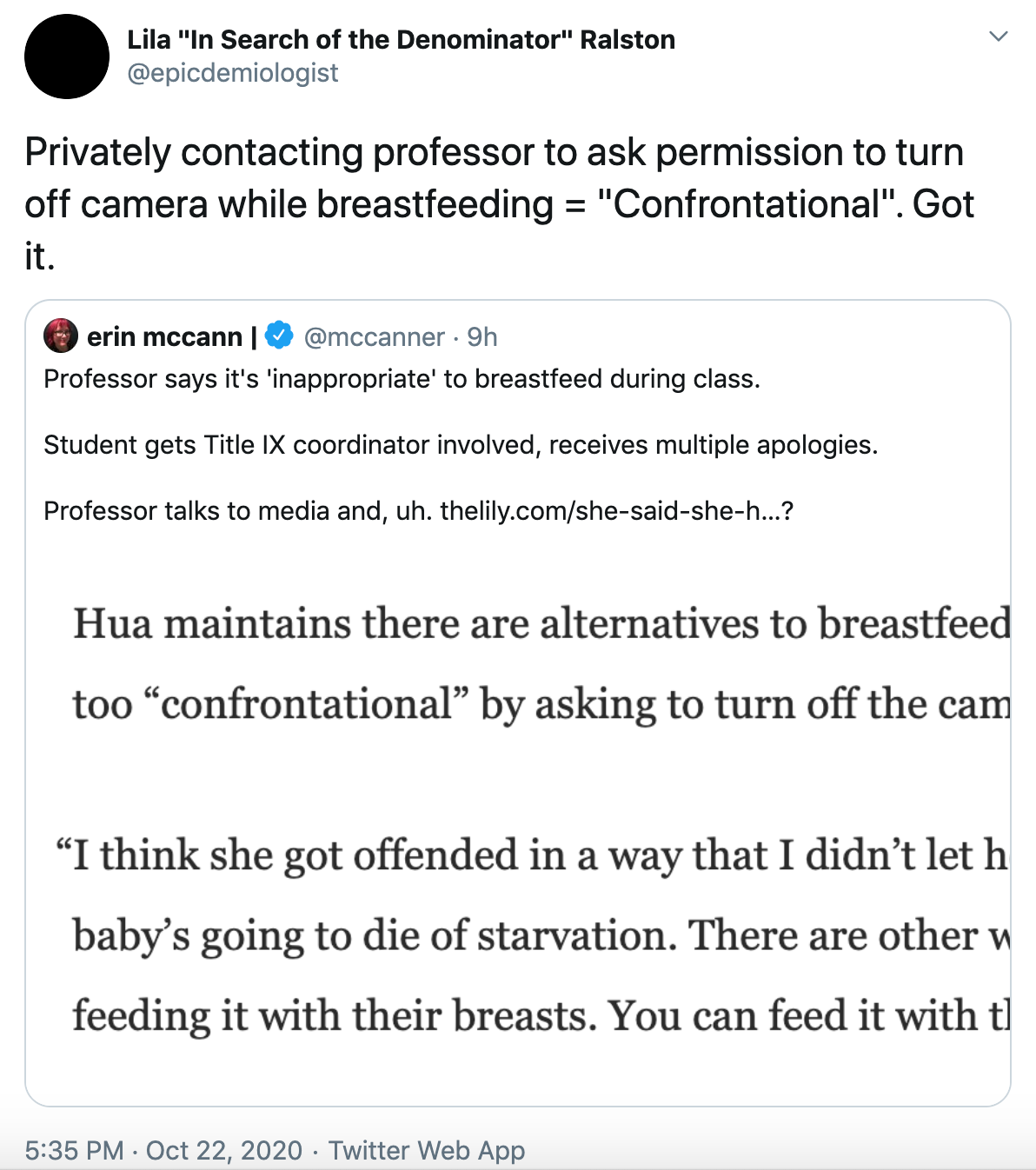 Many are pointing to the sexist double standard that has some men defending Jeffrey Toobin for masturbating during a professional Zoom call while staying silent when it comes to Mares not being allowed to breastfeed off-camera during a Zoom class.
"To all the men who have flooded our TLs with op-eds supporting Toobin, when are you going to write pieces supporting this woman? Breastfeeding is protected under Title IX. Wanking at work, not protected at all," Twitter user @hipriestesskang wrote.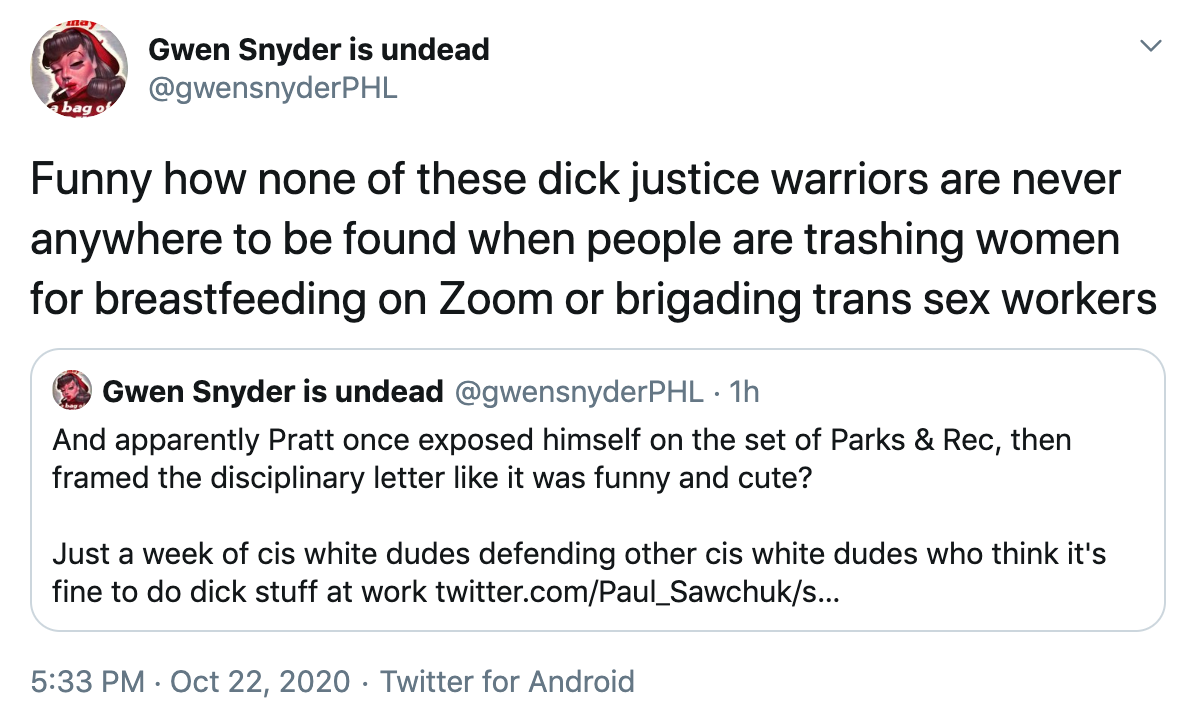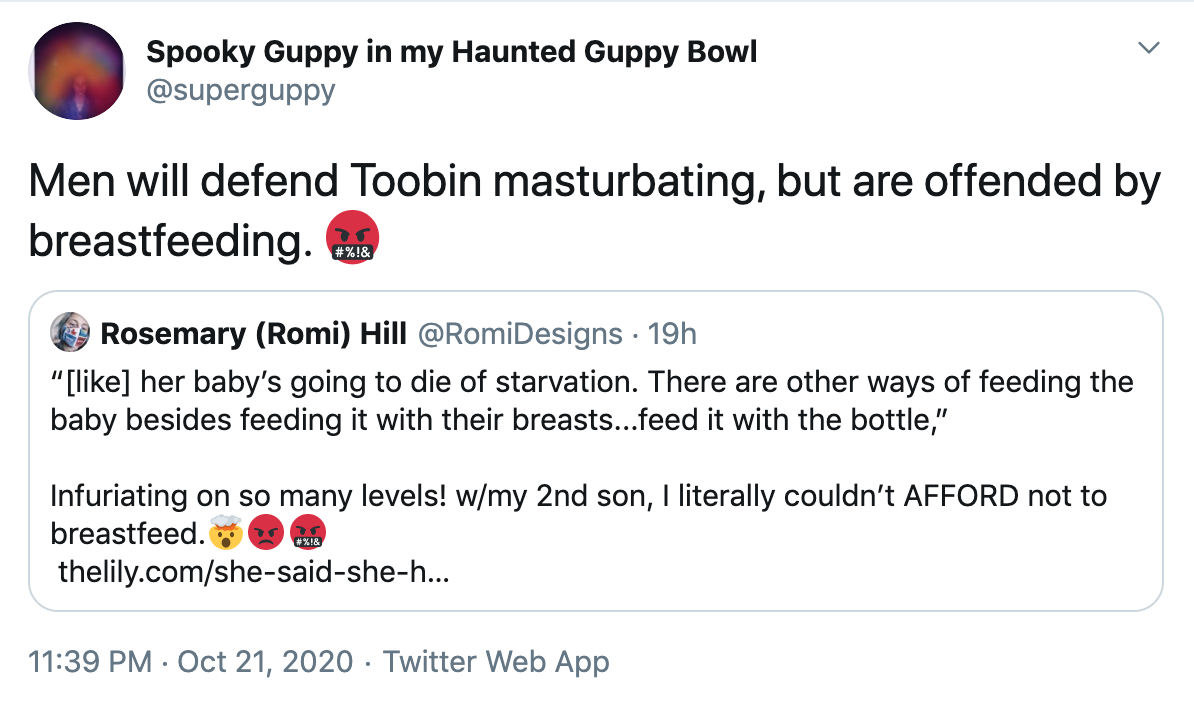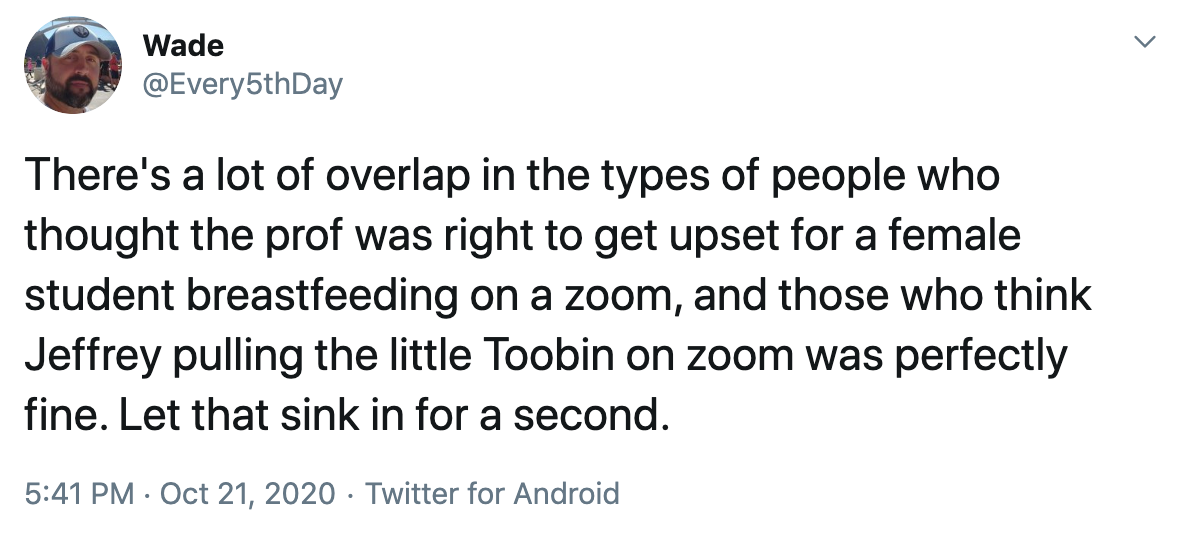 The Daily Dot has reached out to Marcella Mares and Fresno City College.
---
Must-reads on the Daily Dot
H/T Yahoo