"Bullet hell" video games aren't traditionally femme, queer-coded experiences. But for Francesca Carletto-Leon, the narrative designer and producer behind Contigo Games' StarCrossed, that's a challenge her team tackled head-on.
"We do get a lot of assumptions that because the game is more feminine-leaning that the gameplay is 'easy,'" Carletto-Leon told the Daily Dot at PAX East. "We wanted to challenge the idea a little bit that feminine games are 'casual' by nature. We wanted to make sure that the gameplay was still challenging but we were providing structure so that it was accessible to people who don't have a lot of games literacy."
Traditionally, bullet hell games force players to use their reflexes and gamesense (or experience with a game) to avoid numerous oncoming projectiles while defeating enemies. StarCrossed sports this too, but with the addition of five magical girls in space that work together to "strengthen their bond and defeat a looming evil." Instead of using powerful guns or magical bullets, players must bounce a star between each other to defeat enemies and advance. StarCrossed is just as much about skill as it is about cooperation.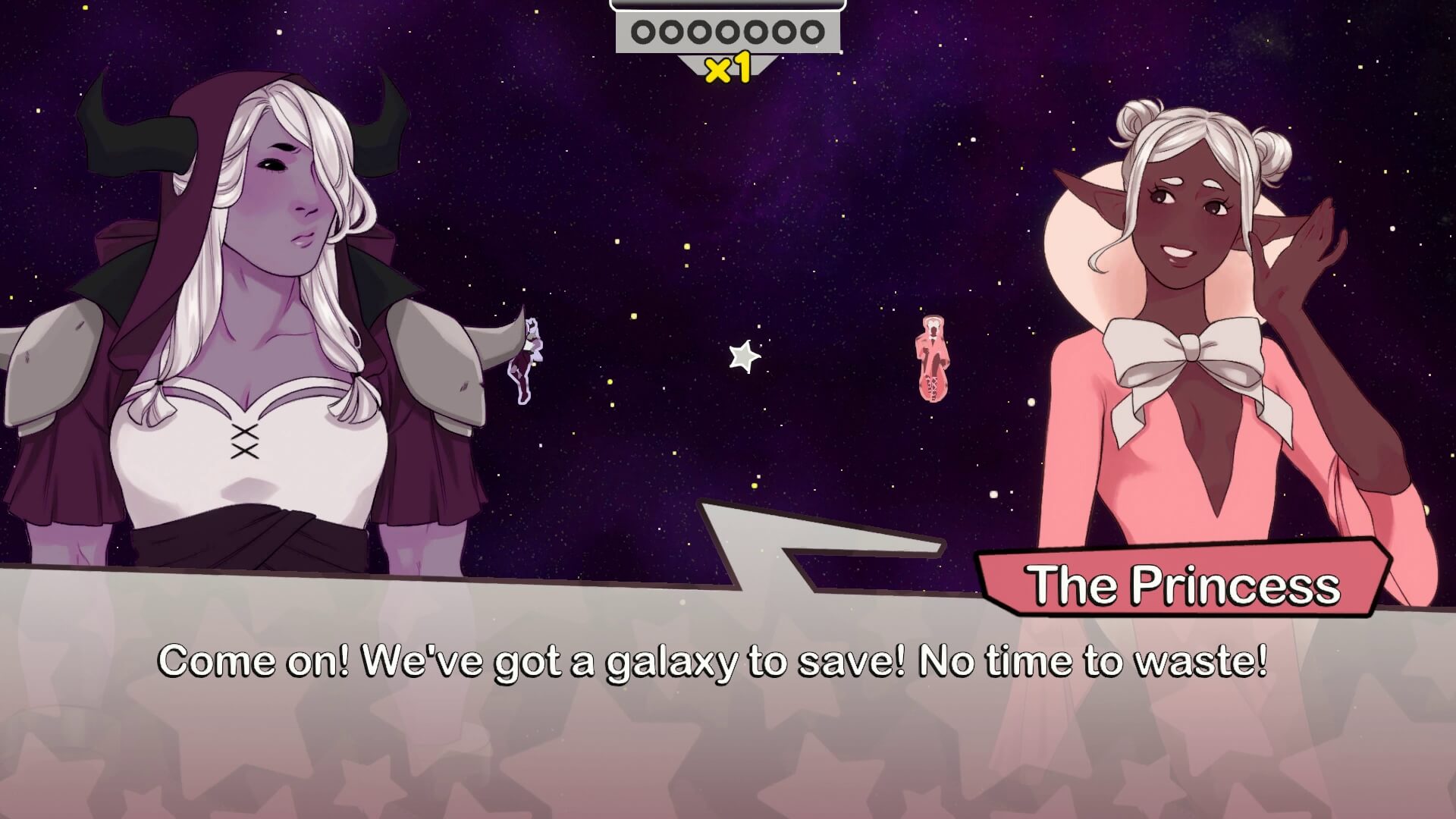 StarCrossed also merges its bullet hell gameplay with a story mode that changes based on each character's point-of-view. Thanks to the game's five playable characters—who cover a wide variety of body types, personalities, and queer identities—StarCrossed's 10 narratives make it just as replayable as its gameplay.
"We've had a lot of players reach out and say that they have been playing the story multiple times with different character combinations just to see how the relationships shift," Carletto-Leon said. "And even if you do have a favorite character, you get to see a different side of them when their personality is put up against a different character's personality."
While StarCrossed references queer characters' romantic relationships, the game doesn't force players' characters to be romantically involved. This makes the game a perfect fit for all kinds of players, from siblings to platonic friends to total strangers. Of course, the game works equally well for queer couples who are in a romantic and sexual relationship and are looking for a game to bond over while on a date.
"It's so cute honestly," Carletto-Leon said. "We had a couple that we [met] originally at MAGFest and then they bought the game on launch day and played it together for a date night, and they were tweeting at us just being like, 'oh my god, these characters are just us!' […] 'this is our relationship,' and 'I feel very seen.'"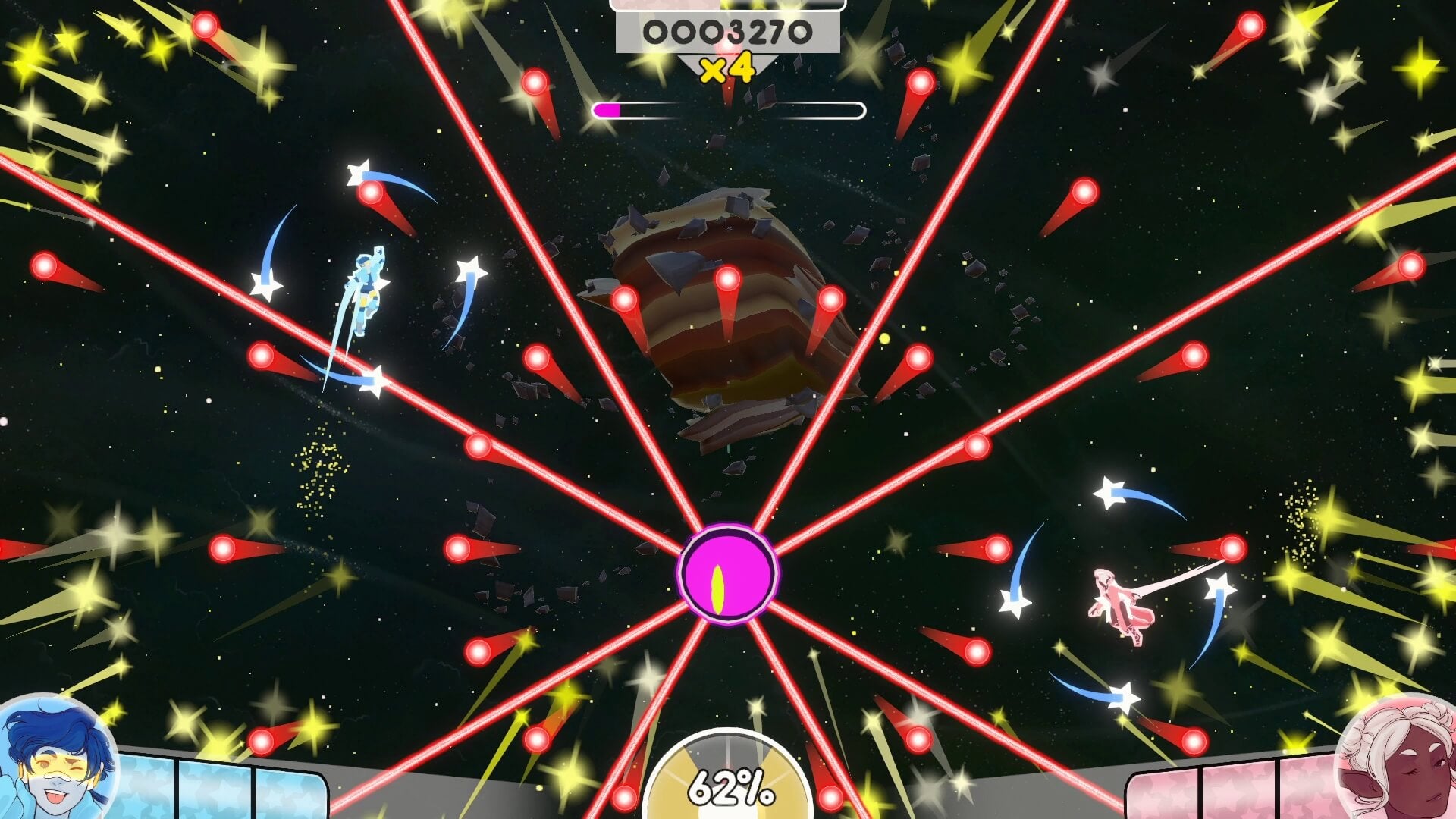 In Bonnie Ruberg's Video Games Have Always Been Queer, Ruberg argues that games feature design elements that can be fundamentally considered queer. In Pong, this is homoerotic triangulation between the two players' paddles and the ball. For Burnout Revenge, this can be seen through the morbid beauty of the game's car crashes, which mirror the queer death drive.
In the same way, StarCrossed's approach to narrative design and cooperative multiplayer gameplay queers how we think about both co-op games and interactive narratives. Instead of letting players choose how the game's plot progresses, they decide whose perspective to experience. Each of these is a subjective reality, with no indication that one specific story is "canon" or even "true." This invites players to draw their own conclusions about what's really happening within the game.
"My worry as an indie creating all of this content was that players would play one pair and have that one perspective" without seeing the others, Carletto-Leon said. "But we have had many players tell us that they've gone through multiple times and enjoyed that experience and found that the lenses of the characters were different enough and provided additional context in a way that was interesting to them."
StarCrossed is available now for PC and Mac on Steam. The game is slated for PlayStation 4, Xbox One, and Nintendo Switch later this month.
Disclosure: Reporter Ana Valens provided PR guidance to Carletto-Leon during StarCrossed's early development.
READ MORE: