If your friends look a little purple Friday, it's for a good reason. It's Spirit Day.
The second annual holiday brings together purple-clad supporters of the lesbian, gay, bisexual, transgender, and questioning (LGBTQ) community to speak out against bullying.
Brittany McMillan started the celebration by posting a message on her Tumblr in October 2010 asking people to wear purple in honor the rash of suicides committed by gay youth. The goal's to end homophobic abuse, which is the impetus for many of the tragedies.
"Purple represents Spirit on the LGBTQ flag and that's exactly what we'd like all of you have with you: spirit," she proclaimed. "Please know that times will get better and that you will meet people who will love you and respect you for who you are, no matter your sexuality."
McMillan created a purpled-hued picture with newspaper headlines talking about the deaths. It quickly went viral on Tumblr, racking up 30,000 notes.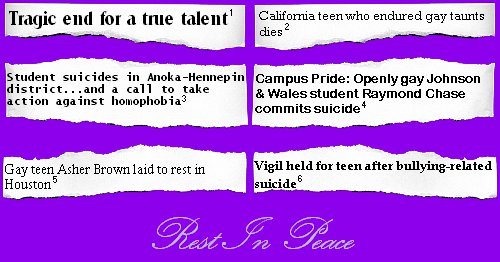 Her declaration didn't go unnoticed. The holiday gained prominence through social media mentions, celebrity endorsements, and recognition by the Gay and Lesbian Alliance Against Defamation (GLAAD) as a national event. This year, GLAAD launched a dedicated webpage to spread word of the day's purpose.
If you're feeling the spirit, here are some more ways to celebrate the purple-colored day.
Facebook
GLAAD created a dozen graphics for fans to show their support. Splashed against a purple background, it reads "I am against bullying," with a common identifier (i.e. mom, dad, lesbian, etc.).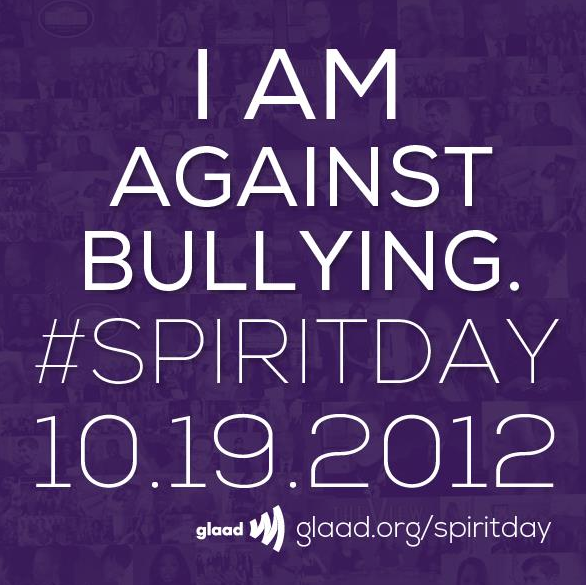 Supporters can also had a purple glaze to their profiles using Twibbon or add a special Facebook cover photo that declares your support for Spirit Day. Also, you can like GLAAD's Facebook page to keep up-to-date with the latest news. You can even RSVP to a rally being held in South Carolina by Internet personality Tyler Oakley.
Twitter
You will probably see a lot of people tagging their tweets with #SpiritDay. More than 19,000 tweets with the hashtag have been recorded to date, according to Topsy, a social measuring service. Supporters are also encouraged to change the color of the Twitter avatar to purple using Twibbon.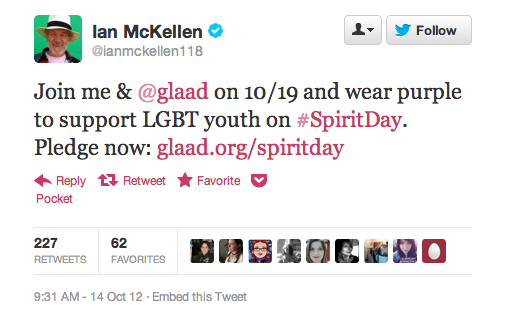 Celebrities on Twitter are spreading the word by announcing their support for their holiday, including Broadway star Bernadette Peters, country idol Reba McEntire, and actor Ian McKellen.
Tumblr
Prepare to see a lot of Glee star Dianna Agron in your Tumblr dashboard. She's the Spirit Day's ambassador, and GLAAD's Tumblr is encouraging people to share an image of Agron's inspirational quotes.
The Spirit Day tag will also be good to follow, too. Similar to National Coming Out Day, Tumblr users will be in the festive spirit by writing personal notes and posting pictures. Of course, McMillan's Spirit Day Tumblr blog will be updated frequently with the day's news.
YouTube
McMillan recently released her own "It Gets Better" video, where she shared her touching story of depression, struggling with her sexaulity, and her high school experience.
Other Spirit Day videos to get you in the mood include a statement from Ellen Degeneres, a video from GLAAD on why its important to wear purple, and a three-minute video from "gaymer" Foodacky.
Photo via GLAAD/Tumblr