You don't exactly have to be Emily Post to know that it's impolite to scroll through your Twitter or Facebook feed during a wedding. But apparently, this faux pas is so commonplace that soon-to-be brides and grooms are preemptively putting the kibosh on it by banning wedding guests from using social media during the ceremony. But are they instituting these bans because they want their loved ones to unplug from the hyper-connected world for a moment and bask in the glow of their marital joy?  Eh, not so much.
The "unplugged" wedding trend is largely inspired by the nuptials of celebrities like Kim Kardashian and Michael Jordan, who also instituted strict no-cell phone policy to prevent wedding photos from leaking to the press. The New York Daily News reports:
Before cell phones, all weddings were "unplugged" — but now 37% of brides surveyed by wedding website The Knot said they will consider formalizing the no-tech wedlock.
"They see it at celebrity weddings and people think, 'I should feel like a celebrity on my wedding day,'" says Jamie Miles, editor of TheKnot.com. "So they feel comfortable asking for things celebrities ask for, because it's their special day, too."
Hear that, ladies? So even if you make about as much money as a part-time Wal-Mart forklifter and the only thing that comes up on Google when you search your name is that  time you placed third in a high school track meet, you have the right to be as demanding and awful as any pop diva or third-rate reality TV star, because it's your damn special day.
The Daily News reports that couples are also opting for a no-cellphone policy to maintain the pretense of exclusivity, so people won't log onto Facebook and see that any ol' Joe-off-the-street—like, for instance, immediate family members—was invited to witness Your Special Day:
"(Many clients) want nothing to do with any kind of social media, anything that has to do with Facebooking, hashtagging," says Manhattan wedding planner Ellen Kostman, founder of Sidekick Events. "They are celebrating with the chosen people that they've invited, and they're not opening this up to the world."
This sort of reminds me of when my sister wasn't allowed to have a bat mitzvah party because she kept demanding there'd be an exclusive VIP section for close friends and non-family members. (She was watching a lot of My Super Sweet Sixteen at the time.)
By far the most obnoxious thing about the "unplugged" wedding trend, however, is not that it feeds into high-maintenance, uber-controlling brides and grooms' delusions of grandeur by letting them pretend to be third-rate reality TV celebs for a day. It's that people are really, really scared that by allowing cellphones at their weddings, there's a possibility that they might, for a brief, fleeting moment, take guests' away attention from the main event—themselves:
Kimberly Burgess, 22, who wed in May, painted a chalkboard sign welcoming guests to her unplugged wedding, asking them to please put all electronic devices away. She also added a reminder in her program so she wouldn't have to compete with Twitter for their attention.
"We wanted our guests to be present with us in this special moment in our lives, and to just put their phones and cameras down and enjoy it," she said.
Guys: relaaaaaax. People are coming to your dumb wedding because they want to actually see you get married, not just so they can Instagram it or tweet about it on their smartphones. And if their attention wavers for a millisecond because they have to check their work email or text the babysitter to let them know they're coming home a little late, then that's not the end of the world. So while you're planning your wedding, you would do well to heed the words of the immortal Lloyd Dobler: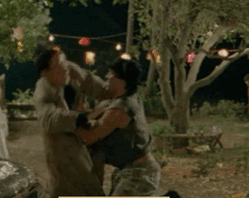 H/T New York Daily News | Photo by Kelly Sue DeConnick/Flickr (CC BY SA 2.0)