After a false rumor spread that Slutty Vegan was refusing to feed police officers, white people bombarded the restaurant with bad reviews.
The Atlanta-based stop has made headlines recently for the philanthropy of its owner, Pinky Cole, who has partnered with Clark Atlanta University to send Rayshard Brooks' four children to college and paid off the remaining tuition of 30 Clark Atlanta students, among other things.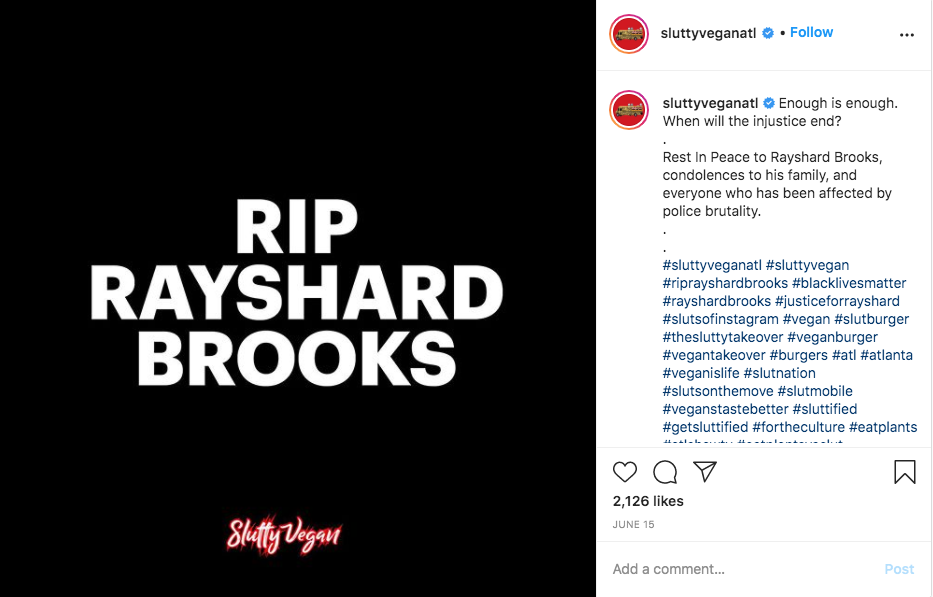 Despite these acts of goodwill, Cole has become the subject of controversy.
It all started with a Facebook post where the restaurant announced it would no longer dole out free meals to police officers. Cops were still welcome to go to the restaurant and purchase their own meals and were never turned away, BALLER ALERT reports.
"Here at Slutty Vegan, we stand firm with those fighting against social injustices," the Facebook post reads. "For that reason, we will not be serving police officers at this time. Sluts, please stay safe and keep working to strengthen our communities, locally and globally."
Since the post gained traction, white residents and white supremacists began flooding Yelp and started giving the restaurant one-star ratings. They've also called Slutty Vegan—and Cole—racist. 
"Discrimination isn't taken lightly," read one comment, according to tulsaheartandsoul.com.
"Only one star from me for their blatant discrimination towards law enforcement," read another.
The Daily Dot was not able to independently review any of the comments posted. Yelp has since noted "suspicious activity" on Slutty Vegan's page and has suspended commenting. However, over on its Google reviews, the restaurant has nearly 8,000 Google reviews, putting it at almost five stars.
On Twitter, Black people and non-Black allies quickly sought to do damage control.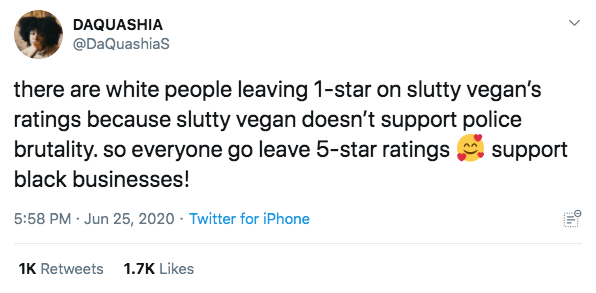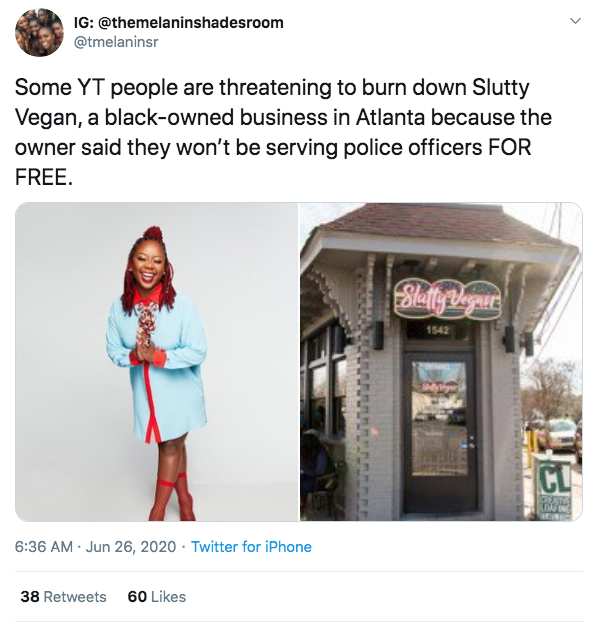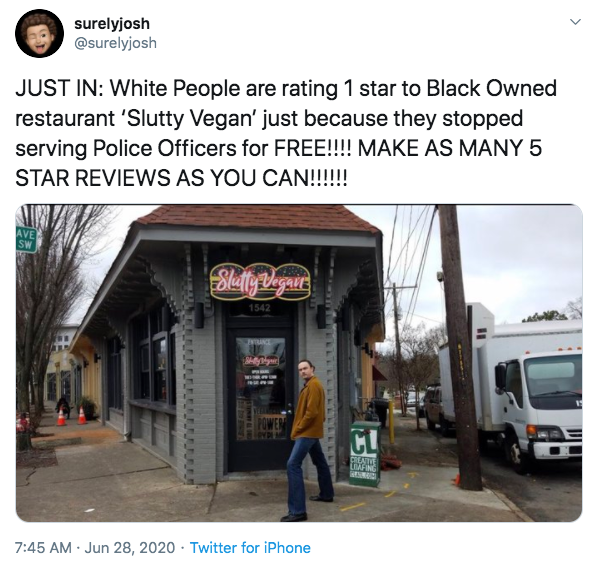 In a tweet Saturday afternoon, Slutty Vegan said it appreciated the outpouring of support. "You didn't have to do it, but you did," the restaurant wrote. "Thank you for your loyalty, love and support. … Let's make history together! #issateamthing#SluttyVeganATL #SluttyVegan."
READ MORE: