Comedian Jeff Dunham can finally sleep easy atop of piles of cash and homemade puppets: His Twitter stalker is reportedly "no longer a threat."
That's according to TMZ, who found a search warrant for a twitterer who had been sending Dunham and his wife Twitter threats. Police said they found the user in real life and that he's no longer a threat, though they wouldn't be more specific.
That user appears to be @Slenderman1933, whose tweets match those reportedly sent to the Dunhams.
"Slenderman" being a reference to that creepiest of Internet myths, of course.
On December 28, in the earliest tweet available on that account, @Slenderman1933 announced a poll of who to "STALK next??" and listed several celebrities. Though there aren't any currently visible responses to that tweet, that user decided he had an answer: "Jeff Dunham….your name was said by whom he is……do not run , do not hide , for whom may will find you…."
Then, over the course of that day and Dec. 30, @Slenderman1933 posted a string of creepy, grammatically terrible tweets, most of them tagged @jeffdunham or @AudreyEDunham, Dunham's wife.
He seemed to have a one-sided sense of community with other Slenderman-themed accounts. Four of his eight followers have iterations of Slenderman as their avatars, as do almost half of his 29 followers. As evidenced by a Twitter search, unless they're all either protected or deleted, those other Slenders didn't respond to him, though that didn't seem to faze him.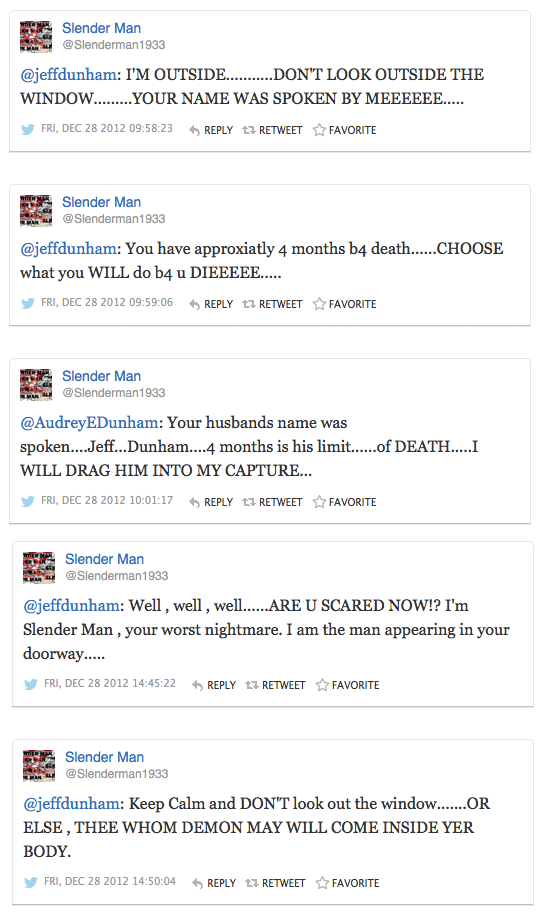 Neither Dunham appear to have responded. But Saturday Night Live correspondent Seth Meyers should be grateful for Dunham's decision to call the police: the Stalker had declared that Meyers would be next.
Photo by State Farm