Score one for Facebook stalking. Tazewell County, Va., cops were able to track down an unregistered sex offender after a county sheriff looked through the photos of a woman who'd liked the Tazewell County Sheriff's Office Facebook page.
Police arrested 29-year-old Dyllan Otto Naecker this week in Bluefield, Va., after Major Harold Heatley identified the wanted man in a photo of a woman who'd recently liked his department's page on Facebook—a woman police believe housed Naecker and helped him hide from police because the two had been dating.
Those same police also believe that the woman, 22-year-old Samantha Nicole Dillow, liked the page on Facebook so that she could stay up to date on police activity surrounding the search for Naecker. Evidently, police in the area are prone to posting their pursuits on the page, which has more than 2,000 likes.
"We have been working with our Facebook page for quite a while now," Tazewell County Sheriff Brian Hieatt told the Bluefield Daily. "We use it to post pictures of missing persons, or fugitives we were looking for. It was very helpful when we tracked Chris Sturgill to Texas."
Major Heatley, who handles most of the page's maintenance, noticed the new fan and began looking through her public photos. There, he found a photo of Dillow standing next to a man he believed was Naecker, who'd been wanted in Maryland for failing to register as a sex offender.
"Major Heatley emailed a photograph of the male subject to Maryland, and they responded back that he was the fugitive they were searching," Hieatt said. "We were able to trace her post back to her home. We felt that he was in hiding there with her so several deputies went to her residence."
A swarm of area deputies showed up at Dillow's house shortly thereafter and, when told they wouldn't be allowed inside, occupied the premises until Naecker walked outside.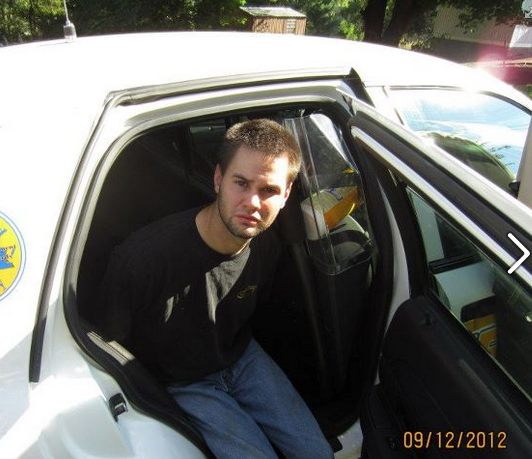 "All of that came from Facebook," Hieatt said. "Once she liked our Facebook page, she put everything in motion for us to make the arrest. She wanted to get updated to see if we were searching for him."
The Sheriff's Office has now set up a photo album on Facebook titled "Captured Sex Offender" that features five photos of Naecker during his arrest.
"If she wouldn't have liked us, we might not have located him this quickly."
Photo via Tazewell County Sheriff's Office/Facebook