This article contains sexually explicit material.
Mila M., a junior at the University of Texas at Austin, isn't necessarily interested in conservative older men. But for a few thousand dollars a month, she could be.
About five months ago, Mila created a profile on SeekingArrangement.com, an online service branded as the world's "leading Sugar Daddy dating site," and started offering her companionship to older men in exchange for money. It's not about the romance. For her, this is strictly business.
"You're there for their service. It's like a job," Mila told me over the phone. "Like in the same way that, if you worked at a Jack in the Box, you would show up and you would be bright and cheerful about every taco that you served, even if you didn't give a shit about tacos. That's the same way that I am when I'm like, 'Hi, I'm Mila.'"
---
Mila represents the average college user on the site. She's middle class, attends a public university, and is looking for a lucrative, part-time solution to pay for her loans and living expenses. She's also one of 425 UT students who joined the site last year, making her school the fastest growing "sugar baby university" in the country, according to the site itself. "Sugar babies" are young, attractive women who provide companionship for older, wealthier men, or "daddies."
According to Angela Jacob Bermudo, SeekingArrangement's public relations manager, the site's only form of advertising is word of mouth. That's how Mila first heard about the website. Her hairstylist mentioned the arrangement she had with her own sugar daddy, and soon after, Mila created a free profile on SeekingArrangement.
READ MORE:
Mila is making much more as a sugar baby than she did when she used to work part-time as a waitress, and expensive dinners and Wednesday night hook-ups with rich, lonely men are much less time-consuming than waiting tables. "To be quite honest, I'm like a raging slut," Mila says. "I was just like, 'Well, I would be having sex with somebody [anyway], so why not capitalize off of it?'"
"I was just like, 'Well, I would be having sex with somebody [anyway], so why not capitalize off of it?'"
Bermudo told me in an email that "the allure of the Sugar lifestyle is deeply rooted in financial gain," and that the average Sugar Baby receives $3,000 in monthly allowances "to help combat the increasing price of college."
In the time she's been on the site, Mila's had three arrangements and made about $7,000. But Mila is picky and says she screens potential sugar daddies for any sign that they could be married, or if they have demands she isn't comfortable with.
"There's some guys who want you to be a companion and go with them to work parties and meet their friends, and it's like, I don't want to hang out with 30-year-old dudes," she says. "There's some guys who are like, 'Travel with me every other week!' OK, well, I have school. 'Hot coed' actually comes with the work."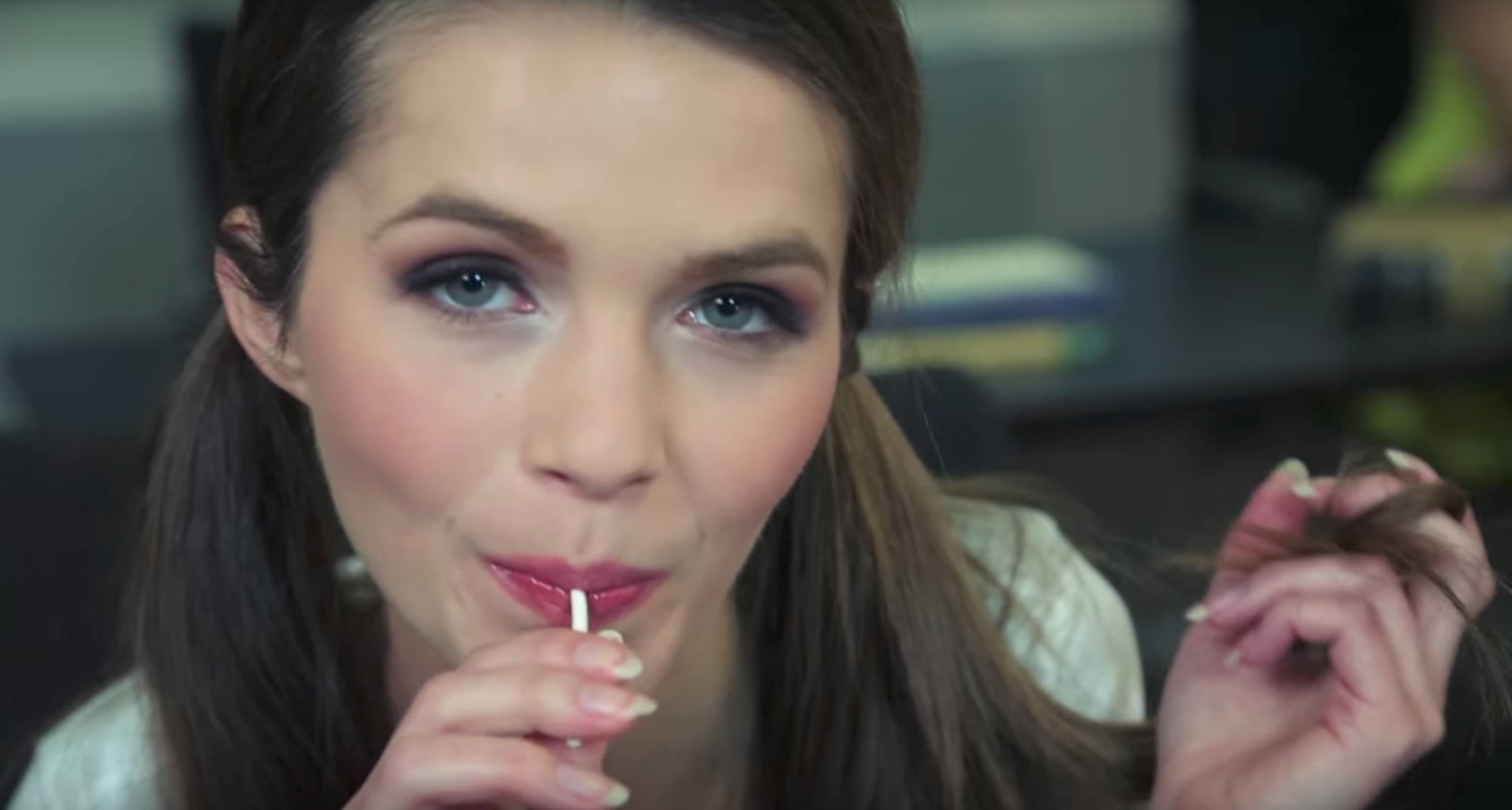 ---
Earlier this year, SeekingArrangement uploaded a video and press release aimed at attracting more college students to attend "Sugar Baby University, where beautiful, ambitious people graduate debt-free." Of the 2.6 million sugar babies on the site, Bermudo said, 1.4 million are in college, and 56 percent come from upper-middle and middle class families like Mila's.
Like a lot of other middle class students, Mila is offered loans, but not grants. "You're in that weird limbo spot where you're not poor enough for need-based aid, but also you're not rich enough to pay for your college yourself, and if you're not some, like, extraordinary-ass student, then you're really shit out of luck in terms of merit-based scholarships," she says.
Mila comes from a military family, so her tuition, which costs $4,900 a semester, is covered by the G.I. Bill. But she's responsible for all of her other expenses, such as her rent, textbooks and car insurance.
Joey Williams, the communications coordinator for UT's financial aid office, told me the average amount borrowed by undergraduates at Mila's school is $25,300, which is a little less than the national average of $28,400. Like most other schools, the number of student borrows at UT has been going up as tuition and rent get more expensive. Mila has taken out loans to pay for living expenses and everything else that isn't covered by her G.I. Bill, but she says she's offered less money every year.
Now she turns to deep-pocketed sugar daddies to fill in the gap between what she's offered in loan money and what she needs. She also tries to put some of her sugar baby money into savings for paying off loans when she graduates.
"Coming from a middle-class family, it's not like money is consistently flowing everywhere, but you get into sugaring and there is literally money everywhere," she says. "Like, I didn't realize exactly how wealthy some of these people are."
READ MORE: 
Mila's last arrangement offered her a monthly allowance of $3,500 a month, even though she only proposed $2,300. "He was like, 'That sounds a little low, I'm just gonna do $3,500 a month,'" she says. "It was like, you've gotta be fucking kidding me, $3,500 a month to be this dude's companion and, like, maybe a handy?"
For that amount of money, this sugar daddy wanted some travel on the weekends, dinner twice a week, and occasional hookups. Mila says that for most of the sugar daddies, "sex is involved, but it's more like they're supporting your lifestyle and you're providing companionship."
The idea that the money comes in exchange for a companionship resembling something like a real relationship is key. SeekingArrangement makes sure its users know that what the site facilitates is very different from online prostitution.
Seeking-
Arrangement makes sure its users know that what the site facilitates is very different from online prostitution.
Despite what Mila says, Bermudo told me "sex is not part of the agreement to enter into any relationship," and that it's "incorrect" to refer to what SeekingArrangement allows for as "sex work." Still, SeekingArrangement receives plenty of criticism from people who say the site encourages prostitution under the guise of promoting "mutually beneficial relationships" between attractive young women and willing, wealthy benefactors.
Sheri's Ranch, a legal sex resort and brothel in Nevada, released a statement last October that says sugar dating is prostitution, and sites like SeekingArrangement just use carefully worded terms in an "attempt to rebrand illegal prostitution into something slightly more palatable." The post claims that sugar dating sites, like the one Mila uses, aren't making it more acceptable to openly seek relationships that involve explicit capital gain. They're making it easier for prostitution sites to alter their terms enough that they fly under the FBI's radar.
SeekingArrangement vehemently disputes these claims and has a blog post that spells out four key differences between sugar dating and prostitution. A sugar baby, for example, is "selective about who she dates," whereas a prostitute, according to SeekingArrangement, "isn't picky about who she takes on as a client."
The site also doesn't allow for the exchange of money over its server. Mila says that, for its users, SeekingArrangement functions like dating site. The method and amount of payment, which can range from a couple hundred dollars to over $10,000 a month, are left up to the sugar babies and daddies to decide for themselves.
"Most guys don't want direct deposit because then it traces to their account, so sometimes they buy a prepaid card or they will give you cash, or they will compensate you in gifts and things like that," Mila says. "They'll take you out or take you shopping where you spend like, $3,000. Maybe you just want to be paid in Ugg boots, and some dudes are really happy to accommodate that."
---
Although it goes against SeekingArrangement's statements, Mila says she considers the arrangements she makes through the site to be a form of sex work. To her, sex work is "pretty much any work of a sexual nature that you're doing to support yourself." Since sex has been involved in her previous sugar daddy relationships, and she joined the site to help support herself, that's how she classifies it.
Mila says she considers the arrangements she makes through the site to be sex work.
That's part of why Mila was drawn to SeekingArrangment in the first place. She's always been interested in the adult industry, and before she joined the site, she supported herself with money she made doing cam show performances.
Mila says that compared to the people she met through camming, the men she meets on the site are "regular dudes, or normal, very rich guys who are just not really that attractive or that adept at trying to navigate relationships."
READ MORE:
Her first arrangement was with a successful business owner and retired Army surgeon. They messaged for a while on the site and then moved their conversation to an email exchange. On their first date, her new sugar daddy picked her up near her apartment, just to be safe. They went to dinner at Pappadeaux, a reasonably expensive seafood restaurant, where they talked about some of the businesses he owns and the work he does, before relocating to somewhere more private.
That first arrangement eventually ended because the sugar daddy wanted Mila to always have her hair and nails done, and she wasn't willing to do that for something she considers to be just another job. She's willing to meet up a couple times a week, give a "handy" and have sex, but she doesn't want her life as Mila, the sugar baby, to interrupt her life as a full-time college student.
That's also part of why she chooses to define her arrangements as sex work. It helps Mila adopt a sort of alternative personality on her dates. "Essentially you're just, like, a dream girl. This is like a fantasy," Mila says. "You can't be rude. You can't be too sassy or snappy. That's the only thing that sometimes bothers me, but it's so temporary. I just have to be super-agreeable for three or four more hours, and that's OK."
Compared to what Mila is like when she's at school or around her friends, her personality is a bit more happy-go-lucky when she's with one of her sugar daddies. She laughs at their jokes and doesn't call them out on something stupid or insensitive they might say. It's all part of a business strategy Mila has worked to improve since she joined the site a few months ago, and will continue to hone until she graduates from school and her part-time career as a sugar baby.
"I'm there to be a nice person who fits your needs, basically," Mila says. "I just become what most people would imagine a carefree college girl to be."
Screengrab via SeekingArrangement/YouTube