A Black trans woman, who was feared to be in grave danger following a series of cryptic videos they posted, is reportedly safe. And they have been accused of lying about the ordeal.
A series of mysterious and concerning videos surfaced surrounding the disappearance of Sai, a Black trans woman in Ohio.
Twitter user Sudani Summers posted a video from Sai's Instagram account on Tuesday evening. In the video, Sai can be seen haphazardly recording in the dark. 
Sai describes that they're being held in a basement in Cincinnati, Ohio, by a 40- to 50-year-old Latino male. "I'm in the basement. Please help!" they whisper before the video ends. 
Summers' tweet garnered more than 2.9 million views in less than 24 hours, and many began spreading awareness about it with the #helpsai and #findsai hashtags.
Summers followed up the tweet by appealing to the public for help. Summers asked for Cincinnati residents to create a "search party" and asked Sai's friends to not call them so that their phone does not alarm their alleged kidnapper.
Soon, people were sharing a link to a GoFundMe Sai set up in January to assist with their cosmetic modification surgery. 
Within hours of Summers' tweet, another user shared a video from the same Instagram account, this time with a video featuring half of Sai's face. In the video, Sai says they're safe. 
"Hey, so everything got blown out of proportion," they say in the video, "I'm fine. … Thank you so much for the messages and support, but everything is good." The video was removed on Wednesday evening.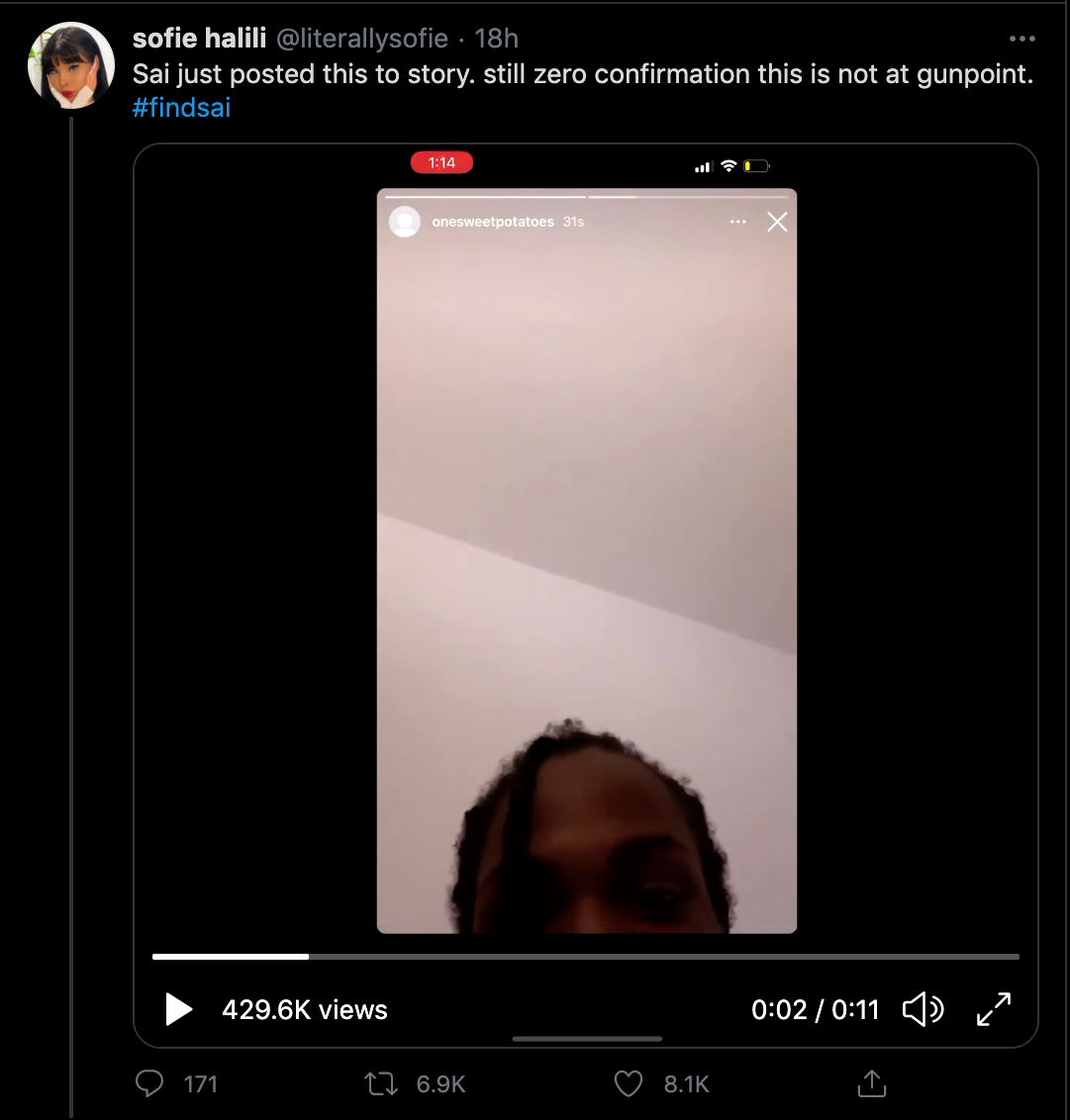 But some users, including Sofie Halili who posted the update, shared that they felt the video looked like it was recorded under duress. 
"This looks very forced. they shifted their eyes at the beginning very suspiciously. i need more evidence and i don't believe this at all," Halili wrote. 
Some tweets of concern, including Halili's, were deleted after Sai was accused of lying.

"Someone could've forced her to lie about going to LA and told her to pretend to be okay," Summers wrote in a follow-up tweet. "There are so many possibilities in an abduction, it doesn't make sense to call off the search because you believe it's a scam. I need her LOCATION and proof she's okay. #HelpSai #FindSai."
But Summers was getting accused of lying by this point, and they defended themself against the accusation in a tweet on Wednesday afternoon. 
"PLEASE stop saying i'm lying. I'm here just updating everyone on the situation and doing the best I can," Summers wrote. "Unless Sai shares her location and makes contact with us we cannot know if she's safe or not. I'm not gonna stop updating until we hear from her and know she's safe."
There were a handful of people who tried to claim the whole thing was a scam, but those claims didn't gain any traction, especially in light of the violence—and subsequent negligence of said violence—Black trans women often face.
The statistics of violence against Black trans women is so high that it was declared a "pandemic within a pandemic" in September. Dismissing claims about Sai's safety would amount to the possibility of leaving her in grave danger, and only further fan the flames of transphobia.  
However, by Wednesday evening, it was alleged by even once-supporters of Sai that their videos were doctored
One Twitter user who has been identified as Sai's roommate posted a tweet saying this was "a fucking LIE." "I feel so betrayed I had a fucking panic attack and got dragged all over Twitter trying to help find Sai to find out she planned this and recorded everything from her Ohio roommates closet," they wrote. 
The tweet features a screenshot of a conversation on Instagram. A person named Syllé wrote in the conversation, "I'm sorry I just felt bad but I didn't want to contribute to her lying."
"I just wanted to be her friend but as a black trans woman I can't support her doing this [because] there's so many people out there who actually need help," Syllé continued. "I feel like she had this all planned out from the beginning and she was just using me."
Summers, who fought relentlessly to get help for Sai and received hate for doing so, said they felt betrayed by the incident. "Sai let us be attacked and take the fall im so upset i genuinely thought she cared for me as i did her. i don't know what to do," they wrote.
While many who rushed to support Sai are now expressing the betrayal they feel, some took the opportunity to remind those following the story that the incident does not diminish the harm that Black trans women regularly face, and it should not be an excuse to make transphobic comments. 
Sai's fundraiser has so far garnered $53,000 of its intended $60,000 goal. While it's not clear how much money was raised since their video went viral, the donations went up from $52,000 to $53,000 during one hour the Daily Dot was monitoring the fundraiser on Wednesday evening. 
The Daily Dot reached out to Summers and will update this report if they respond.
---
Today's top stories