Alex Shpetniy, a student of art and design at the National University of Lugansk in Ukraine, had a dream: that one day, using a wooden assault rifle, he'd be able to fire 672 rubber bands in just 48 seconds. Now that he's successfully constructed a device with such firepower, everyone wants a piece of the action—his $5,000 Kickstarter just passed the $100,000 mark.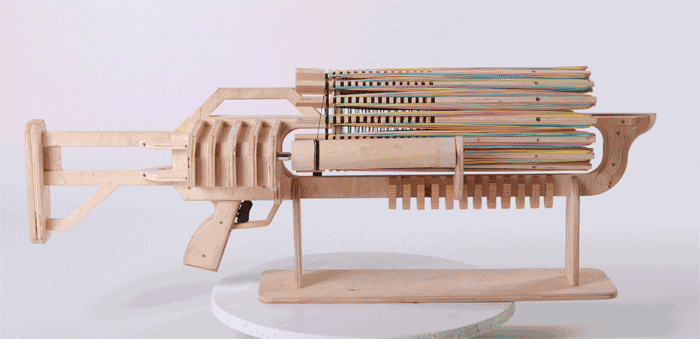 The fully automatic weapon, with a range of 26 feet, is cut from plywood with a CNC machine, and its engine is powered by AA batteries. Don't fret about getting all those rubber bands in place; Shpetiniy has come up with a fast-reload tool that ensures you'll spend less time wrangling ammunition and more time pulling the trigger (you'll still have to clean up after your shooting spree, unfortunately, assuming you don't want to make daily trips to Staples).  
The gun, which comes along with a handsome rack for storage and display, is now available in a range of finishes, including army camouflage. A donation of just $95, plus $30 for shipping, gets you the cutting-edge firearm, plus 700 rubber bands. Then it's simply a matter of getting those sixteen barrels spinning. What to mow down first? Someone with a rubber band pistol, duh.
Photo via Kickstarter