In what feels like the internet's never-ending battle against revenge porn, victims won a small victory on Thursday. Reddit brought the ban hammer down on r/IrishSluts, a forum dedicated to posting both explicit and safe-for-work images of Irish women without their consent, TheJournal.ie reports.
Many of the pictures of women in public were taken and shared without their knowledge. Others showed unclothed women in more intimate situations, with several Reddit users leaving requests for additional "nudes" of women from certain parts of the country.
The subreddit's comments were often filled with reductive and sexually explicit language about the women in the photos, sometimes accompanied by the subjects' personal information. At least two women contacted authorities about their images being posted, according to the TheJournal.ie.
A recent surge in popularity prompted the Reddit forum's administrator to post updated "ground rules" earlier this week, noting that "there's been a shift in the kind of things being posted." The administrator promised to pull any photos of women who asked them to do so, and thanked everyone involved for being "a sound bunch." The change to guidelines wasn't enough, however, and Reddit shut down r/IrishSluts Thursday for violating its rules against involuntary pornography.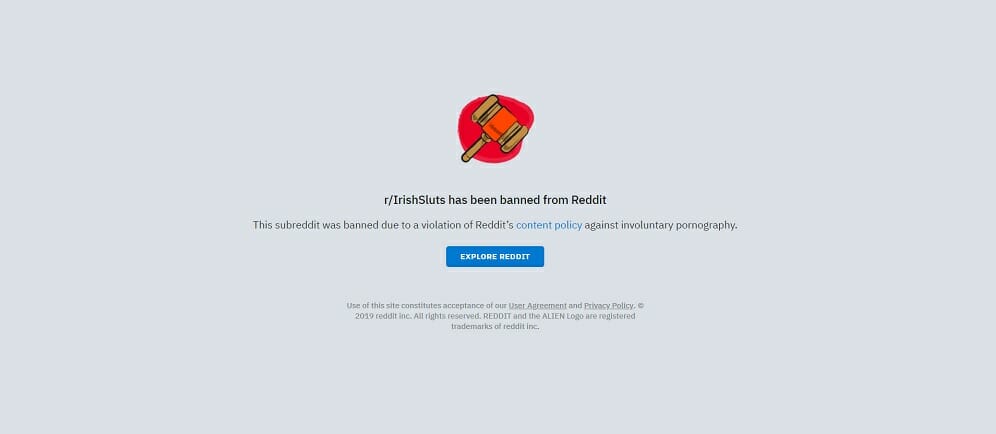 "Reddit prohibits the dissemination of images or video depicting any person in a state of nudity or engaged in any act of sexual conduct apparently created or posted without their permission, including depictions that have been faked," the site's content policy reads. It further states that even images of people in public are not allowed if posted without the subject's permission.
It's not much in the grand scheme of the insidious phenomenon, but it's a victory score nonetheless for revenge porn victims.
READ MORE:
H/T TheJournal.ie