Now that Craigslist no longer runs escort listings, the entire online sex industry has evaporated into thin air, and people basically aren't interested in scouring the Internet for nookie anymore, right?
Lolz! Untrue. The online sex industry is flourishing—just in a slightly different format. Exhibit A: r/RandomActsOfMuffdive (RAOM), a no-strings-attached subreddit devoted to the pleasures of diving for… pearls.
Lolz again! Oh, we have fun here at the Daily Dot. It's a subreddit devoted to cunnilingus, otherwise known as "muff-diving."
Much like its counterparts r/RandomActsOfBlowjob and r/RandomActsOfOralSex, r/RAOM is basically an aggregation of classified ads posted by men looking to yodel in someone's canyon (or by women who want their canyons yodeled… into?).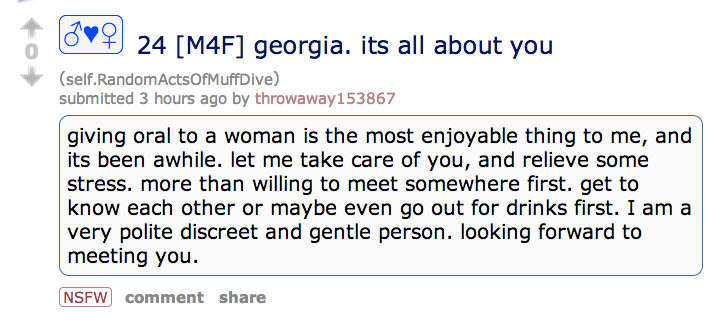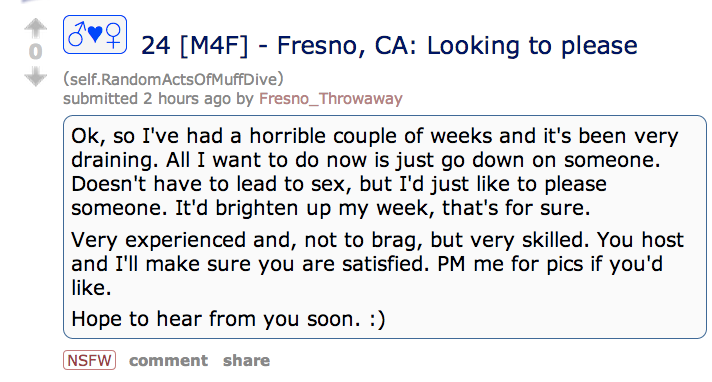 Much like posting a casual encounters ad on Craigslist, or a job posting on an employment website, subscribers to r/RAOMD post their name, age, gender, location, and sexual orientation, as well as a brief, usually colorful description of what they're looking for in a partner. Then, like a prospective employer on Indeed.com, they play the waiting game until a prospective applicant reaches out to express interest.
What's so unique about r/RAOMD isn't how many subscribers it has—a little more than 7,000, which pales in comparison to r/RandomActsOfBlowjob's 18,000—nor the fact that people are using Reddit as an impromptu hookup site. It's how many M4F ads there are versus F4M ads, or men looking to give cunnilingus than women looking to receive it.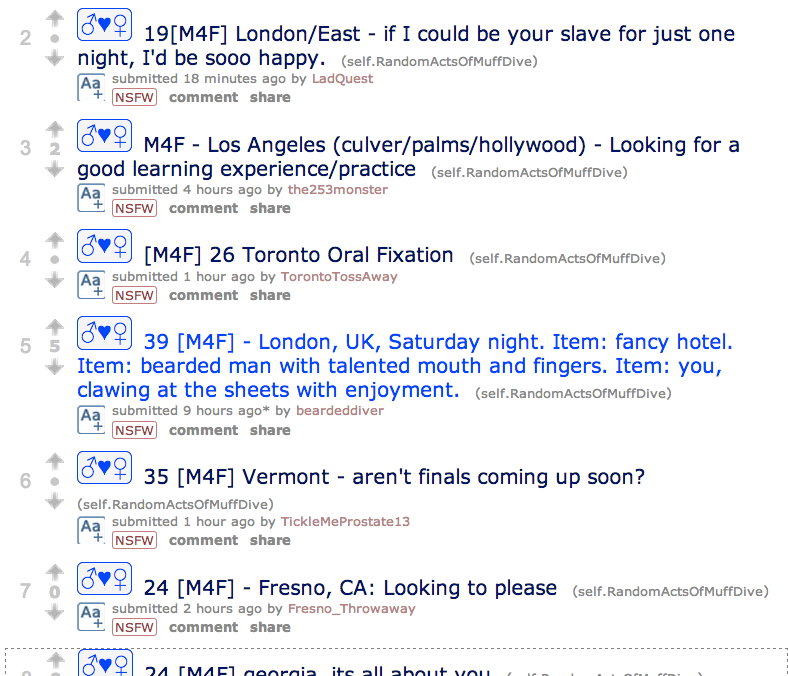 While the success rate of these r/RAOMD posts is a bit unclear—there are only a few posts describing successful encounters on the site, including this extremely explicit summary from a female subscriber—it's evident that contrary to the stereotype that men are unwilling to give their partners cunnilingus, citing disgust with the female genitalia or (in the case of Larry David) a possible neck injury, on Reddit there are plenty of men who aren't just plain willing to go down on their partners, and they're extremely enthusiastic about it.
Considering Reddit's reputation as a bastion of misogyny and MRA dogma, it's actually kind of refreshing to see so many men championing the cause of gender equality, in one of the places where it matters most: between the sheets. So if you're a female of age who has to formulate a Clarence Darrow–esque legal argument to get your asshole bartender/ska bassist boyfriend to go down on you, stop wasting your time and get you and your neglected vagina over to Reddit.
Photo by Crysco Photography/Flickr (CC BY 2.0)