Here's your heartwarming Reddit story of the day: On Oct. 29, Laura Wilson-Swanson sent out an all points bulletin to the r/Austin subreddit, asking for help with her son's Halloween costume. Ten-year-old Gabe was at Austin's Dell Children's Medical Center, due to seizures caused by an autoimmune disorder called PANDAS.
But he desperately wanted to be Deadmau5, the Canadian DJ who performs wearing a giant mouse head.
Shortly after her signal went out, Reddit started offering assistance. Five redditors donated money to help buy more supplies. Another brought his neighbor's kid's old Deadmau5 head to the hospital. One of their nurses, who just happened to be a redditor, brought in a hairdryer to help dry paper mache. Others directed her to Craigslist ads selling heads.
Gabe stabilized and was finally discharged on Wednesday afternoon. After stopping by Home Depot for reinforcements, Wilson-Swanson sent out another update last night, with photos of their progress:
"We are currently covering it in the gold lame' that Gabe picked out (he is a flamboyant little dude) and puzzling out how to light it up. We are going to go buy led lights if we can find them after he rests a little bit, he is shaking all over from a combination of excitement and a new med he is on. Thank you to everyone who offered to help build us one, but he said he wanted to be proud of one he helped build himself, so we are trying that first."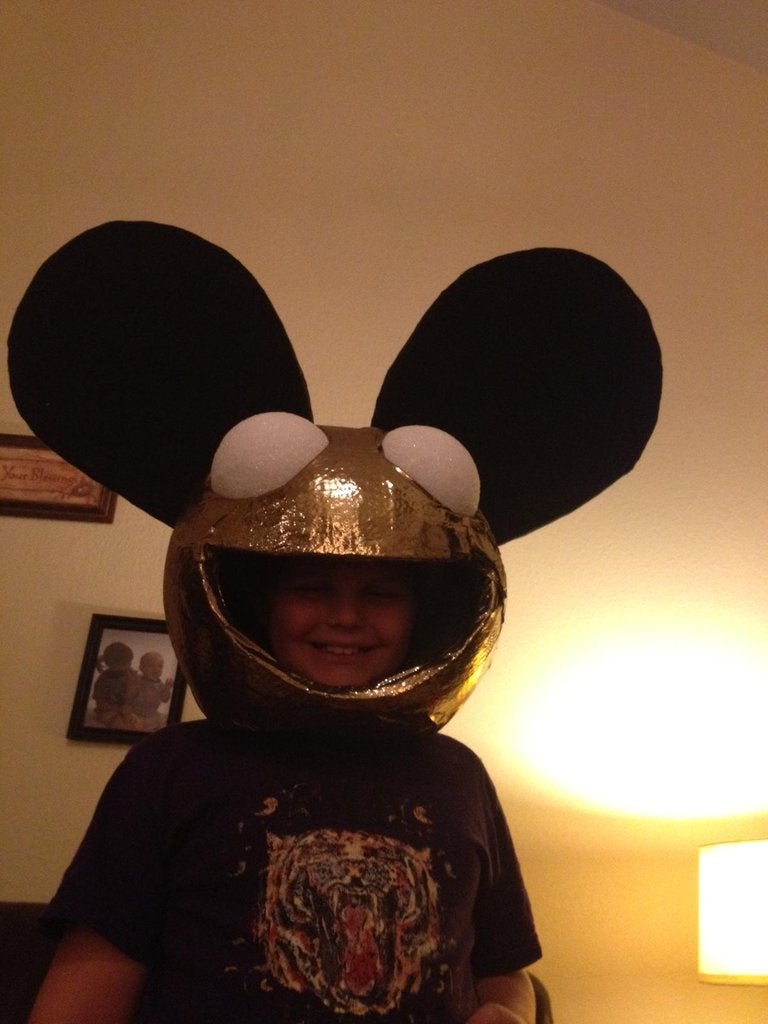 In an email to KUT, Wilson-Swanson conveyed her gratitude: "My original post was just asking if I could borrow/buy [a helmet] … It just … it warms your heart. Gabe is so excited that Internet people are helping him."
It is sort of a symbolic gesture from Reddit: a community rallying to help a kid get his head on his shoulders.
H/T KUT Austin | Photos via pandas_mom/Reddit