Don't worry. Daniel Allen is from the Internet.
It's near impossible to tell. His flamboyant red-and-blue pirate costume might tip you off, but on any given Friday someone, somewhere is probably wearing a pirate costume. And underneath his suit, Allen is remarkably normal.
Indeed, on a boat full of 93 people from the Internet—redditors, to be exact, who'd gathered to celebrate their shared Web nationality on a cool, breezy Chicago lake cruise last Friday—no one fit the stereotype of the achingly asocial basement dweller that has dogged the obsessive Internet user since the days of Usenet.
Redditors are overwhelmingly normal, in the sense that they are wonderfully diverse. And as Allen and his guests on the lake cruise showed, the site is on the cusp of something very big and different in the social realm, as it blurs the line between pseudonymous digital communities and physical, geographical ones.
On Reddit, Allen is known as solidwhetstone. He moderates the social news site's bustling, 19,000-strong r/Chicago community and has also attained a fair amount of fame as one of the two people behind Reddit Enhancement Suite, the wildly popular third-party add on that is pretty much a necessity for any serious Reddit user.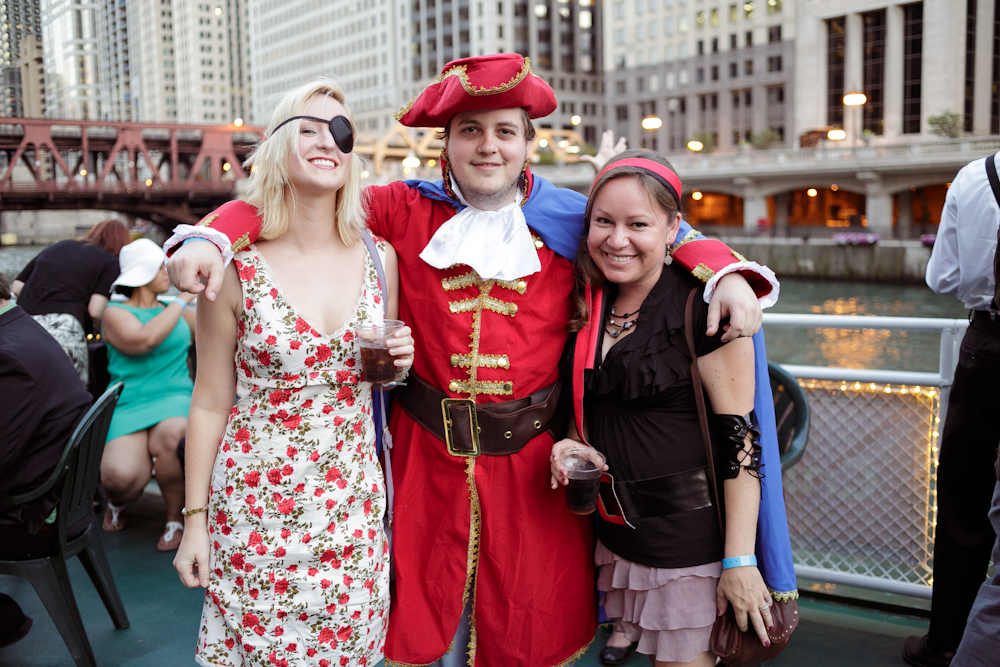 The lake cruise (where the dress code was loosely nautical, hence the pirate guise) was organized by the r/Chicago moderating team for Reddit Global Meetup Day, the third annual event where redditors eschew their normal social glue (upvotes and downvotes) with far more normal fare: beer, wine, whiskey, and snacks.
They're a social bunch. Indeed, r/Chicago is so serious about their meetups that the lake cruise was only the appetizer. The real event came Saturday with a massive party and performances from local bands.
The cruise came thanks to Bob Agra III, director of tourism and sales for Chicago's First Lady and six other boats that have been run by his family for four generations. Agra is a die-hard redditor and also an r/Chicago moderator. He convinced his family to donate the boat for the occasion and for a good cause: The cruise doubled as a fundraiser for the Cystic Fibrosis Foundation.
"We just excited to do something for cystic fibrosis," Agra said. (The company doesn't usually do "booze cruises," he added later, implying this cruise was something special indeed.)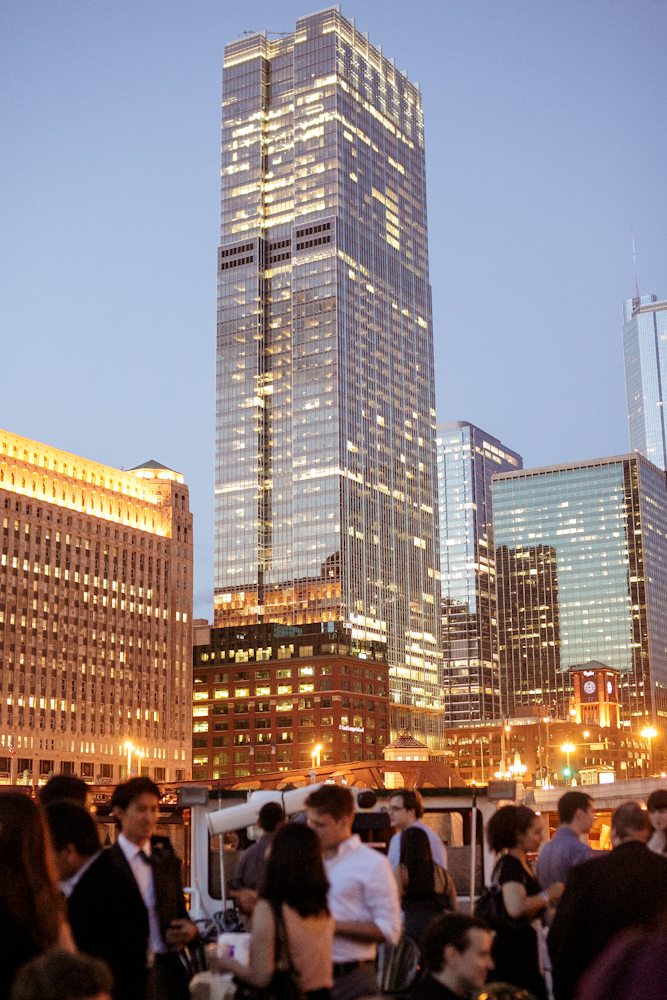 The six r/Chicago moderators, volunteers whose job it is to keep the subreddit on topic and spam free, are proud of their city and their Reddit community. Their meetup last year was so successful that this time two Reddit employees—general manager Erik Martin and staffer Kristine Smith—flew thousands of miles to join them.
Indeed, the Second City may just be the first city of Reddit. It certainly has enough Reddit luminaries claim the title. In addition to Allen, Steve Sobel, the programming mastermind behind Reddit Enhancement Suite, also calls Chicago and r/Chicago, where he's a moderator, home.
The community is constantly buzzing with activity, too, in a way that bridges digital and physical shores. Threads in the subreddit cover all manner of subjects—get togethers, local photographs, news items, lost glasses—and members come from all walks of life: Web developers, accountants, photographers, cocktail waitresses. It's the perfect example of what Reddit calls a local subreddit: a robust, diverse online auxiliary for a geographic community.
"People shouldn't stereotype who a redditor is," said Johanna Li, a registered nurse originally from Brazil. "I mean everyone is on the Internet, right?
For Allen there's one stereotype that does fit, however.
"Redditors are benevolent people. I feel a certain level of kinship. We have a unique ability to band together."
—Daniel Allen
He knows that first hand. Two weeks ago, Allen found himself frozen out of his bank account. He'd gone through a messy divorce and couldn't keep up with his lawyer bills. Come July 1, when rent was due, there was a very good chance he'd be out on the street.
Reddit rallied to help. In 24 hours Allen's financial problems disappeared.
"I'm living off of money from Reddit," he said. "Money, rent, child support. All stuff they donated."
Allen gives back, too. It's no mistake the event doubled as a fundraiser to fight cystic fibrosis, an inherited chronic disease that affects the lungs and digestive system. His four-year-old son, Luke, suffers from the disease, and Allen has occasionally shared their experiences on Reddit, raising awareness.and seeking support.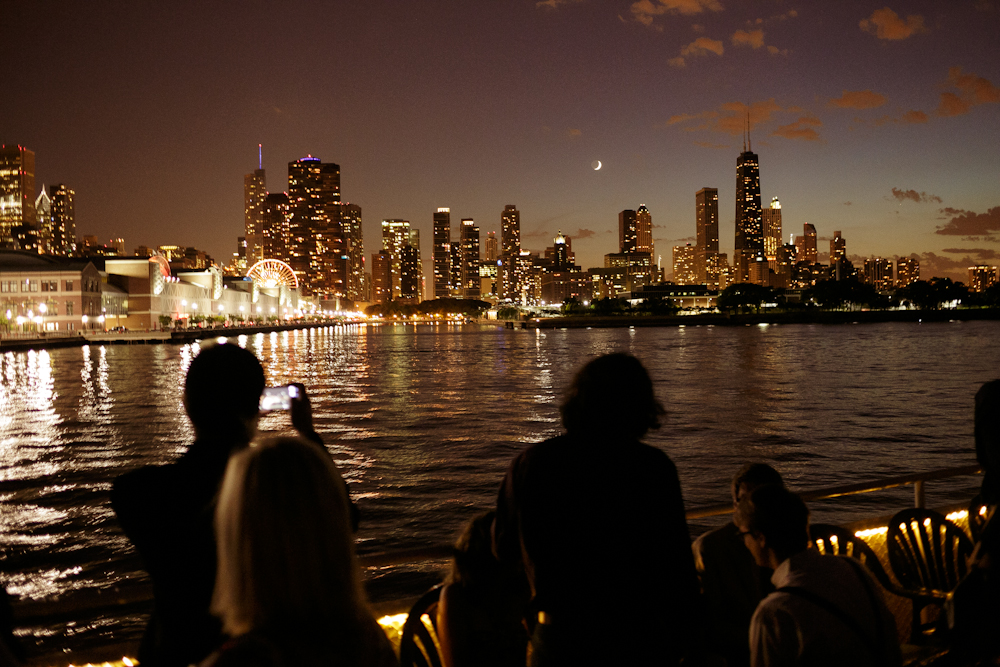 As the cruise reached its halfway point, Allen, in full pirate regalia, took a microphone on the upper deck, the deep blackness of lake Michigan at night behind him.
He was proud of what they'd done, he said, how they'd come together for a party and also raised money for a good cause. It was certainly a better meetup than anything organized by r/NYC or r/Denver, he said. ("They're not on a boat!" someone shouted.)
"If you look around you, see all these people," Allen said, pointing at the 92 redditors in the crowd. "75 percent of you donated. Thank you for donating. You're fucking awesome."
They'd raised $1,100.
"Fuck cystic fibrosis!" someone in the crowd yelled.
"Yeah, fuck cystic fibrosis," Allen replied.
Photos by Alex Maldonado, Team 5 Photography