Meet Daniel Del Toro and his friend Esther, the main characters behind dark fantasy webcomic [un]Divine. Daniel is a soulless, queer, and ace 18-year-old high school senior. Esther is a pansexual, genderfluid demon. In Hot Day, a special side comic by artist Ayme Sotuyo, the two get into some very kinky fun complete with fangs, claws, and a bit of domming.
The comic's Kickstarter campaign for its print edition went live Sept. 23 with a $4,000 goal. Two days later, Hot Day was fully funded. Now, the campaign has surpassed its initial minimum by over $7,000, running out of stretch goals to achieve.
"HOT DAY KICKSTARTER IS OVER 10k ARE U KIDDING asfkjhakshf I dunno what to say except thank u thank u thank u thank u thank u thank u thank u thank u thank u thank u," Sotuyo tweeted on Oct. 4. As of this article's publication, the comic has over 240 backers with two weeks left to go. (Sotuyo did not immediately respond to the Daily Dot's request for comment.)
There's a lot to love about Hot Day. Beyond both its female-male and male-male pairings, Satuyo masterfully walks the fine line between soft, affirming character development and kinky sex. One teaser shows Esther using her long tongue to hungrily lick Daniel's neck. Another preview shows off the comic's shower scene, this time with Esther in boy form, the two clearly enjoying each other's naked presence. It's erotic yet sweet, never sacrificing one for the other.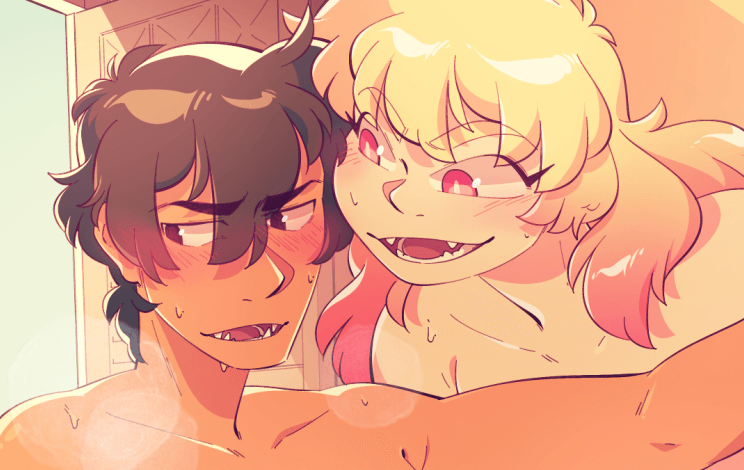 Then there's Sotuyo, who is a queer, asexual, and Cuban illustrator. The comic openly embraces queer desire and gender nonconformity. Hot Day also makes room for an ace character in an adult scenario, which is still extremely rare in erotic storytelling. Plus, the [un]Divine series is a Latinx narrative; Daniel and Esther live in Santagüey, a fictional Caribbean island populated with Latinx residents and "based heavily" off Cuban culture.
Over the past 12 months, both Tumblr and Patreon cracked down on NSFW creators. Marginalized users were particularly harmed by both purges. But Sotuyo's Kickstarter is a sign that queer readers are still as eager as ever for adult content, and they're willing to part with over $10,000 to own it, too.
READ MORE: