Nineteen members of the Granite Mountain Hotshots, an elite crew within the Prescott Fire Department of central Arizona, died battling a wildfire on Sunday, marking the greatest single loss of firefighter lives since the attacks on Sept. 11.
The floodgates of grief and stoic pride immediately opened across social media platforms. The #Prescott tag on Instagram provides a stream of front-page newspaper clippings on the tragedy. A list of the firefighters' names is also making the rounds on Tumblr: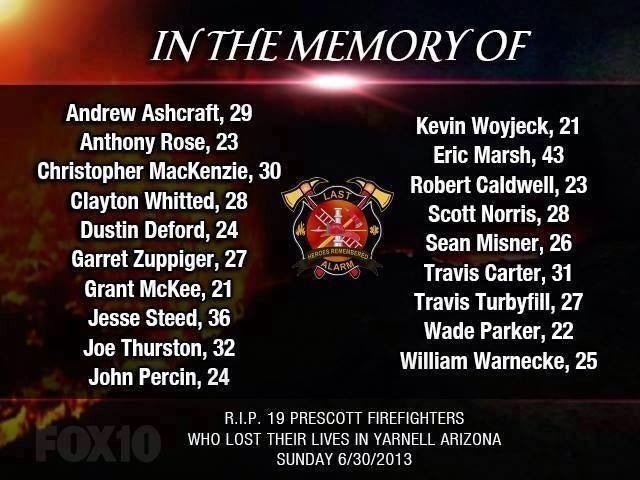 Many noted the firefighters' young age, with Joe Peters, an assistant principal at Prescott High School, quoted in the New York Times as calling them "just kids." Fourteen of the deceased were in their 20s. A photo surfaced of a child's drawing at the fire department memorial: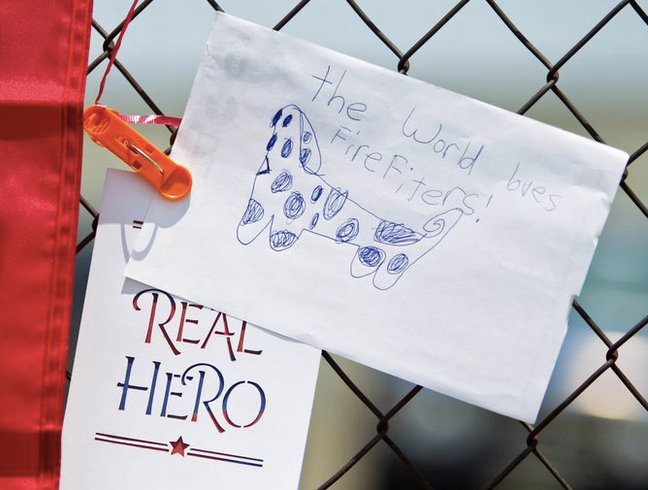 In a post titled "Today," Tumblr author everythingthatyoubreathe shared a personal connection to two of the men killed in the blaze.
Was a sad but proud day to be from my hometown. Seeing men who I had conversations with just months ago sacrifice their lives for our community. It's hard for me to grasp what has happened. To understand why this had to be the fate of such young guys with seemingly their whole lives ahead of them. But I guess I don't have to understand. I just have to give my respect. I wish I could have had chance to thank them personally but a short post on this silly website will have to do. Thank you Grant and John. I am beyond grateful for what you and the entire Granite Mountain Hotshot crew did for us last night. You'll be in my thoughts.
Facebook also came up with a moving memorial page, and while Twitter mourned the heroes as well, the conversation there often turned nasty, with users launching into debates about global warming's role in the sort of wildfire that claimed these young men's lives.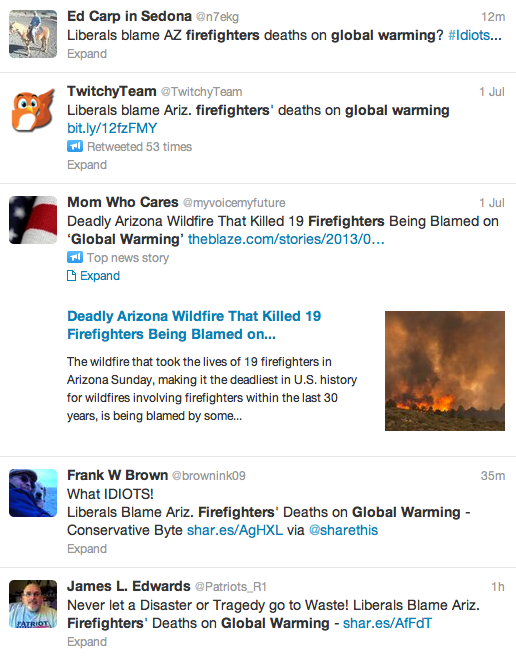 Most conservative outrage on that front can be traced back to President Obama's weekly address of June 29, "Confronting the Growing Threat of Climate Change," in which he said:
And while we know that no single weather event is caused solely by climate change, we also know that in a world that's getting warmer than it used to be, all weather events are affected by it. More extreme droughts, floods, wildfires, and hurricanes. Those who already feel the effects of climate change don't have time to deny it, they are busy dealing with it. The firefighters who brave longer wildfire seasons, to farmers who see crops wilted one year, and washed away the next.
That measured aside was quickly taken to be an assignation of blame, so the typical argument about humanity's effect on the environment and a willingness to exploit tragedy for a political point erupted alongside more somber remembrances.
What do firefighters themselves have to say? It's no great surprise how Mother Jones and the Blaze are reporting on this controversial and usually partisan matter, but those on the front lines must have an opinion, and journalist Paul Brandus' West Wing Report delivers it:
A top firefighting expert says the number of big wildfires is increasing rapidly; he says most firefighters blame climate change. #Arizona

— West Wing Reports (@WestWingReport) July 1, 2013
The 30-yr. fire vet tells @60Minutes climate change deniers don't understand changes "different than anything we've seen in our lifetimes"

— West Wing Reports (@WestWingReport) July 1, 2013
In other words, it may be time to quit arguing on the Internet and listen to the professionals.
Photo by UTDNR/Flickr